Here on Enemy of Debt, I have made it a point to get people to think ahead, especially when it comes to Christmas. In 2009, I challenged all of you to have a Debt free Christmas by preparing for it early instead of last minute. Today's post comes from Tyson Morgan and promotes the same idea of being prepared for something that happens every single year. Nope, Christmas is not an "emergency", although far too often, people are putting Christmas on plastic because they failed to properly plan for what's become a MONSTER CONSUMER HOLIDAY.

I love sharing different perspectives from different writers, so I hope you enjoy today's post. Will you have a Debt free Christmas in 2011?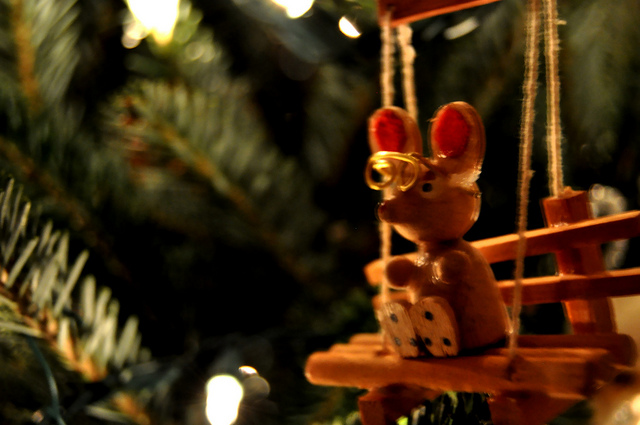 We are currently half way through the year.  That means, by my calculations, we're heading into the summer months and should be preparing for Christmas!
I know what you are thinking… "Isn't it a little early to prepare for Christmas?" Yes…and no.  I don't want you to start hanging those lights yet and please don't break out the Santa tie right now (or at all…ever).   What I want you to starting thinking about now is how you can really enjoy the season.
Our Christmas seasons in the past have been stressful.  I'm sure you can relate.  Family gatherings, your children's activities, the various holiday events and traditions you have, plus, to add to that schedule, the shopping.  Fighting the crowds, trying to buy that perfect gift for everyone on your list, then realizing come January when your credit card bill arrives that Christmas got away from you, financially speaking, yet again this year.  Lack of planning and preparation, early on, for the holidays will have us spending more, stressing more, and overly frustrated.  Peace on Earth?  Not in my world!
Christmas is a time for family, fun, and celebration.  Let's put items in place today that will help us take away some stress and help us enjoy the holidays as they were meant to.
Create a Christmas Budget
I think a budget is vital, and has helped us tremendously during the holidays, to know exactly who is on our list to buy presents for and how much we are spending on each person.  Make a list (check it twice…bad, I know), put a dollar amount next to each person and stick with that amount.  Then, add events or other holiday needs (our list has Christmas tree, Decorations, Christmas event we go to every year, etc).  Whatever you plan on spending because of the holidays put it on a list.  That is what you are spending.  We actually make this list in the summer but have a certain amount we want to spend each Christmas.
Prepare
Okay, now you have your Christmas budget that will help you not over-spend and get all caught up in the marketing and indulgence Christmas can become.  Now, it's time to prepare.  In our family, we spend $1,000 for Christmas.  That is our budget every year.  Knowing that will be our budget, we save $100/mo starting in February and end in November.  So, by mid November, we have enough cash (you can use a savings account, we put it in a cash envelope) to pay for Christmas, a budget planned out, and we are ready to spend.
Buy Early
Except for the Christmas tree and our event we go to every year, we have the gifts, decorations and everything else paid, bought and wrapped by the end of November.  Get more for your money by shopping Black Friday.  My wife loves the early morning rush, if that is you, take advantage.  If you are more like me, you can find many Black Friday deals online.  To reduce stress, we shop on one day only.  My wife goes out to the stores, then whatever we don't find, we buy online.  We don't spend the holidays in the mall or shopping centers.  To us, that takes away the spirit of the holiday, and it's just not fun.  We have everything completed when it comes to "Retail Christmas" by the end of November.  This allows us to enjoy the month coming up.
Enjoy Christmas
Now that you are done shopping early, you can really sit back and enjoy your family, events, and your annual "to do" list without adding the stress of having to go out and purchase presents.  You saved for this during the year, so you didn't over spend, and you will not start another year off paying for last year's Christmas overspending.  Sit back, relax, have a sip of a candy cane latte and enjoy the season.
When our family decided to take these steps (we are working on our third Christmas this way) we have had much less stress, no anxiety about having to buy the perfect present or having to fight the endless crowds and lines in order to buy last minute gifts.  We enjoy the fact that our gifts are paid for, with cash, we budgeted, and we have finished early and have the whole month of December to enjoy the true spirit of Christmas.  Try it out, I think you will find removing the retail and money stress from Christmas really does free up your time, your mind, and helps you relax and enjoy the holiday.
Tyson Morgan hosts Balance Life and Money where he writes about debt free living, emergency fund savings, raising a family on a budget and everything else regarding personal finances as well as offers financial coaching services for individuals and families. He also owns/operates Smooth Sailing Financial Services where he helps small businesses with bookkeeping and accounting.