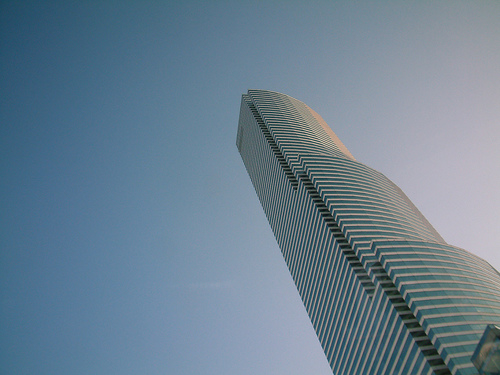 Ever since I wrote My Beef With Rich Dad Poor Dad Author Robert Kiyosaki, I've been thinking. When it comes to taking advice from anyone, even if they are considered to be an expert, should we just do what they suggest without doing our own homework?
I believe that we are still responsible for making sure that any advice that we follow is sound advice. Doctor's are considered experts and you still hear people say "Did you get a second opinion?".
Being an expert doesn't mean that you always have the right answers, it simply means that you should be more knowledgeable in your field than most people. Experts make mistakes, have different motives, and can have a vastly different opinion about something than the next expert in the same field.
Who is ultimately responsible for what they sign their name too?
I believe it is the person that is getting the loan. It doesn't matter what scheming or misleading information the bank perpetrated, when the final say has been said, you still signed the dotted line. Sure the banks took advantage of Washington forcing them to give more loans to people who shouldn't have been getting them. Sure they probably got greedy along the way and milked it for everything it was worth. Sure they probably even took advantage of little ole' you. BUT…are they the reason you defaulted on your mortgage?
I do not believe that anyone defaulted on their loan because the bank knowingly sold them a bad product. I do not believe that we are absolved of responsibility when it comes to the financial decisions we make in life, just because an expert gave us bad advice. Even if we consider bankers to be experts, we shouldn't expect them to be perfect. Aside from greed, a banker can mess up just like the rest of us, and since a bank is selling us a product (debt), they may be more inclined to try and make the most off of the deal. I'm not saying that's right, I'm just saying that it's how it goes. For the record I am NOT a fan of the banks! I just feel that too many people are riding the blame train instead of holding themselves responsible for the decisions they made.
If your bank told you that you were getting something that you weren't—in other words they flat out lied to you about the product completely—then you may not be responsible. You thought you were getting something that you weren't. That is not the same thing as buying a house for $200,000 even though you could only afford $125,000, simply because the bank approved you for that much.
Is it the banks fault that you got way too much house? If I approve you for $1,000,000 does that mean you can afford it? NO! You know what you can afford more than the banker does. The banker is going off of statistics and data to base his decision on, he has no idea how much of your income you blow each month. The bank took most of the risk because they were the ones that would lose out if you defaulted, but you're still responsible for taking on too much house.
Is it the banks fault that you do not have an emergency fund? Is the bank responsible for making sure you have a savings account in place in case the economy goes to crap? NO! It's your responsibility and it should be taken seriously. The fact that it's not is no one's fault but your own. You signed the dotted line and perhaps you didn't consider other important factors before making the decision. Just because you can afford the payment doesn't mean you can afford the house.
Is it the banks responsibility to make sure you understand the loan? NO! That's actually the Realtor and your lawyers responsibility, and I would still say that it is more your responsibility than theirs. The truth is you should never sign anything you do not understand.
Is it the banks fault that you are living paycheck to paycheck? NO! It's yours because you have not deemed your financial situation to be important enough to actually prepare for the future. That's no one's fault but your own.
Is it the banks fault that you lost your job? NO! That is not even your fault, but it's one of the things that should have been considered before signing the dotted line. That's all I am saying. I believe that when we hold ourselves accountable for anything that happens to us, whether it was our fault or not, we are stronger because of it.
Here are 6 questions you can ask yourself the next tie you are about to sign the dotted line. There will always be plenty of blame to go around, but did you do everything in your power to make sure you made the right decision? Hold yourself accountable and stop blaming everyone else!
Does the expert get a commission if you buy?
Do you receive the advice only after you pay for it? (Get rich quick seminars)
Do you understand why the advice was given?
Have you done your own research about the advice?
Have you received a second opinion?
Are you willing to take responsibility for your decision to follow it?
You should never just take someone's word for it without doing your homework. This is a lesson that I had to learn the hard way, and so should you. You are responsible for you. Even when the expert has committed a crime against you, he should be punished, but it doesn't necessarily mean that it's not your fault for ignoring the risks on your end of things.
If you don't take responsibility for your own actions you will be a victim your entire life. Victims do not make very much progress in life because they are more worried about who they can blame rather than how they can resolve the situation.
It's something to think about right?