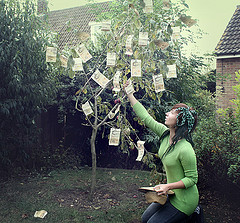 Hello debt haters! A few weeks ago I received an email from a reader that suggested I write a post about how other people spend your money for you. I have to admit it is a great post idea, and I am really surprised I had not come up with it earlier. You see, I have my own issue with this very problem.
Kelly in Cleveland Ohio wrote in:
"I'd love to see an article on "When others spend your money for you". For example, a 50th wedding anniversary for my fiance's parents. We were just notified that we're paying 1/3 of a $20+ per plate gala for 60 people. We suggested low cost options- church cost $50 to rent, and we could cook ourselves, do set up and cleanup, etc… but now there's a rift because we even mentioned that we'd have a hard time budgeting an extra $150 or more per month (on top of a wedding!). They are obviously paying on credit card. I have no credit card debt, but my fiance' does- 15k or so that we're attacking already on top of wedding bills. Where do people get the idea that they can spend other's money for them?"
One of the things that really bug me is when someone else notifies you of an expense you didn't plan for. Birthday parties, going away parties, work luncheons, etc. They seem to volunteer you without ever considering the alternative, which is asking you. Now to be clear, I am not against celebrating a co-workers departure, a birthday, a wedding, or a surprise luncheon, but I have a big problem with other people—who probably have no plan at all—spending your money for you.
The worst part about these common occurrences is that if you were to choose not to participate, if that's an option, you look like a big jerk. You may then be labeled as a cheap, stingy, or scrooge-ish person, but even if you aren't, the pressure to participate is still there. Another scenario that seems to be very common is when friends invite you to go out to eat. If you say no, you might be berated, but if you say yes you may spend more than you should. I'd rather say no.
My wife and I have discussed this many times as she seems to always come home to inform me that we are responsible for buying something for this or for that. What about the budget, I say? Do we really want to adjust our budget by taking from one category in order to account for this forced expense? We do not have a lot of waste in our budget so it may cause us to take away from something far more important. At Christmas time they often do a gift exchange where each person buys something for $20. We generally only buy gifts for the kids in our family, so this means that we spend $20 for someone else when we could of used that money to buy someone in our family something. They would and should be the priority no?
How To Handle These Forced Expenditures
Now that I have stated my case, I do not think this issue will go away. This leaves you with two options:
Spend the money

If you feel that you want to participate in these types of events plan for them.

Create a category in your budget each month to deal with these types of expenses. If you don't use the money allotted for that month, carry it over to the next month.
Place an amount you agree on, (for the year) in an envelope and vow to only use it for these surprise expenses. When you run out, you run out.
If you want to plan for bigger "surprise expenses", figure out how much you want to set aside, and put away money each month to fund it.

Don't spend the money

Say NO, without feeling bad, it is after all, YOUR money.
In conclusion, I will say that you should never spend your money because you feel forced to do so. If you want to participate in an event that causes you to change your budget, do so, but be sure to adjust your budget. Another piece of advice would be to NEVER use a credit card to fund these random expenses. Spend your money the way YOU see fit, not how someone else sees fit. They don't have to pay your monthly bills, you do.
Furthermore, if someone came to me and "told" me that I was going to be responsible for funding such a big amount, such as Kelly experienced above, I would flat out say no. There is something rather arrogant about someone coming to you and telling you how to spend your hard earned money because they have deemed it worthy. (kind of reminds me of the Government.)
Do you have a similar story to share? Please feel free to discuss it in the comments section. I would love to hear your thoughts.
photo credit