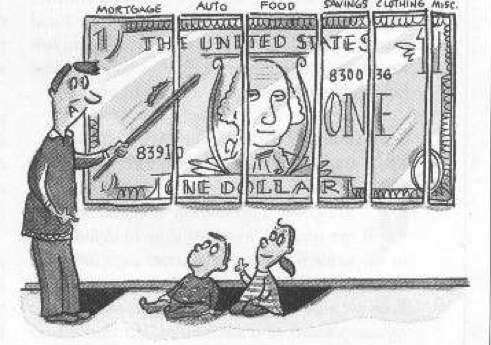 1. Maintain An Emergency Fund Of $1,000
This is very important!  If you do not have an adequate emergency fund when life happens to you, you will feel defeated.  It has a very negative impact on your desire to budget when you have to reorganize EVERYTHING to pay for emergencies.  If you have an emergency fund all you have to do is cover the emergency without reorganizing the entire budget.
2. Remember That You & Your Spouse Are On The Same Team
The friction caused by disagreement will often cause the budget to be a flop before it ever has a chance.  Be sure to compromise in order to reach your goals.  It is important to remember that it is better to lose a battle in order to win the war.  If you push your spouse away from agreeing on a plan then you will never have the traction needed to win with money.  You are on the same team and both of you have different roles in the process.  Handling the money is not for one or the other to deal with alone, it is a joint effort. Huddle up and agree on your goals, values, and dreams together!
Furthermore, you should check out the movie Fireproof with your spouse.  It is a real eye opener and may just help you handle disagreements with love as opposed to anger and frustration.  It is not just for troubled couples, it is for everyone.  How well do you love your spouse?  Find out!
3. Budget Necessity Before Debt
The truth is that we will often make sure we pay our credit cards & other loans before we cover other more important items in our budget.  The myth that says we have to build credit in order to prosper, is one reason for this.  Another reason is because of the methods used by creditors to bully us into paying before we are ready to.  Don't be bullied and don't put creditors before your family!  Dave Ramsey tells us to budget the Four Walls before anything – especially debt.  The Four Walls are food, shelter, utilities, and basic transportation.  (If you tithe each month I am assuming that you have taken 10% off the top before budgeting anything else.)
4. Classify & Prioritize WANTS Vs. NEEDS
It is so easy for us to ignore what we waste money on.  Probably because the things that are causing our money to vanish are due to things that we don't really NEED but really, really WANT!  There is a difference you know.  Try this.  Take out a piece of paper and start two columns- one for NEEDS, and the other for WANTS.  After budgeting your four walls, take everything else and place it one of the two categories in order of priority.  Next, budget the NEEDS until there are no more.  (Credit Cards aren't considered needs but you should certainly pay all minimums on all your bills before buying that speed boat you have always wanted.)  Then if you have any money left over, budget your WANTS in order of priority.  It is called personal finance for a reason so whatever you decide is fine.  However, if you are on a Total Money Makeover, your gazelle intensity will determine how long you remain in debt.  Is getting out of debt a NEED in your life, or just a WANT?  Your budget will show you the truth.
5. Remember Irregular Expenses
Don't forget to think about any irregular expenses you may have for the following month when you are doing your budget.  It can kill your motivation if you do your budget only to realize that you forgot to account for the auto insurance that renews this month.  Don't forget about Christmas, birthdays, special trips or anything that can throw your budget out of whack.  If you use my FREE EOD Basic Budget 3.0 for your budgeting needs, I have inserted a place to plug in these irregular expenses so you don't forget.  There is also a savings worksheet to help you keep track of how much you should be saving each month to cover those expenses when they come due.
6. Implement The Envelope System
This happens to be one of my favorite things to use to ensure a happy budget.  By using an envelope system for all cash expenses, you will save lots of money.  How?  Well that is easy!  When you purchase something using plastic it does not register as pain, whereas when you use cash you are much more likely to feel the loss.  This causes you to ask yourself  more honestly whether or not you really need something.  Give the envelope system a try and see for yourself.  Start off slow by starting a couple envelopes at a time, like groceries and fuel.
Remember, you will never overspend if all you have is $50, but when you use the debit card it is very easy to say, "It's only a few dollars extra".  That is not spending with a plan which is what the budget is in the first place.  Don't nickel and dime your budget to death by not following your plan.  A death by 1000 cuts is still a death!
7. STOP Borrowing Money
This may be one of the biggest tips to maintaining a healthy budget.  Resolve to stop borrowing money today, and use cash to buy the things you want.  Use the good old fashion method of saving for the stuff you want instead of borrowing.  Stop paying more for everything you buy by putting them on credit cards.  If you can't pay cash you can't afford whatever it is.  Dump your debt in order to win with money.  Being slave to the lender is no way to live!  Keep higher standards for you and your family and the benefits will amaze you!
Happy Budgeting!