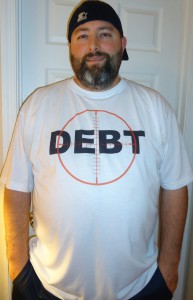 Hello and welcome to Enemy of Debt! I founded EOD in April of 2008 in an effort to motivate and inspire financial discipline by focusing on behavior and truth. Our behavior decides our outcome and the truth is what most people avoid. By teaching personal responsibility, debt free principles, and the importance of planning people can learn how to take control of their finances one step at a time.
My journey to debt freedom and financial independence began in January of 2008.  We became sick and tired of living paycheck to paycheck and were finally mad enough to take action.  At that time, we did not have any savings, knew very little about budgeting and were buried under $26,076.75 of debt.
In the first two months we were able to throw together our very first emergency fund ever of $2,000.  It took us only 18 more months to eliminate the retched debt from our lives and I can proudly say we never plan to borrow another dime ever again, for any reason.
As you read and learn more about me by reading my articles here on Enemy of Debt, you will very quickly learn that I not only plan to avoid using debt ever again, but I HATE IT!  We took what most would consider radical steps to eliminate the debt from our lives and we do not regret this decision at all.  It has shown us our true potential and allowed us to experience financial peace.
Check out my latest interview about my journey.
I've had lots of fun in my efforts to help others get out of debt and live debt free. I decided to start another project blog to help others (and myself) tackle their finances after becoming debt free over at Beyond Debt Freedom. As I have found out, getting out of debt is only one piece of the puzzle. The journey continues well past debt freedom.
Advertising Disclaimer: Some Google Adsense ads that are posted to this blog are generated based on content and do not represent the views and opinions of Brad Chaffee or Enemy of Debt. Please be advised that we are not responsible for any decisions to follow any of the bad financial product ads that may appear. Please use discretion and your own due diligence when clicking on any content generated ad or trying any financial product found on this blog, even if said product or service, is recommended by us. Thanks.
Meet Travis Pizel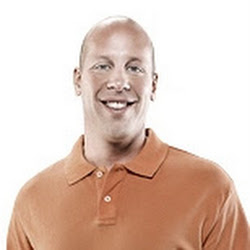 If you've been reading Enemy of Debt for more than a week then you know who Travis Pizel is. He is a great friend of mine and he shares my passion for helping people get out of debt.
"Travis candidly shares his family's experiences, struggles and successes as they fight their way out of debt. As a father and husband he provides a unique perspective on balancing debt, finances, and family."
Travis has passionately grabbed the torch and continued to inspire others with his own personal experiences in getting out of debt. His wonderful daughter, has also contributed to Enemy of Debt by explaining things from her perspective.
Getting out of debt isn't the easiest, or most fun journey you'll ever take, but it sure is worth it. It takes sacrifice and a willingness to change key habits and behaviors in order to reach the ultimate goal of debt freedom.
Once again, welcome to Enemy of Debt and I hope you enjoy what we have put together for you here. Please take the time to subscribe to ensure you receive updates via email whenever a new post is published.
Sincerely and with LOTS of debt free love,