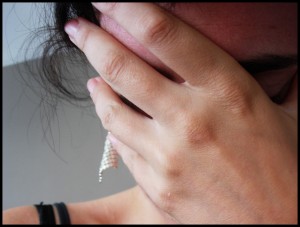 A few days ago, fellow EOD writer Travis talked about being ashamed of his debt. I could totally relate to his post because when I was in debt, I felt exactly the same way. But as I read and reread Travis's post, I started asking myself "why was I ashamed?" Although I couldn't really come up with one good specific reason, I was able to come up with a few possibilities:
Debt meant I couldn't control myself. I am completely guilty of making impulse purchase after impulse purchase. I had a good friend who I used to hang out with all the time. Before we would go out, we made sure to stop by the mall to pick up new outfits. Even though I had brought clothes with me to her house, they never seemed as great as what I would find in the store. It was so easy to pull out that credit card and buy stuff I didn't need. And I couldn't stop myself from doing it.
Debt meant I couldn't meet my basic needs. When my husband was working part-time while in graduate school, my salary of $27K/year had to cover all of our expenses. Looking back, it should have been enough to do that but we had no idea how to budget and we were still living like we were both working full-time. So many times we had to purchase groceries and toiletries on credit simply because there wasn't enough cash left over to do so.
Debt meant I couldn't manage my money. The two reasons listed above should be some indication that I got into debt because I had no idea what I was doing with my money. I had no idea how to budget, save, or do any of the other important things that you're supposed to do with money. So I went into debt simply because I didn't know what I was doing. And for the record, buying a house and a car in the same year is never, ever a good idea.
Debt meant I wasn't making enough money. Again, when I look back at what my salary was when I incurred most of my debt, it should have been enough. But I constantly blamed my need to make credit card purchases on stuff I needed and wanted on the fact that I wasn't making enough money. I think this mostly had to do with my insecurities, particularly when I compared my salary to that of my grad school classmates (and some family members). I come from a place where salary is very important and the fact that I wasn't living up to expectations prodded me to try and compensate by using credit.
Debt meant I was just like everyone else. For those who know me well, they know that I kind of march to my own drum. I pride myself on the fact that I'm not like most people. However, when I looked at the fact that I had debt, it meant I was just like everyone else I knew. Debt is so commonplace among the people I love and care about, and it's just accepted that we all have it. The fact that I was carrying my own debt didn't make me stand out; it made me blend in. This basically went against everything I believe in.
We all have our own reasons for being ashamed of our debt (if, in fact, we are ashamed of it).  But whatever your reason may be, there's absolutely no reason you can't overcome it. Especially if you take what you perceive as something negative and turn it into something positive.
Your debt doesn't have to be the end of you. Sometimes, it can be the beginning. And that? Is nothing to be ashamed of.