Hello everyone, Happy Friday! As you know I have been trying to put together this book review for a few weeks now. I have been very excited about sharing my thoughts on this magnificent book. Most of you will already know that I am a huge fan of John G. Miller's work, and have talked about him more than once on this blog. He is the go to man when it comes to personal accountability, and personal accountability is what can give us the ability to resolve anything by asking the right questions.
Today I am happy to announce that I will be giving away a free hardcover copy of this book to one of you lucky readers!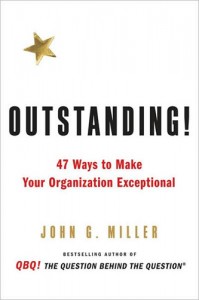 OUTSTANDING – 47 Ways to Make Your Organization Exceptional
by John G. Miller
If you are not familiar with John G. Miller you really should be. He has certainly changed the way I look at any situation that I find myself in, by showing me the importance of asking the right questions. The book that made it undeniably clear to me was called QBQ The Question Behind The Question, and it was so good that I bought a copy of it on audio cd, so I could listen to it while I was delivering pizza! Yep, I turned my Honda CRX into a college on wheels, and John G. Miller was my professor.
QBQ was written to empower YOU to take control of your life by taking action and responsibility for the things that YOU can control. This book uses that foundation and takes it to the next level by giving you the tools necessary to make your company or organization run with absolute efficiency. You see when your team asks the right questions—as opposed to looking around for something, or someone to place blame—things magically get done.
John starts off the book by relaying a story from an email where Steve Chamberlain, an executive with Husqvarna, wrote this: "Do people fire companies? Yes they do!" The email went on to talk about how he fired an airline that he had been flying with for years because of the attitudes and actions, (or non-actions) of the employees. He explained that it was because the attitude of the employees suggested that, not only did they not care, but it was obvious that they were not willing to make his experience a good one.
The point is that good service is the cornerstone of an great exceptional company and when everyone goes out of there way to make the customer (their real boss) happy, then they better ensure that customers return business. A business class I took in college calls that kind of company "customer-centric". When the focus of the business or organization is to make the customer it's number one priority, things get done, and customers not only spread the word, but they return and become loyal customers. That sounds like so few businesses these days, which means John has his work cut out for him. 🙂
Outstanding gives you 47 ways to make your company exceptional! Let's take a peak shall we?
I have had many bosses in my 20 years of employment, and I can honestly say that if any of them practiced even 1o of these very simple, yet practical ideas, I may have never left. (That's not to say that I was always a QBQ employee, because honestly, I can look back and see where I should have been let go a few times.) This book is about helping you LEAD your team to be more unified and solution- oriented. Sometimes all a problem needs is that one person that's willing to go the extra step to resolve it.
Here are a just a few of the 47 ways John suggests you make your company exceptional:
Get Actions in Line With Values – This chapter really hits it out of the park by suggesting that having company values, means little to nothing, if the actions of the employees are not aligned with those values at their core.
Give People Tools Not Slogans – I love this chapter so much because if you've ever looked around, you've noticed that most companies love slogans. In some cases you'll find that those slogans are empty statements no one ever pays any attention to. He suggests that slogans do nothing for productivity, at least not as much as giving your employees the right tools to meet your expectations. Giving an employee the right tools can make a huge difference. I really enjoyed the opening few paragraphs where he illustrates what he means regarding a hard-working lumberjack.
Value Ideas Over Politics – Have you ever been in a position where your ideas where ignored because you weren't the "right" person? I can think of a few instances in my work career that I have seen this happen to others. Guess who's not going to be giving it their all when work needs to be done? Make your employees, and their ideas, as important as they should be!
Forgive Mistakes – Now I had to put this one in this review for two reasons. One, forgiveness is essential and should be considered when someone makes an honest mistake, and two, the founder of Papa Johns, John Schnatter had this to say: "I've always found that people who struggle are hard on others, but those who do well in life are hard on themselves." That is just perfect, and makes me proud to say I worked for that company for 4.5 years. People make mistakes, sometimes even more than once, so it's simply wrong to expect perfection from anyone. Miller points out that "no one thrives in an organization culture that is quick to attack people when mistakes are made."
Believe or Leave – Put simply, if you don't love your job, or believe in the work that you do, then quit, and find one that you will love and believe in. When someone doesn't love what they do, it's hard to sound excited, enthusiastic, or happy to be doing it. Customers pick up on that, and even if there are no buying customers around you, your fellow employees will notice it. I've seen how easy the workplace can become poisoned by negative, unhappy people. I am ashamed to admit I used to be one of them, but happy to admit I realized it.
Make No Excuses – Excuses are like opinions, everyone has them. As John so humorously points out, there's always an excuse as to why something did or didn't happen, but the key is to look past the excuses and get right down to business. Solve the problem instead of spending so much time trying to relieve yourself of any blame. Chances are you can do something to make it better, but you'll never even get to that point if you're too busy giving excuses.
Some other chapters focus on:
Developing Managers
Never Forget Who Pays the Bills
Importance of Training
Encouraging One Another
Listening In All Directions
Okay so you get the point. Before I let you go, I want to say that you don't have to have a company, or even plan to have a company to learn what this book has to offer. You can apply this book and it's core principles and ideas to your personal life to help you better deal with the relationships around you. Let it help you build your communication skills, and further empower you to be someone people look up to. Let it turn you into the best leader/employee that you can be. You don't have to wait for your boss to make you outstanding, you can take responsibility for YOU and become outstanding all on your own.
This was an excellent book to read, and it was literally fun to dig into each chapter to learn a new aspect of how I can better myself, my future employees, but most importantly my future business. You can do that by having outstanding employees who have the passion and desire to make things happen! You can have more control of the success of your company by coaching those around you to be OUTSTANDING too!
Good Luck!
In order to win this excellent book:
You must be a subscriber
You must comment below: Has anyone recently, or not so recently, gone out of their way to make sure you received the best service possible? Did that make you want to go back?
I can't wait to pick a winner! Because I was so late getting this up I will give you until next Tuesday, (March 9th) until midnight to enter.
Have a GREAT weekend!