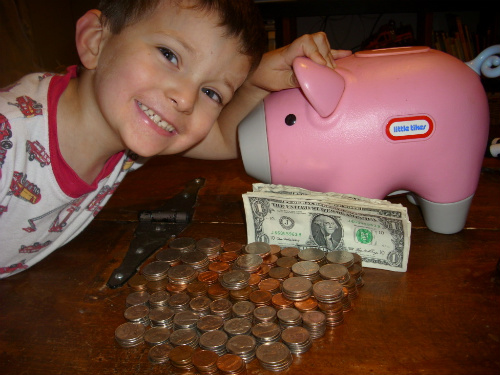 Teaching Your Kids Early On Is The Best Way To Ensure Financial Responsibility
Since approximately February of 2009 we have been adding small amounts of change to Isaac's piggy bank periodically.  He gets money for doing certain things like cleaning up after himself, helping around the house, etc.  He loves to help and we want him to learn the value of hard work.  If he works he does get paid, and if he doesn't work then he doesn't get paid—just like the real world.
We have a pretty loose system as Isaac is only 3, but as he gets older it will become more realistic.  In the beginning we wanted to encourage him to do certain things so we would often help him.  We noticed that he became very excited as he added any new money to his piggy bank, so our plan to encourage him was working.
Last night before Isaac went to bed we took the time to count his money.  He was very excited as we laid out the "monies" as he calls it.  He learned what a penny, dime, nickel, and quarter looks like, as we separated them together—his hard-earned money.  He was proud!
Here Is The Breakdown
Pennies: $5.12
Nickels: $2.85
Dimes: $8.40
Quarters: $17.00
Gold Dollar: $1.00
Dollar Bills: $3.00

TOTAL: $37.37
Parent-erest Paid: $4.00
ADJUSTED TOTAL: $41.37
Now for this next part there really is no right or wrong percentages.  Isaac is only 3 years old, so we just wanted to start early with teaching him the basics of handling money.  We chose to have him give 20%, save 30%, and spend 50%.
Giving – $41.37 X .20 = $8.27
Now most people suggest giving 10%, but we feel that when you do not have expenses you have the ability to give more.  We chose 20% for no other reason.  We will be putting the $8.27 in an envelope so that Isaac can physically hand over the money he worked so hard at earning, so that he feels how great it is to give.
Isaac knows that this is his money that he earned.  We want him to know that he is the one giving/sharing it with others.
Saving – $41.37 X .30 = $12.41
The recommended percentage to save depending on who you get advice from is anywhere from 5-15% of your annual income.  Again, because Isaac does not have any bills we have chosen 30% as a starter percentage.  We just want him to become used to saving money every time he gets paid as a habit.
Once Isaac has enough money to start a savings account, we plan to open one for him.  $12.41 is a lot of money to a 3 year old.  As he continues to get older he will see his money grow, and will know first hand, the benefit that comes with setting some money aside for a rainy day.
Spending – $41.37 X .50 = $20.69
Now we realize 50% is a lot of money, especially for his age.  As he gets older he is going to have to realize that when he wants to buy something for himself or for someone else that it will have to come out of his spending money.  For now we wanted him to enjoy the fruits of his labor, so we are just fine with allowing him to use all of this money to buy himself a toy.  We will be doing so today.  😀
The Tax Talk
NOT for a 3 year old.  One day we will have to have "the talk" about how the Government will steal money from him by force, before he ever sees it.  For the record though, I am not at all against paying some taxes to help with basic infrastructure, however, I believe that it should be more fair across the board.  I do not believe that robbing from those that have worked and giving to those that have not is the way to go about it, which is why I am for the Fair Tax.
Plus, the Government proves every single day why it cannot be trusted to manage money.  Trusting the Government is like giving your broke and in debt relative money and trusting him/her to manage it responsibly.
Teach Your Children…
…because if you don't, then they will learn from every other broke person around them, including our untrustworthy and inept Government.  Spend the time to teach them how money works.  Teach them about hard work and the value of their labor.  They don't teach financial matters in school, but even if they did, it is still up to you.  You are the best role model for your children.  Help them avoid debt and learn about saving for things that they want.  Help them avoid bondage and dependency!