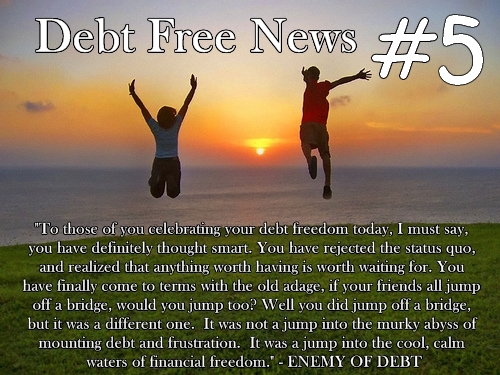 Hello everyone. I hope you all have a wonderful debt free Friday. It's time for another Debt Free News From A Debt Free Reader installment. This one is brought to you by Mr. J Money from Budgets Are Sexy. I have been friends with J since around the middle of last year, and he really is the nice, caring guy that wants to help make your finances and your life go a little smoother. He is really good at posting on topics to make personal finance a little less boring and has proven that budgets really are sexy.
At the end of 2009, we teamed up to bring you Brad And J's 1st Annual Christmas Stimulus 2009, where we gave $150 each to one of our lucky readers. It went so awesome, we look forward to bringing you the 2nd annual Christmas Stimulus. We also worked together on a collaborative e-book that just released this week. Love Everyday – a free, no strings attached e-book about relationships, love, and marriage.
Ironically, J uses credit cards to his advantage by not carrying a balance ever. Most people cannot use them in that way but it is one of the only ways I will approve of credit card use, although I have decided to slice and dice those snakes out of my life. He is an extremely disciplined saver and focuses his energy toward maxing out his retirement accounts first. J Money has a great financial plan, and we like to joke about taking a trip to some beach , some where, to enjoy the fruits of our labor, which will likely involve some strong mixed drinks and our beautiful families. Haha! That would be AWESOME!
I have also put together a page in which, anyone can go and fill out the Debt Free Questionnaire themselves. I'd love to share your story.

The Enemy of Debt Questionnaire – J Money from Budgets Are Sexy
If you have ever "carried a balance, what was your highest debt at any given time, and how long did it take you to pay it off?

The biggest balance I've ever carried on credit cards was probably around $5k a couple of years ago – 1/2 due to wedding expenses (we used part of the money we got as presents to pay it off the next month) and the rest from buying a new iMac and other random stuff. It took us about a year to pay off fully, and ever since we've been clean as a whistle 😉 Andy by "clean" I mean we haven't had any balances accrue over the months – we use our cards now to budget and get back rewards, paying them off in full every month.
How does becoming debt free actually feel? Does it feel better than you imagined it would?
AWESOME. And exactly the way I thought it would feel 😉 Although in a weird way it's also more boring now because there's no more drama, so I guess that was unexpected. Now if only I could get rid of our Mortgages!
What were some of the struggles that you had to deal with along the way? Was there ever a time where you almost gave up?
Never considered giving up at any point ($5k is much easier to manage than say $10-$50k like many folks have), but I certainly felt like skipping some months. I think allowing yourself to "slip" once or twice throughout it is fine, but it's really important to stick to a game plan as best you can and keep that rhythm going. Every time you take a break it gets harder and harder to start back up again, and then of course you have even more to pay off due to all that extra interest.
What would you consider to be the most important key to becoming debt free? What helped you the most?
Actually WANTING TO be debt free. You could read all the blogs, magazines, tv shows in the world, but until you actually care enough to DO SOMETHING about it you won't get far. Then, once you're ready ready to rock and roll, it's all about surrounding yourself with like-minded people and TELLING them what you're doing. It's one thing to tell yourself, but it's a whole other once your friends, family, bloggers, tweeters, etc know what your plan is. It helps push you & keep yourself accountable throughout the whole process 🙂
It seems a lot of people have bought into the idea that debt is essential in order to prosper, what do you have to say to those people?
I'd like to hear more on this theory before commenting 😉 Do you mean people borrowing to invest more like some gambling habit? Unless you're starting a business or using this debt to further your career/education, I'm not sure why anyone would willingly go in debt. Except for home ownership too actually – not many people can put down 100% like your perfect world. (but I'd love to see you accomplish it, sir!)
What was the biggest sacrifice you would say you made in order to become debt free? What about you changed the most?
I stopped shopping, period. Instead of going out to the mall or Best Buy every weekend when bored, I started blogging and entertaining myself other ways. Ways that didn't cost me money. As soon as I did that I magically had extra money to use 😉 It wasn't easy, but it's definitely helped our financial situation a lot more. Although I will say my wardrobe misses the ol' shopping days…
Did your friends and family give you a hard time about your new mission to eliminate the debt from your life? If so how did you deal with it? Do you think you inspired others by your journey?
No one gave me a hard time because I was blogging & talking about it with similar minded people. I'm sure I would have taken crap from a few of my friends (like if I didn't go out drinking or partying with them), but in the end it's really all about YOU. No one else is going to look after your money – or be effected by it – as you are. I'm not sure how many people actually follow what I advise on my blog these days, but I've had a few nice emails over the years 🙂 That's just icing on the big sexy money cake!
What is next for you? What financial goals do you plan to accomplish?
My biggest goal this year is to max out ALL our retirement funds. Last year I accomplished my 401k & Roth, but this time around I'd like to max out my wife's funds too. It's not going to be easy, but it's certainly a fun little challenge. And I love challenges – without them we'd be boring. And lazy 😉
There you have it, from the mouth keyboard of J Money himself. He is one of my best blogging buddies and seriously a great guy to know. If you haven't been over to read his blog, you should. If you haven't subscribed, you are missing out.
Oh and J, I will definitely show you how we plan to buy our next house using the 100% down method my friend. As for the question, about using debt to prosper, are you going into debt to prosper? Basically, people justify using debt as a way to have things, what do you have to say to those people? From what I have seen you are prospering just fine without it, even with that large mortgage—but I am mainly talking about everything but a mortgage in this question. Even for me, a mortgage is acceptable, it's just not the only way to own a house, as I will show you down the road. 😀 (You can respond in the comments section)
Debt Free News From A Debt Free Reader Series
Debt Free News: The Kick Off – yours truly @enemyofdebt
Debt Free News From A Debt Free Reader #1 – Kelsalynn @KelsaLynnFitLog
Debt Free News From A Debt Free Reader #2 – Nick @Nickfro
Debt Free News From A Debt Free Reader #3 – Paul @fiscalgeek
Debt Free News From A Debt Free Reader #4 – Peter @MoneyMatters
Debt Free News From A Debt Free Reader #5 – J Money @BudgetsAreSexy
More to come…