An 'Official' Enemy Of Debt Challenge – Can You Have A Debt Free Christmas In 2009?
You might think that a debt free Christmas is not possible, but it is!  Very possible!  You just have to think and behave differently with your money.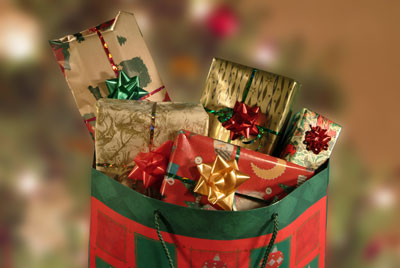 With Christmas a little less than five months away, it's time to start planning.  Actually, the best time to start is around February in order to decrease "wallet shock".  (When you fund Christmas all in one month) We've all experienced it.  It's when we realize in the 11th hour Christmas is upon us.  Usually it happens after Thanksgiving, which is precisely why Black Friday is so successful.  Of course we can justify it, (or can we?) because of the huge savings we get on that bright and glorious day in November.  People actually camp out at stores, and sleep in little tents  overnight, in order to buy something that was probably marked way up before it is marked way down.
I happen to think that December is the most expensive time to shop, not to mention the most annoying.  Crowds of people ready to cut off your face, at the chance of buying the last "must have", over-priced, shiny new gadget using their little plastic companion. Maybe that explains it. All this time I thought it was the immature response of an extreme consumer, but maybe it really just boils down to this.  These people are angry because they are running up debt that won't statistically be paid off until July or August of the following year.  I'd be mad too!
A real plan stretches out that financial expense over many months as opposed to just one.  It also keeps you from going into more debt.  If you follow a plan there is no need to spend massive amounts of money all at once.  Instead of spending $1,000 (<~~ Way too much, if you ask me.  I think more focus should be placed on the time spent together as a family to celebrate a wonderful day, than on size or cost of the gifts, but that's just me.) all in December, you would spend $100 a month, while still being ready to negotiate with your cash on black Friday, to get EVEN BIGGER deals!
Try to start saving now to enjoy the DEBT FREE Christmas you deserve! Make it your goal right here, right now, NOT to go into more debt this Christmas!  Come on, you can do it!  Make up for this years broken New Year's resolution by doing something that you didn't plan to do.  Think of the motivation and adrenaline rush you will get by rolling past Christmas without going into debt!  Then you would be pumped enough to make a DEBT FREE Financial Resolution!
I Dare You To Have A DEBT FREE Christmas In 2009!  Are You Up For The Challenge? Want to take it to the next level?
Your Debt Free Financial Resolution
Are you sick and tired of living paycheck to paycheck?  Are you stressed about having debt in your life.  End it now and start living better?  You owe it to yourself to give it a try.
Here's The List:
(Check them off as you go, and add some financial goals to the list if you like.)
Fund Christmas DEBT FREE. (

NO DEBT

of any kind!)
Read The Total Money Makeover.
Start Your Total Money Makeover.
I will borrow ZERO dollars in 2010.
Stick to a budget.
I will SAVE

$         .

in 2010!
I will PAY OFF

$         .

of my debt in 2010!
I will tell two friends about Enemy Of Debt! 😀
Start your Debt Free Financial Resolution checklist for 2011!
Can You Do It? I TRIPLE DOG DARE YOU!

I know you can!  The way I see it you have NOTHING to lose.  When you complete the DEBT FREE DARE you will taste what debt free feels like, and likely want to continue with your DEBT FREE Financial Resolution! The best part about this resolution is you don't have to wait until the first of each year.  You can start it anytime you like.  Why wait, do it NOW!