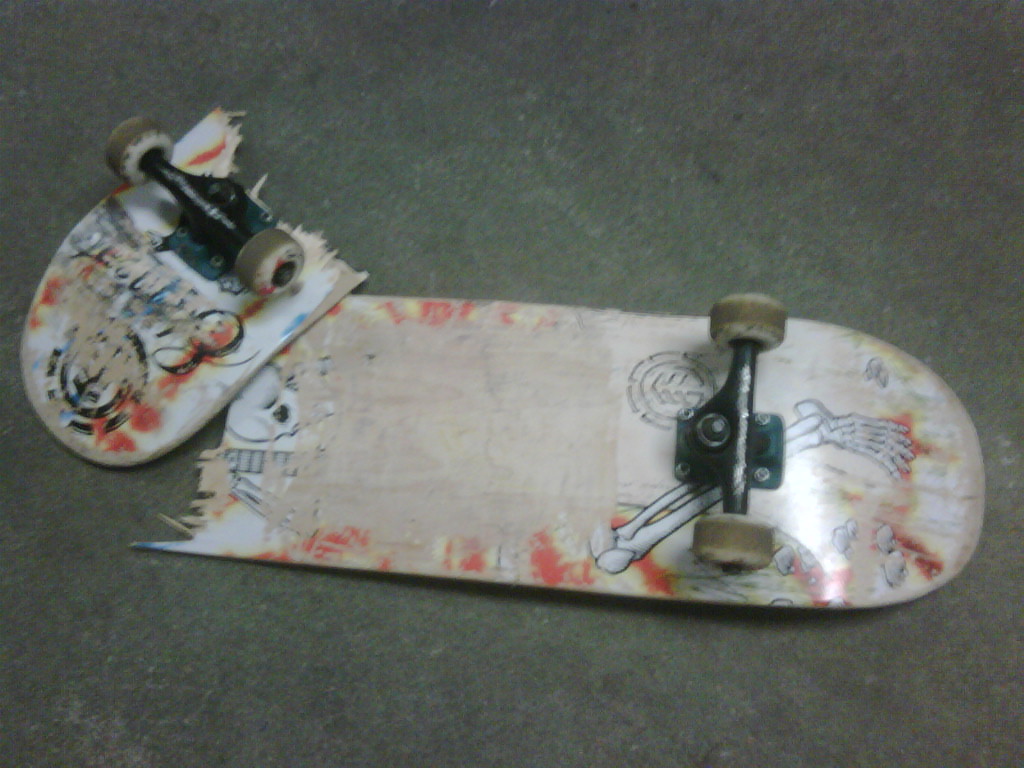 Ever lost $60 in less than 3 seconds unexpectedly?
I did on Saturday night, and man did it suck! Here lately, a few of the guys from work have been bringing their skateboards in, and after work, we'll skate around in the parking lot.
I have especially enjoyed the intense cardiovascular workout I get. We do street tricks—one in particular called an "ollie". An ollie is nothing more than using a skateboard to jump something.
From age 12-18, that's all I did. Around the neighborhood, around town—pretty much anywhere we were allowed to skate. Back in the day, I could ollie pretty high.
Today…not so much, as I am a "few" pounds heavier than I was back then, which makes it harder. 😉
Still, I am not one to back down from a challenge, so I got back on the skateboard—someone else's skateboard. So after doing this for the past couple of weeks, Saturday night ended with much different results!
It happened on my best ollie since stepping onto a skateboard again. I got my big butt pretty high off the ground, only to land with my feet in the wrong place. This caused the nose to snap, making that sound that killed the mood of my achievement IMMEDIATELY! It was a sound I was familiar with, as I have cracked a few boards of my own back in high school, also by accident.
I gave him money to replace his board. (pictured above—after he "office-spaced" the cracked remains.)
That record 3 second ollie cost me $60!
What did I learn?
Do not get on "someone else's" skateboard unless:
You are not living paycheck to paycheck. CHECK!
You have an emergency fund in place. CHECK!
You can afford to hand over $60 for the replacement. Umm…CHECK!
The financial impact of this is pretty minor compared to how it would have gone down a few years ago. "Umm…can I give you $30 next Friday and $30 more two Friday's later?" Translation: Can you go three whole weeks without your skateboard?
I'm being facetious, but having to give anyone $60 of your money unexpectedly could ruin your day!  It ruined my day and I had the 3 prerequisites above covered! 🙂
In two days I made $275 in tips but walked away with only $215. That $60 came directly out of my Christmas Project money budgeted for November's income. Not a big deal really, but it does mean that we will have to earn some extra bucks in November to cover the unexpected expense, if we want to stay on track. Don't you worry, we have that covered too. Be sure to subscribe to Enemy of Debt to receive an update on how we have/and will earn extra cash this month. Update on Wednesday!
Mortgage & Modified Plan Update:
A while ago I shared with you our plan to pay our mortgage up through January. So far so good!
Next week we will have reached our goal.
We also paid for our car insurance through January as well.
We cut our cell phone bill from a nauseating $165 a month, down to $110.
We have been cutting our thermostat to the off position to save on electricity, which caused our bill to go from $150-$160, down to around $100. December's bill may be lower than $80.
We've been selling stuff and buying big bargains.
We have not added any money at all to our Emergency Fund since becoming debt free, but as I stated in the link above, we have a reason and a plan. We are in a tremendous financial position right now, at a time when money gets tight for most people. Are we stressed? Not even close. We feel great, secure, and will have a wonderful Debt Free Christmas because of it.
Is there any last minute changes you can make in your life to make this Christmas a little less stressful? I bet there is something you could change. Make a list and then check it twice to make sure you didn't miss something. 😀
I just want you to have the best Christmas possible, so you can enjoy your family without regret.
Your financial plan is more important than you may realize. Use it for the helpful tool that it is, and instead of fearing the plan, embrace it, love it! Treat it with tender loving care and you will like the results.