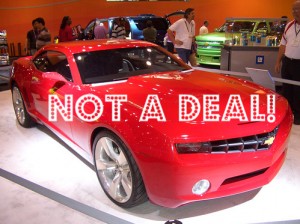 As the new year approached I thought about all of the things that changed in my life for 2009. The more I thought about it the more I realized that I could indeed be happy with my progress in many areas of my life. Since this is a financial blog, let's talk about one of the things that I feel was the biggest breakthrough for me financially.
The funny thing is that I was introduced to this in early 2008 when I took Financial Peace University, but I guess it had to marinate for a bit first.
My breakthrough was redefining the word "deal" as I knew it. Yes, it was that simple. A concept that frugal people everywhere live by, but one that is mostly misunderstood amongst everyone else, myself included. That is until 2009, when I started to pay a little more attention to saving money. You could say that it started because we were in the final stages of paying off our debt, and saving everywhere we could was more of a necessity. We had already squeezed every possible penny out of our budget by cutting unnecessary spending, so it was time to look elsewhere for maximum results. Searching for deals was our strategy.
Now most of us think we understand what it means to shop for a deal, but thinking and knowing are two different things entirely.
The best example, or at least one of the most common ones is—buying a new car. I cannot even count the number of people that I have heard over the years brag about the deal they got at the dealership when purchasing their car. They lowered the price. Added an extended warranty. Worked out low monthly payments. (Blah, blah, blah!) Let me be the one to tell you, right here and right now—there's no such thing as getting a deal when you buy a new car.
Worth noting: Cash For Clunkers WAS NOT A DEAL!
The biggest factor that kills any deal you thought you got is the fact that a new car can lose up to 60% of its value in the first four years—but what about the fact that it immediately loses value as soon as you drive it off the lot? That should be enough, but if you add in the initial mark-up, the finance charges, along with everything else, you'll find that you DID NOT get a deal. You got ripped off, and you only have YOU to blame for it. It's not the dealers fault, they are in the business of selling you cars.
The problem is that most of us do not save money to pay 100% down for a quality used car. We get payments, and by WE, I mean YOU, because I quit that bad habit in 2008. Imagine how many cars would be sold if they only took cash payments. I suspect that only a tiny number of people would own cars, much like the days of the early television, but I digress.
A deal is buying a used car from a private sale, or even from a used car lot if you're good. I know, I know, "you need a car that is reliable, with a warranty."
Sure the chances of you buying a lemon increase, but what if you did a little research before you even got serious about buying? If anyone has taught me that lesson it has been my father-in-law. He is good at buying used cars, but it's because he does his research, instead of buying the first car he comes across. You can also arrange to have the car checked out by your mechanic to detect any possible issues. You can get a good used car that is reliable!
That is just used as an excuse to buy a new car, nothing less. It's an excuse because it is NOT true at all.
A deal is getting the best possible price for a quality used car that has already taken the hit in depreciation. A deal is finding something that you were going to buy anyway for a discounted price. A deal is not putting your purchase on a credit card and avoiding interest charges. A deal is searching around to see if you are getting the best possible price. A DEAL IS NOT HAVING A CAR PAYMENT!
I thought I knew what a deal was until I really took a second to examine the truth. Here are some things we do to help us get the deals we deserve these days.
Take the emotion out of the purchase. (Sometimes hard to do but NECESSARY!)

Use the power of cash to negotiate real bargains.
Look for lightly used items instead of new.
Keep your walk away power.
Shop around to be sure you are getting a deal.
Avoid borrowing money. (Duh!) 😀
Save up for whatever you buy. (Try it.)
Avoid extended warranties. (The biggest waste of money.)
Do some research before you make the decision to buy. (Just because someone says it's a deal, doesn't mean it's so.)
When bargaining, say as little as possible. (If a salesman knows you're already sold, you WILL NOT get the bargain you were hoping for. Just like a salesman can talk himself out of a sale, you can talk your way out of a deal.)
Those are just a few of the many ways to get a real deal. I'm sure you could add some more to my list.
This post was inspired by a local car commercial claiming that they had the best deals in town—which every dealership claims by the way. I sat there and just listened to the claims and thought to myself, "If people only knew—oh wait, I have a blog!"
Make it your goal for 2010, NOT to buy a new car so you can get a real deal!