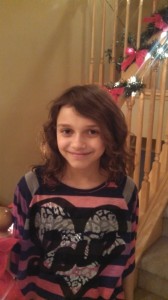 Preface: My wife and I were discussing various financial subjects over dinner one evening last week when  Tori, our ten year old daughter, blurted out, "I remember when mom told us we were in debt."   After she told us the story from her perspective, I asked her if she would be willing to write me a blog post about it.  Immediately after dinner she sat down in front of the computer, and began typing away.  The following is the story of our journey out of debt through the eyes of our daughter.
Three years and four months ago my mom took me and my brother, Tristan, to Walmart. When we got to a parking spot, we just sat there, staring at each other. After a while we asked, "Mom, what's going on? Are we in trouble?" Mom shook her head. "Kids, I have to tell you something." Tristan and I were a little bit scared. What could she possibly need to tell us? It was a perfectly normal day with a mother and her two kids going grocery shopping.
But then she dropped this on us: "Kids, we're in debt."
She was fighting back tears, but not enough to keep them away. "What's debt?" I asked, since I was only 7. Mom explained to me how debt is when we spend more money than we had and we had to pay it back. I didn't get how this affected me until she said that we'd buy fewer toys and more of what we need rather than want. This caused my heart to shatter.
I thought that we were poor and we'd never do anything fun again. I was afraid to ask how far we were in debt or how long we'd even be in debt. The more she explained, the more it felt like we would be in debt forever. But the amazing thing is, I was wrong.
Most days my mom and dad get together and go through the bills and our budget. In the beginning of the week they talk about our budget for the next weekend as well as groceries and gas.
By the way, in my opinion gas is really expensive.  I saw my dad fill up our van once and it cost $83!
Anyway, we save money for extra things that come up by putting money in an envelope that we keep in one of our kitchen drawers. This, in my opinion, is very smart! This is just of one of the many smart strategies that have helped us get through the last few years.
At the start of our journey, I noticed a large difference from what I was used to. I was not happy about this change, because it included hesitating to do some of the fun things we'd usually done in the past.
We always have to stop and think about money and math, and I hate math.
But I eventually got used to it.
I am so happy that we are almost out of debt and that I learned so much from this experience. I know now that if you don't have a budget and you spend more money than you really have, you're in big trouble! I know this will help me when I am an adult and I'm finally the one in charge. But we still have fifteen more months, which sounds like a long time, but three years and four months seemed long too.
We're all going to screw up sometimes and it will cost us. Sometimes the cost will be big and seem horrible, and partly is, but there's always a bright side in every situation. My bright side was that I learned and experienced so much. But I only learned by paying attention to things that seemed so small and pointless to me before.
You should pay attention too, you just might learn something.
Postscript:  I was amazed by the things that my daughter has picked up on.  The $83 bill for filling up our van was when gas prices were close to $4.00 per gallon and was the most I ever paid for a tank of gas.   I remember complaining about it quite forcefully when it happened, but had completely forgotten about it until I read her post.  It's no secret in our home that we are using the envelope method and cash only spending for our day to day expenditures, but it's not something I thought Tori would really pay attention to.  The thing that surprised me the most was her observation of Vonnie and I going through the numbers and ensuring something fits in our budget when we discuss doing a family activity.  It saddens me that I had been such a poor role model for my daughter for such a long time.  But I am thrilled that not only has she seen her mom and dad turn their financial life around, but that there is absolutely no doubt in my mind that she fully understands the transformation her family has undertaken over the last few years.  She has walked this journey with us, and that experience will benefit her as she grows into the strong woman I know she is destined to become.