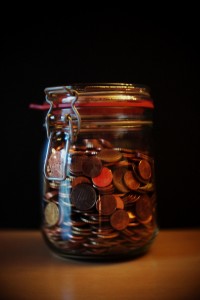 For many of us, myself included, squeezing money out of your budget takes a lot of fancy footwork. Finding ways to save the money to build up your emergency fund or save for a new car when things are already tight requires numerous income streams.
Often times you can not make room for a second job and that is when using your imagination, your dedication and the few minutes of free time you can carve out of your day to make extra money.
This list, when separated, may not bring a lot of extra money (accept for the first one) into your savings account. But when all are added up, they can bring you hundreds (and maybe even thousands) of dollars in revenue.
1. Pay Yourself First – I've heard this phrase time and time again, as I'm sure you have too. It didn't make sense to me for awhile until I automated the transfer to my savings account and then set my budget for the amount of money I brought in after that automatic transfer. It's extremely important to think of your income in the terms of this post-transfer amount.
2. Increase the Automatic Transfer – If you've set up your automatic transfer into your savings account with each paycheck but want to increase the amount, doing so gradually will be the best way for extra dollars to go unnoticed. You will want to increase the automatic transfer by a small amount each pay period until you reach the amount you are aiming for. For example, if you regularly transfer $50 each week into savings but want to transfer $75, try changing the amount in $2 increments each week. The first week, $52, the second week, $54, and so on. If you get to a point when you are running short of money, take a step back and hold at the amount you are currently transferring. Try to increase it again in a month or so.
3. Use Coupons – Yes, we all know that coupons save you money on your grocery budget. I suggest we make those coupons work twice for you. After you have completed your shopping, take the amount of money you saved and put it into your savings account.
4. Stick to Your Budget & Reward Yourself – When your budget is set, don't just stick to it, try to come in under. Any amount you don't spend for each category at the end of the month goes into your savings account. If you allow yourself $40 for each week of "free money," then do your best to come in as low as you can. Any money that you do not spend goes into your savings account.
5. Keep Your Change – Whenever you buy something with cash, use whole bills. At the end of the day all coin that you have received back goes into your change jar to be deposited each month into your savings. (I suggested doing it each month. If you hang on to it for any longer, you'll be more tempted to dig into it some day when you are tempted to splurge. Admit it, we've all dug into our coin jars for all the quarters we have to get dinner out.)
6. File for those Rebates – When rebates are offered for items you have purchased, be diligent and file them. When they come back, put that money directly into your savings account.
7. Sell Something – I have a tendency to donate anything I don't want. My apartment complex is across the street from Goodwill so it's very easy for me to drop stuff off easily. Instead of dropping off everything, I'm going to try to sell some of my gently used household items and clothing. Craigslist is one option, as is a yard sale but a consignment shop is my preferred route. I don't have to do any of the work. In my area there is a shop called "New Uses" (not sure if they are local or a chain) and they will take household items much like Once Upon A Child does with baby and children's clothing.
8. Make Extra Money Online – There are a number of ways to make money online with little work on your end. You can use websites like InboxDollars, Ebates or Swagbucks to bring in extra money for your savings account.
9. Bottle Returns/Aluminum Can Collecting – This old income stream is tried and true. My grandfather was obsessed with turning in aluminum can for cash. He was able to bring in hundreds of dollars a year just by letting people know he did this. They would often bring their cans to him. Tell your neighbors and ask them to put their cans in a bag by the curb on trash night. You can go for a walk and collect the cans (bonus, you get exercise too!).
10.  Find a Penny Pick It Up – I don't know about good luck but when you see money on the ground, pick it up and add it to your savings account. Talk a walk over to the car wash or by drive thrus after closing, you might find some extra coins on the ground.
Just a few easy ways you can add extra funds to your savings account without a lot of work. They won't bring hundreds of dollars a month but each of them can help you reach your goals.
Do you have any other easy ways to bring in some extra funds?