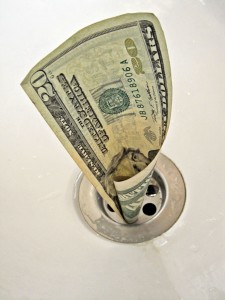 A few years ago, I bought my daughters a fun, entertaining, and great inspirational book. The title is, How to Be Totally Miserable: A Self-Hinder Book by John Bytheway (Clearly a pen name). I highly recommend it! Inspired by this book, I am writing a short book focused on money.
Thousands, maybe hundreds of thousands of books have been written on making money. Few, if any, help you find fun, innovative, creative and entertaining ways to lose money. Soon, at least one book will address this very needed niche for those who have grown tired of the constant battle to make money.
Building wealth not your thing?
Announcing 50 Ways to Lose Your Money by yours truly, Paul Puckett. Based on personal experience and observations of hundreds of investors, 50 Ways to Lose Your Money will help you get farther and farther behind in a rat race you have no chance of winning anyway. With losing money as your goal, you can take pride in failure. Every one of the 50 ways has been proven to lower your investment portfolios value. You will find these recommendations easy to achieve and, with any luck, see results almost immediately.
It is possible I've missed a few really good ideas so I would appreciate your thoughts and suggestions on my new book. Do you know any great techniques for losing money? If so, please let me know in the comments or, if they're too embarrassing or revealing, feel free to send me an email at paul@wholeinvestor.com.
To give you an idea, here are two of the ways you can lose your money, guaranteed!
Avoid the Stock Market
Whatever you do, don't invest in the stock market. According to everybody, nobody makes money in the markets so why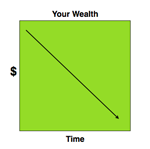 would you?
The only people who make money are the pros on Wall Street and they don't make it from their investments. They make their money from you. So, completely avoid any investment in the markets. No stocks, no mutual funds, no exchange traded funds should be in your account. You shouldn't have an account anyway because you know better, don't you?
If you must invest, put it all in FDIC insured bank certificates of deposit with terms no longer than one year. Inflation is your friend. While you will still have money, it will buy less year after year until it won't really be worth much at all.
Or, better yet, keep your money in your sock drawer. If that's too much trouble, just spend it. You probably would lose it anyway.
Listen to Rumor and Gossip
Your friend got invited to a party and heard about a great investment, a real no-brainer. He ended up making a lot of money and can't stop talking about it. Shame you weren't invited to that party.
Fortunately, a few weeks later he invites you to join him. You overhear a conversation about a new company that will be available to investors in just a few days. The guy says it's even better than the one he recommended at the last party. This time you're in. Sweet!
Don't wait, you might miss out. Slip out of the party and call your broker or login to your trading account. Get that order placed before you have another beer. This opportunity may never happen again.
Picture yourself bragging about it to your other friends in a few weeks. It'll happen, remember it's a no-brainer!
50 Ways to Lose Your Money is coming soon in paperback and kindle editions at Amazon and a nook edition from Barnes and Noble.