Are you needing to make some extra jack because you're having trouble making ends meet in this difficult economy?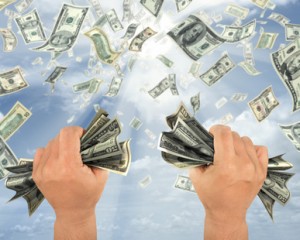 If you've already cut expenses to the bone and done everything else you can to use what you have wisely, then here are a few tips you can use to make some extra money that you can do immediately that can help get your bills caught up, and start paying down that debt.  Some of these are just common sense and some you might not have ever thought about, but all of them can make you some extra money to get by on even when the overall economy is not so hot.
Drive Like a Wrap Star
Have you ever seen cars rolling around town wrapped in advertising?  Not all of them are being driven by small business owners promoting their business.  Some people actually get paid to have their car wrapped in advertising and go about their usual daily driving habits.  Depending on where you live, what your driving habits are, and the advertiser, you can make as much as $400 a month just for driving your car!  It might be a little hard to get picked if you don't drive more than 800 miles per month and don't live in a very populated area, but it might be worth 20-30 minutes of your time to fill out the signup forms on the different websites to see if you qualify.  Just do a Google search for "auto wrap advertising".
Are You One of Those Crafty People?
If you're one of those creative people that have arts and crafts skills, you can make any number of crafty things and sell them to your family, friends, or anyone else in the rest of the world by setting up a shop at Etsy.com.  Etsy is a web based marketplace for arts and crafts that connects you with people around the world that want to buy what you know how to make.  That's a heckuva lot better than setting up shop at the local flea market or begging a boutique owner to carry your stuff.
Freelancing
It doesn't matter if you do accounting or clean houses, if you have a skill that's marketable, then hire yourself out to do freelance work on the side.  Unless your employer strictly forbids freelancing, it can really be a great way to make a little, or even a lot, of extra money.  If you get busy enough you could even grow it into a full time business.  It's extremely easy to advertise your services on sites like Craigslist and Elance.com.
Do You Enjoy Photography?
Then you can actually sell your photos online at sites like Shutterstock, Fotolia, or istockphoto.com.  You may already have a large collection of photos you could sell, or you can shoot what interests you and upload them to these sites.  You'll typically make about $ .25 whenever someone buys one of your pics, so you won't make millions, but you should realize, each photo can be sold an unlimited number of times.  So if you upload dozens or even hundreds of good quality photos, it can become a steady stream of income over time.
Have an Extra Room?
You can rent a room or even your entire house to someone traveling to your city using AirBnB.com.  You list what you have available on their website and people sign up to stay.  You're in control of charging what you want per night and you have the power to approve or deny who stays in your space.  Travelers and accommodations are rated by the participants, allowing you to have a better idea of who might be staying in your house.  AirBnB will even send a professional photographer to take pictures for your listing free of charge to make sure your accommodations are represented as well as they can possibly be.  Here's a quick video to show you how the process works.
Whether you've had your hours cut back, lost your job, or you just want to make extra money to pay off your debts because you finally decided to get serious about becoming debt free, remember, there is always a way to hustle and make extra money, even in tough economic conditions.
In fact, I would argue that there has never been a better time in history to make extra income due to the power of the internet and its ability to connect one person with almost every other person on the planet, a portion of those who are looking for precisely what you have to offer.
So go ahead, get moving and find a way to make that extra money you need to achieve your financial goals.
Have any ideas on how to earn extra income?
Let me know in the comments.