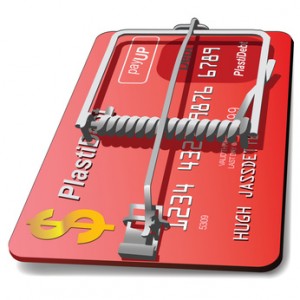 Over the course of the last generation or so, we as Americans have changed our habits and now use credit cards as one of the primary tools for purchasing.  But when you use credit cards, there are several problems you should watch out for when it comes to being a user of that "convenient" plastic.
As for me, I think credit cards are not necessary in order to get by in everyday life.  The convenience of using plastic is not beneficial enough to offset the potential problems that credit card use often brings.
In my opinion, there is not a good financial reason to use credit cards.
However, if you just have to use credit cards to get by in your daily life, here is a list of lies you are sure to tell yourself and some of the mistakes you are likely to make in your usage of credit card debt that ultimately work to keep you in perpetual bondage, just like the credit card companies like:
The Minimum Payments are Affordable-  "I'll pay the minimum payment so I don't get behind".  As long as you can afford the minimum payment there are no problems, right?  Wrong!  If you keep paying the minimum, it actually takes decades to pay off the average family credit card debt and you end up spending close to 4 times more than if you had just paid cash.  This applies only if you quit using the card.  If you continue to use it and pay the minimum, you will be in perpetual debt for the rest of your life.
I'll Never Make a Late Payment-  You'll never make a late payment until the statement comes and you don't have the money.  Maybe your hours at work got cut back, maybe you had some surprise expenses come up. Hey, you can just pay it with that other credit card with a later due date.  Problem solved!  Yeah right.
I'll Only Use My Credit Card for Emergencies-  Just in case something happens, I'll use it only if I have to.  That works well until it doesn't.  When you find that perfect whatever it is you've been wanting, it's on sale, and you don't have the cash, you'll use it "just this one time".  Until it happens again.  Not a good way to develop financial discipline.
I Won't Go Over My Credit Limit-  You've been up around your credit limit for awhile but you're managing it ok.  What's that, the car needs a major repair?  You can't get to work to make the money to pay the credit card bill without the car.  So over the credit limit you go, adding fees, increased interest rates, and stress to your life.  Yay you!
I'll Use it Just for the Rewards-  "I can play the rewards game and use that credit card to my advantage, because I'm smarter than the people at the credit card company.  I know they offer the rewards to get me to use the cards more, but I'll game the system.  Besides, I need to earn plane tickets so I can take a vacation and destress from all the credit card debt that I have to deal with."
I'll Get a Cash Advance Just This One Time-  "I'm in a tough spot and I need cash right now!  Yes I know the credit card company charges a fee for that and they'll even raise my interest rate, but I'll deal with that later, like when I get my statement and wonder how I'm going to pay for all this."
You will probably end up telling yourself most or all of these lies at some point if you use credit cards on a regular basis.  But when you start believing those lies, the end result is that you end up enslaved and in bondage to those credit card companies that encouraged those lies in the first place.
When my wife and I had credit cards, we told ourselves many of these lies and we were very convincing.  But once we came to our senses and realized that using credit always puts you at a disadvantage, we began using cash and we have never looked back!
Even if you're the kind of person that pays off your bill completely every month, studies have shown that you still spend at least 12% more when using a card instead of cash because it's so easy and frictionless to use.  It doesn't feel like real money.
Seriously, credit cards are for suckers.  They are marketed to us so well, we're convinced that we "need" them to get by in modern society.  But when it comes down to it, paying cash is always the best use of your money, and the best way to use a credit card is to not use one at all (Here are some fun alternate uses).
Have you ever told yourself any of these lies?
Tell me about it in the comments.