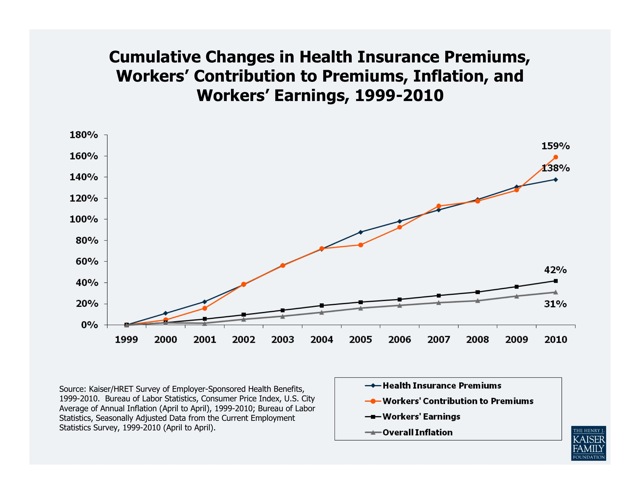 Getting back to that Aetna advertisement. It is not your imagination, health insurance rates have risen much faster than other costs of living. The image above is courtesy of the Kaiser Family Foundation. It illustrates the cumulative changes in health insurance premiums, workers' contribution to premiums, inflation, and workers' earnings from 1999-2010. It is important to realize the data on this chart is purely from employer sponsored plans and does not include retirees or the self-employed.
The past decade had an overall inflation rate of 31%, or an average 3.1% per year. Earnings during the same time period increased by 42%, for those that kept their jobs throughout the decade! The rising costs of health insurance dramatically outpaced core inflation and wage increases with a 138% increase. Finally, in reaction to the increase in premiums, businesses passed this cost to the employees who saw the costs of their insurance rise by 159% in one decade.
To see the impact of this increase, let's take a look at a hypothetical worker who was making $30,000 in April of 1999. Based on this data, by April of 2010, they were making $42,600. According to the Kaiser Family Foundation, the average health insurance premium in an employer sponsored plan was $5,791 in 1999 with the employer covering $1,543 and the worker paying the remaining $4,247. By 2009, the employer was paying $3,515 and the employee a whopping $9,860 for a total premium of $13,375.
Using the hypothetical worker, in 1999 their health insurance premiums represented 14.1% of their earnings. In 2010, these premiums represented 23.1% of their earnings!
We have very little control over the rising costs of health insurance, so I'm not suggesting you can, or should, reduce your expenses for insurance. My point is that we are often told our generation is less responsible, particularly financially, than previous generations. As a result, we may have feelings of guilt that we just don't handle our money as well as our parents and grandparents. But, the reality is that we have costs our ancestors never experienced. As these costs eat up more and more of our income, we must focus more intensively on our spending.
But, we can only address the spending we can control. And our controllable expenses are rapidly being replaced by uncontrollable expenses like insurance premiums.
Funny, that's the same problem congress is experiencing. In 1965, the Federal Government spent $1.8 Billion, or 1.5% of the Federal Budget, on health care. In 2010, the Federal Government spent 4820.7 Billion or 23.7% of the Federal Budget.
Isn't it odd that the costs of health care has risen even with the Federal Government pouring so much money into it? Or, is the Federal Government actually a major cause of the rapid rise in health insurance premiums and health care costs?