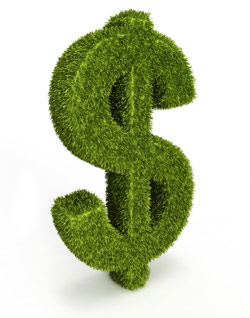 Enemy Of Debt Goes Green!
These days it's impossible to turn your head 1 degree to the right or left without being bombarded by the "green" bandwagon.  It has become the marketing slogan of choice and from the looks of it, it has been super successful.  Companies have seemingly just had to add the green campaign to their product and people feel good about their purchases.
Personally, I think people should adopt a conservation approach regardless of what politicians try to scare us into believing.  Global Warming doesn't have to be real for people to consume less and be more efficient with what they have.
I'll give you a way to feel good about your finances, and yes I am jumping on the "go green" bandwagon.  By going green with your finances, you can alleviate the risk that comes with using your plastic companion to purchase items on a daily basis.  Go green and:
spend 12-18% less on every purchase
get deep discounts by using the power of cash
avoid fees and charges associated with using credit
I personally only use cash and my debit card to buy anything and everything we need or want.  No I am not getting free hats, or air miles, but I assure you I am spending less.  I don't have to worry about the lure of spending more in the name of receiving a free gift.  Spending $1,000 and getting a plane ticket does not equate to free in my opinion.  The only ones that truly benefit from this process are the very few people who have the discipline in place to not rack up more charges than they can pay come the end of the  month.  I still personally believe that even those folks are taking unnecessary risk as well as spending more when it is all said and done.  Shhh…they won't listen.  😀
The Going Green Personal Finance Challenge
Now when I first thought up this post I was going to challenge you to go an entire month without using credit to purchase stuff.  The more I think about it the more I want to offer you more choices and a way for you to gradually make the changes needed to go green with your wallet on a more permanent basis.  So here is what I came up with.
Step One – Go one day without using credit cards at all.
Step Two – Go one week without using credit cards at all.
Step Three – Go one month without using credit cards at all.
Step Four – Go one quarter without using credit cards at all.
Step Five – Go six months without using credit cards at all.
Step Six – Go one year without using your plastic companion.
Step Seven – Graduate to avoiding credit cards all together.
Tips To Go Green With Ease
There are many things you can do to help make this process easier.  I am sure with all of the frugal individuals out there that there are far more tips and tricks to use.  Let's start with the ones I have used.
Use the envelope system.
Every time you buy something ask this question:  "Do I need this or do I just want it?"
Follow a written budget every single week.
Try to cut back on non-essential items.
Use your debit card to pay bills online. (mortgage, utilities etc…)
Create a savings account other than your emergency fund to be used for irregular expenses such as car maintenance, insurance renewal, and for anything else that you normally use credit for.
Eliminate your debt so that you have more money to use for future financial decisions.
I have not borrowed a single dime since we decided to start the Total Money Makeover in January of 2008.  I do not feel I have missed out on anything because of it.  We have what we need, consume much less, and are better prepared financially for our future.  We are more self reliant because we do not NEED to use a credit card as a crutch to get through life.  With that said the most important benefit to us has been the freedom we have experienced from going green.
Go green and take back your life!  Stop borrowing your way through life and instead utilize a plan to get you where you want to be.  It is possible, but you have to ignore all of the broke people telling you that having a credit card is a part of life.  All a credit card does is make you more dependent.  Don't believe me?  Give my challenge a shot and find out just how dependent you are.  Go green—use cash!
photo credit