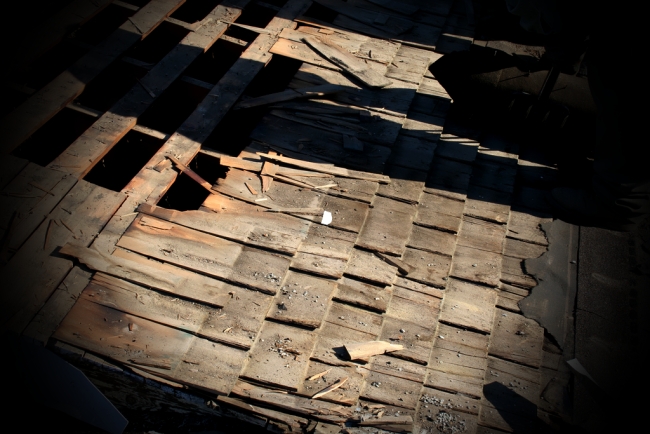 This is a guest post by Herbert Norton.
Photo Credit: Mart T Clark
Having a roof over our heads is something we often take for granted. And yet, like anything else,
roofs are not indestructible. The longevity and performance of a roof is affected by many factors,
including the sun, wind, rain, ice, snow, condensation, and just plain old age. Like other aspects
of maintaining a home, keeping a roof intact often requires making significant decisions and
carefully weighing different options. Here are some important things to consider so that the cost
of maintaining your roof won't send you spiraling through it:
How do you know it's time? The shelf life of a roof can be anywhere from 10 to 40 years,
depending on several factors, including what kind of shingles you are using, what part of the
country you live in, the local climate, etc. The best way to tell if your roof needs repairing or
replacing is to look for signs of damage. Some obvious ones are being able to see daylight
through your roof or seeing leaks from your ceiling during rainstorms. Streaks or missing paint
on your interior walls can be a sign of water seepage and a possible indicator of roof problems.
Water in the attic would be another indicator. A less obvious, but nonetheless important signal
would be an unexplained spike in your energy bill.
Longevity of shingles: Shingle quality has greatly improved over the past few decades and so
has shingle lifespan. Warranties for shingles, once generally in the 20-year range, have increased
to the point where it is no longer uncommon to see some as high as 40- and 50-years. Still, the
most significant factor in the longevity of a shingle is its composition.

Clay or tile roofs are
almost impervious to damage and can last well over 200 years. Natural slate shingles, often
found on old churches and historic buildings, are not easily affected by the elements, and can be
expected to last up to 100 years.
Wood shingles can also last a long time, depending on the type
of wood and quality of maintenance. Cedar, for example, contains natural oils that tend to repel
moisture, and shingles of this type can last for several decades.
Asphalt shingles, which tend
to be easy on the wallet and easy to install, are not only popular but have made great strides in
quality over the years. They last an average of anywhere from 15 to 40 years, depending on their
strength and quality.
Metal and aluminum roofing materials, which at one time were seen only
in commercial buildings, are now gaining popularity in residential settings largely due to their
durability. Metal roofs stand up well to bugs, fire, and hurricanes, and are capable of lasting for
centuries.

Geography and climate: Where you live figures in to the long-term health of your roof as much
as anything. Places that are susceptible to high winds, storms, and hurricanes are prime locales
for metal roofs, which are increasingly prevalent in coastal areas and in places like Florida. The
natural look of wood shingles, along with their affordability, makes this choice a popular one
in many places, including California, New England, the Northwest, and parts of the Midwest.
To an increasing extent, wood shingles treated with a factory-applied fire-resistant solution are
being used as a hedge against fire damage. Clay or concrete tile is a popular roofing option in the
Southwest, where you tend to see a lot of roofs in a Mission or Spanish-style motif. Many older
homes in the Northeast are adorned with slate roofing material, which can be expensive in the
short run but affords long-term protection.
Extent of repair: So let's say you've determined that something needs to be done. What next?
Well, the level of damage control largely depends on the extent of the damage. Is it localized
(e.g., a few missing shingles)? Or is it widespread? The decision whether to repair or replace the
roof is usually best made with the help of an inspection by an experienced roofer. And one of the
key questions you may face is whether to remove all or part of your current roof before installing
another. Sometimes an overlay, where only the upper layer of shingles is replaced, will suffice,
thereby sparing the expense of a complete overhaul. In many cases an experienced professional
who can combine a quality replacement shingle with a high degree of workmanship can make
the overlay approach very successful. If the damage is too extensive, however, a completely new
roof may be needed. Either way, you should keep in mind that many experts estimate a 20%
shorter lifespan when a new roof is installed on top of an existing one.
Budgeting for roof maintenance involves cost considerations but it also involves a lot more. The
need for repair, the level of repair, the roofing material, and the climate all play a part and all
need to be considered. Sometimes the choices are not clear-cut. One thing, however, is always
certain: there is nothing more important than a good roof over our heads. And for that reason,
having a quality roof should always be a top priority.
Herbert Norton is a roofing contractor who used the slighlty slower winter season to start a website on
roofing to help educate his clients. Roofery.com has extensive information on many different types of roofing shingles,
such as slate, tile, solar and metal shingles, to help consumers make educated decisions. Recently, Herbert has been researching the
"greening" of asphalt shingles, which are not normally eco-friendly.