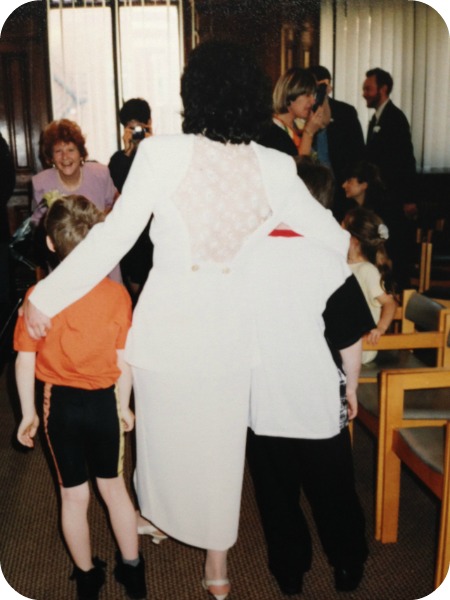 See the picture?
It's me (or my back) on my wedding day 21 years ago. Why my back you may ask?
Because my sister in law thought that everyone takes pictures of the bride's front but she hasn't seen a picture of the bride's back. Ever!
So here you go; a picture of my back which also happens to show a wonderful detailed of my wedding suit.
To tell you the truth, I have not thought of my wedding for a very long time. Even worse, I caught myself thinking the other day about the interesting stage of life I'm approaching.
When we are in our twenties, our whole life is ahead of us. There is so much celebrating to be looking forward to: weddings, having children, setting up out nests. What do we do? We waste out time worrying; at least I did.
When we are in our fifties most of this is behind; and the calm of certainty can easily settle in. There are no surprises and there are few celebratory life events left. This is when we celebrate the beauty in the life of others – our children and grandchildren.
Still, reading that Travis and Vonnie have their wedding anniversary soon reminded me that John and I had our 21st wedding anniversary couple of weeks ago.
And my mind drifted to weddings.
Today, I looked at our wedding photographs.
You know, we look young, elegant and happy. We look like we couldn't wait to tell our family and friends that 'we will love each other till death does us apart' and get this party going.
John proposed in February. It wasn't the most romantic proposal in the world: we were watching something on TV and he just turned to me and said:
'Would you like to get married?'
'I need time to think about it' – I said. – 'And where is my ring?'
'Do you really want a ring?'
Of course I did! I wasn't going to let this proposal thing hang in the air without getting some jewellery for it.
Anyway, I thought about it couple of weeks and accepted. We bought a ring – a modest one I still love and wear – and set the date for the wedding.
I never wanted a big wedding: the way I see it one can either have a big wedding or great fun. I chose to have fun.
We did all the right things: we invited family and friends, we booked the venue, we had a wedding lunch and we had a big party.
It was all very modest: let's just say that my lovely suit cost me $135, my shoes were $60 and my pearls…I'll never forget my pearls. I managed to get them for $70 and felt so proud.
So you see, all my bridal attire, including jewellery, cost me $265. I reckon that the whole wedding cost us no more than $1,500.
Compare this with the lavish weddings of today.
Did you know that the average wedding bill in the US currently stands at $30,000? Or that the most expensive place to get married in the US is New York City: get married there and you can expect to fork out on average close to $87,000.
For crying out loud! This is a very decent down payment on a house. Actually, some places this can buy you a house.
We didn't take wedding insurance: we knew that we want to commit to each other and we knew that we want to keep it simple so that we can enjoy our wedding day.
Thinking about it, there are four wedding items on which people can overspend.
Dress
This is your day; wear what you consider elegant, appropriate and comfortable (if you are not comfortable you are not likely to enjoy the wedding day).
I chose the suit you see on the picture and I did so not because it was inexpensive. I bought it because when I went into the shop this suit started shouting at me: 'Buy me, I'm yours.'
I felt like a million dollars at my wedding.
And you know what? Someone would have had to pay me a million dollars to wear a big layered wedding dress and look like a meringue.
(I love meringues; I just don't want to look like one. Also, some women were born to wear this kind of dress; I am simply not one of them.)
Venue
From what I see and what I read people have started going really overboard with the venue for the wedding ceremony. People go abroad, get married on a beach, on a hill…you get it.
I suppose, this is about 'once in a life time'. But, guys, ultimately the purpose of the whole ceremony thing is to pledge to love each other forever; oh, and for your family and friends to hear you make this pledge.
Is it really necessary to go to extremes with this one?
Wedding lunch
On this one the jury is out but I still think that it's a great idea to separate the wedding lunch and the wedding party.
The wedding lunch is for close family, even closer friends and the 'best' people (who are likely to be close friends to begin with). This means ten to fifteen people.
We had the best ever wedding lunch; we took our guests to an Italian restaurant where not only the food was splendid but also some opera singers were having lunch.
I don't remember what we ate; I have a vague memory of who was there. But I do remember the singing.
Party
Did you know that close to half of the cost of a wedding is the wedding venue and catering?
So I guess this is where people need to be particularly careful.
Do you need to invite 500 people to the party? Do you really want to have it the absolutely prime location?
We had our wedding party at home. And what a party it was!
Finally…
Your wedding is important; it is important because it is the day on which you completely commit to another person and make a promise to love them forever. This is the day when we make promises before witnesses, our family and friends.
It seems to me that this is memorable enough without having to make it a show of opulence.
Did you have a big wedding or a smaller one? Did you enjoy your wedding? Please share.