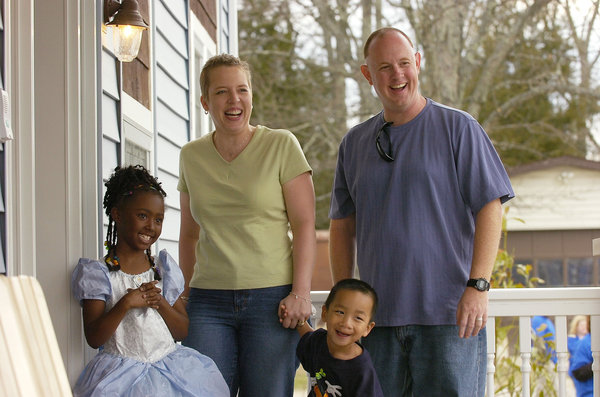 This post is not only about becoming debt free, it's also about charity and giving.  This story triggered some questions for me, and I wanted to ask you what you thought about it.  If you have ever watched Extreme Makeover: Home Edition then you have seen many communities come together for families who needed some help.  In 2006, "a Cincinnati home builder, a handful of Cynthiana contractors and everyone of that town's subcontractors, churches, painters, drywallers, carpenters, restaurateurs and good-hearted others, to donate tons of materials, labor and time to help build a house for the Hassall family."
Why Did So Many Sacrifice For This Family?
This is the story that inspired a town to come together and give so much:
"The Hassalls were mighty deserving. Brian, a Cynthiana police officer, had been shot when he served as a Transylvania University officer and had continuing trouble with migraines, significantly aggravated by light. His wife, Michelle, was a much beloved high school music teacher who had a long battle with cancer as well as a blood disorder. They had two young adopted children, one with special needs."
I think that this, meaning the private sector, is where charity and giving have the biggest impact.  As Dave Ramsey stated in his Town Hall For Hope event back in April, "if we were debt free, we could GIVE the Government out of a job."  Nothing was wasted, and so much was gained from this, unlike the massive Government programs where money seems to disappear into thin air.  People around the town claimed that taking part in such a generous act changed them forever.  That is perfectly understandable since giving, if done in the right selfless spirit, causes you to step back from your own problems to recognize that others are worse off than yourself.  Did it really change them forever, or was it just a momentary feeling to hide the true motives?
Should A Sincere Act Of Kindness Have Strings Attached?
The reason why this story interested me so much is twofold.  After 3 years of living in this house, the family announced that they are putting the house up for sale.  The reason they have given is because they want to become debt free.  The other reason is because that desire to become debt free came from taking Dave Ramsey's Financial Peace University workshop at their church.  Now maybe I would have been a little more excited had they claimed it was because they read Enemy of Debt, but no matter where they learned about it, their decision to do so is AWESOME!
"The small town that built the house out of a genuine desire to provide a safe haven for this particular family is reeling from the news of the proposed sale."
Now some people in the town who donated time, resources, energy, and had many sleepless nights are angry over their decision to sell?  This makes me wonder if people really understand selfless giving.  Did they really have the heart of a giver when sacrificing whatever they gave, or did they just feel good about the fact that they could say they took part in something this big?  If you give someone something isn't it rightfully theirs?  Can't they do with it what they wish to do with it?  Should you require a contract for the recipient to sign before the gift can be handed over that says what they must do with it, if they decide it is no longer needed?  More importantly when you give someone something does it give you the right to control them?
Cynthiana resident Sandy Sageser begins her letter of May 21 simply: "The entire Hassell (sic) family story is a disgrace and humiliation to this community …."
What the Hassalls are being charged with, in not very veiled terms, is this: They took what Cynthiana so lovingly gave them, and they are profiting by it.  The Hassalls don't see it that way.  For starters, Extreme Makeover's producers paid only their second mortgage, which they took out to pay for the adoption of their son. After the old house was torn down and the new one built, they were left with a first mortgage on a house still valued at $117,000 (according to property records), much larger utility bills and a new and larger tax bill.
Why should the Hassall family feel forced to stay in that house forever, just because it was built for them at a time when they needed it?  Should they have to keep the house even if the new utility costs caused it to become a burden, instead of a blessing?  Now some of the same people are questioning whether or not they deserved it.  This causes me to wonder if certain people who feel this way, truly had a GENUINE DESIRE to do what they did.  Why does selling the house because of their desire to downsize, and become less burdened by debt, mean that they are less deserving? They got a free house but still owed money on the first mortgage of the house that was demolished.
As Always Here's My Opinion
I feel that when someone gives a gift, their should be no strings attached.  Receiving the house helped them 3 years ago, and selling it today is going to help them as well.  Morally their is no obligation from the recipient to keep the house, it was a gift!  I do think that the Hassall's should consider giving a portion of the proceeds, which amount to about $350,000, to some charitable cause.  If they are downsizing, then they could buy a home for $100,000-$125,000, pay off their debt, and give $100,000 or so to a cause that would provide another family with a free house.  I strongly believe in the "Pay It Forward" philosophy.
When I needed a car my father in law was kind enough to give me a Mitsubishi Galant for free.  It was mine to do with how I pleased, and after it served my purpose, I gave it to a friend that was in a similar situation that I had been in.  I would have not felt right making a profit off of the car that was given to me, even though I was under no obligation to give it away myself.  In this scenario we are talking about a much larger item but should that matter?  At least the Hassall's didn't put it up for sale 6 months later and then go on an expensive cruise with the proceeds. The gift was not lost because the family is still able to benefit from the free house, it's just won't be the same house!
Being Debt Free Will Enable The Hassall Family To Give Like Never Before
What if this families desire to become debt free enables them to give more back, after experiencing the impact that giving had on them?  Should that become a consideration?  They no doubt felt the generosity surrounding them, and now maybe they want to be able to return the favor to someone else in need.  After all, the last lesson in Financial Peace says that if you build wealth and do not give then you missed the entire point of a Total money Makeover!!  (They're not wealthy because of this gift, but being debt free will give them an opportunity to give.  So it is safe for me to assume that that lesson could have touched their hearts, and caused them to experience the emotions from that wonderful day in 2006, all over again.   So I guess some would rather they stay in debt, instead of sell just because they were so generous with their time and efforts.  I would argue that while they might have been generous with their time and efforts, they weren't so generous with their hearts.   That is something to think about the next time you decide to give someone a helping hand or anything in the name of giving.
While some where angry, many gave their support, and for me, these next two statements sum it up:
"The end result was I didn't do it to benefit me. We did it to benefit them."
"This is not a crisis," Love said. "Kids going hungry in this county because their parents are out of work is a crisis. It's a house. (This judgment of their actions) really irks me. It's silly and childish. If the people who volunteered are upset, did they miss the whole point of helping their neighbor?"
Honestly some of the comments I read here disgusted me!  If you expect something from your giving, maybe you should consider doing nothing, because your heart is not where it should be for the job!
Have you found yourself in a similar situation?  Where you felt obligated in some way to those who gave, or felt betrayed by someone who you tried to help?  What do you think of this specific story and what would you recommend that this family do?  Should they stay in debt or should the people in this town get over themselves?  Leave a comment and let's discuss it!