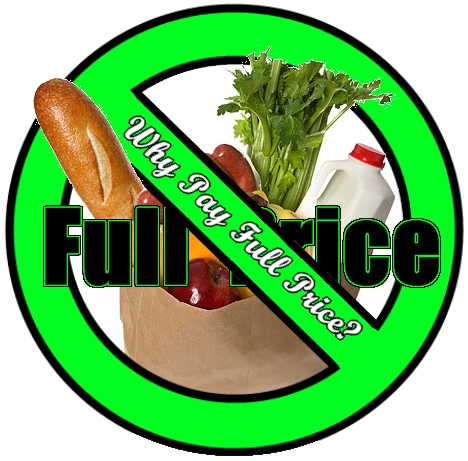 Are You Looking For Ways To Save Some Money?
We are!  Here recently we took a trip to a neighboring city just for that reason.  We jumped on the interstate, and headed about 30 miles west, to visit a store that has deeply discounted food.  My wife loves going here but I have been a little hesitant because of the fact that some of the food is past the expiration date.  I have always been a little finicky when it comes to this sort of thing, and that does include leftovers in the fridge past a few days old.  You can call it a fear if you like, but whatever it is, it causes me to worry about getting sick or just the simple fact that it feels gross to me, to eat "old" food.
I will throw out there right now that there are some things you will not get me to budge on, as my wife has found out.  Things like dairy products, or almost anything that isn't frozen.  Actually you can rule me eating any dairy products past the expiration date out completely.  I am sure I am overly paranoid about this, and I am hoping that someone reading this blog can educate me on expiration dates dealing with food.  I am not saying you will change my mind, but at least I can ease my worries, and maybe even learn a little something too!
Not all of the food at this store is expired, but certain things are.  I think the food arrives here for a variety of reasons, like overstocked items, or items that were on sale that didn't sell as well as expected, from other grocery locations.  Some of the items are deeply discounted, and aren't expired which are my favorites!
Here's what we got, and what we paid/would have paid @ Kroger

1 box of Act II Crunch & Munch Buttery Toffee Popcorn – $.50/

$2.89

2 Country Crock Deluxe Loaded Mashed Potatoes – $1.98/$

8.58

1 Smart Ones frozen pepperoni pizza – $.99/

$2.99

2 Smart Ones Honey Dijon Chicken – $1.98/

$4.14

12 boxes of Natures Valley bars mixed variety – $6.00/

$44.28

4 boxes of Fiber One bars – $2.00/

$14.76

1 box of Millville Kids Krunch cereal – $1.19/

$2.00

1 12oz jar of Hampton Farm peanut butter – $.99/

$1.29

2 Hickory Springs french toast and sausage – $1.98/

$2.50

1 Mama Cozzi Meatball Pockets – $1.49/

$2.33

2 Banquet Maple sausage links – $1.98/

$2.00

2 cans Little Giant green beans – $.89/

$1.70

2 bags of Bertolli Cheese Tortelloni – $3.98/

$15.98

1 Gallon of 1% milk – $2.99/

$3.99

1 Healthy Creations Cafe Steamers – $1.79/

$2.48

2 Butterball Turkey Smoked Sausage – $2.78/

$6.00

5 Healthy Creations Paninis – $4.95/

$12.50

1 Generic Poptarts – $.99/

$1.31

1 Jimmy Dean D-Lights turkey sausage croissant – $2.99/

$6.99

4 Kids Cuisine Chicken Strips meal – $3.96/

$8.00

1 Fiber One Muffin Mix – $.99/

$3.39

2 rolls of cloth-like paper towels – $1.78/

$2.98

1 can Kroger brand Canola Oil spray – $1.39/

$1.99

1 bag homemade gummi bears – $1.69/

$2.00

1 bag Nerds Chews – $.33/

$.79
TOTAL ITEMS: 54
TOTAL COST:  $52.58 + tax
COST IF WE WENT TO KROGER:  $157.86 + tax
TOTAL SAVINGS:  $105.28 not counting taxes
Now I actually walked around Kroger to compare these prices.  A few items purchased were NOT found at Kroger, but I compared based on like products.  This shopping trip was motivated by last months budget busting $250 spent on going out to eat.  The things we tried to buy were things that we could have with us during the day to deter an impulse eating stop at Chick-fil-A or somewhere similar.  We also tried to find meals that we could make when time was against us, or we just didn't feel like going all out and cooking something.  We are committed to sticking to our budget, and even though we realize that there will be times when we are weak, we decided to be proactive instead of allowing it to happen again without any effort to stop it.  Will this keep us from being weak in the future?  Nope, but it will help us in between the weak moments, and THAT will save us some money!
At a time when my wages have dropped a little, we have found that our debt snowball has been slowed.  I am currently looking for a full-time job, and plan to keep the job I have now part-time, so we can climb out of this last bit of debt remaining.  Until then, we have to manage what we are bringing in responsibly, and every little bit of savings will help us continue to move forward, even if it feels slow.  Progress is still progress, and we plan to continue our march forward.
Do You Coupon?
I will admit we are NOT good coupon shoppers but with things the way they are, we have thought about jumping on the coupon bandwagon regardless of all the preparation that seems to go with it.  I know some people who save a lot using coupons and one site they use is called grocerygame.com.  I consider Mindi from Moms Need To Know, the coupon queen, so go check her out as well!  Maybe it's time for us to save even more of our dollars by couponing too!!
Do you have any super saving stories?  Are you a regular coupon shopper?  Whatever the case, please share your thoughts, tips, and strategies with us!  I would love to hear them, and I am sure others reading would too!