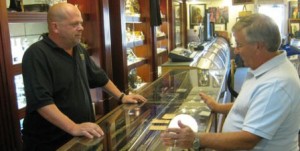 One of my favorite shows to watch is Pawn Stars on the history channel. Watching episodes of this popular TV show has become somewhat of an event at our house. The show is educational, fascinating and largely about making money, what's not to love?
Long before banks, ATMS and check-cashing services, there were pawn shops. Pawning was the leading form of consumer credit in the United States until the 1950s, and pawn shops are still helping everyday people get by when they need to.
The premise of Pawn Stars is a multigenerational family; The Harrison's running a pawn shop in Vegas. They invite experts to the show on everything from vintage coins to motorcycles. These experts help decide whether the item the average joe is bringing in to pawn, is a real or a fake. After discovering the items market value they begin to haggle, sometimes making the owner of the item giddy with delight over their new fortune or cringing as they walk out the door with the item they thought was valuable still in hand.
Sometimes things are tight, a debt collector is banging on your door and quick cash or a loan from a pawnshop may seem like a lifeline. The question is, is it worth the trip to your local pawn shop and what kind of trouble could you get in there?
Sell it or Pawn it?
A member of the Harrison clan will always ask, "Would you like to sell it or pawn it?" When you choose to visit a pawn shop you have the option to make some money on your item or pawn it, meaning using the item as collateral for a loan.
Pawners beware if you decide to take out a loan you must understand the terms. Although failure to pay back this type of loan does not affect your credit, the bottom-line is that you're borrowing money at a high interest rate with the possibility of losing your collateral.
For example, if you want to pawn your great grandpa's baseball card collection, the pawnbroker will offer a loan, and in exchange will hold the baseball card collection until the loan is repaid with interest within a predetermined amount of time. Loan repayment times vary by state, but 120 days is the average time most pawnbrokers give you to repay the loan.
What can I Pawn?
Pawnbrokers look for items that retain their value, are easy to sell, and are not too large to store. Examples of popular pawnshop items include:
Jewelry

Musical instruments

DVDs

Video games

Tools

Electronics

Firearms
What you need to know
Don't expect to be paid the full value for your item. Offers are based on current value and market conditions. A good rule of thumb is to expect 20% to 50% of your item's value.

Know the approximate value of your item. This will help you negotiate the selling price or the size of the loan. See what your item or a similar item is selling for on eBay or Craigslist.

Keep your cool. Seasoned pawnbrokers can tell how motivated or how desperate you are to make money. This will most likely cause price negotiations to start lower than you had hoped.

Shop around.

When possible, visit more than one pawnshop to find the best price for your item or the lowest interest rate for a loan. Check out the

pawn shops reputation

and know your rights before you go!
Remember if it sounds too good to be true it probably is! When dealing with pawn shops to obtain some much needed quick cash or a loan on your item be sure to do your homework. Understand completely the terms of your loan, the payoff date, and the arrangement for picking up your item. If you are looking to make a haul be prepared to take less than retail value or haggle till you drop.
Have you ever used a pawn shop to score some cash or take out a loan? What was your experience?