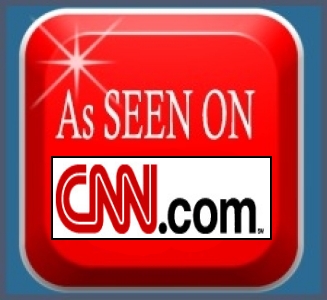 An Unusual Day In The Life Of A Part Time Blogger
Well let me start by saying, WOW!!!  Today was an extraordinary day for me.  Two weeks ago I was contacted through my website by Jim Kavanagh, a writer for CNN.com.  When I woke up this morning I had no idea what I was in for.  Kavanagh wrote a terrific story called, Walking Away From Credit Cards, which highlighted the fact that some people have chosen to say NO to credit cards.
I was quoted as saying, "Credit card debt is our biggest hindrance in being able to take care of our families and set ourselves up for prosperity."  He continued the quote, "If your paycheck is going toward paying all these credit card companies off, you can't get very far."  Now if you are a reader of this Web site then this is nothing new coming from me.  The biggest argument you will see is by those claiming that they receive all these rewards which translate into free money.  Free money?  Really?
The Argument Dismantled
Do people really buy into this?  Okay, that was a stupid question but it just seems as though people are willing to overlook a few things, all in the name of a free hat or a $200 cash back incentive.  Let me point out the obviously, NOT so obvious here.  Credit card companies are not stupid! They have figured out how to sucker you into using their product for many years now by marketing to you with no mercy.  Let's face it, they are great at making money!
When they are looking to promote their next big idea that will ensure that YOU are sucked right in, they are not worried about the puny amounts of chump change that you have "tricked them out of!!"  They are more focused on the fact that you are more likely to spend 12%-18% more, in order to receive those "rewards".  This is because when you spend on plastic, you are more likely to spend more because the transaction does not register as pain, like cash would.  You may as well say you are working for the credit card companies because to them, you are nothing more than an advertising expense.  You are there best promoters!  These companies do not spend millions of dollars on advertising, simply to give you FREE STUFF!  You are kidding yourself!
I would be willing to bet that you spend AT LEAST $200 or more in order to receive that "wonderful" return on investment.  Consider this!  If you were to stop using credit cards, isn't it logical to conclude that it is possible to get a bigger return by investing the extra money that you weren't spending because of the lost incentive to buy more?  To me it's like listening to the people that waste their hard earned money on the lottery defend their habit by saying, "I won $200 a month ago?"  As if that was worth it or something!  HOW MUCH DID YOU SPEND TO GET THAT $200? Don't be fooled!
Debt Free Suggestion
I contend that it is better to avoid the risk all together.  So many people fail to weigh the risk involved.  Even if you pay off your card every month, LIFE can still happen to you.  When it does, your discipline will quickly turn on you once desperation and survival kick in.  Avoid the risk and decide for yourself that having credit cards just isn't worth it.  Contrary to what so many people believe, you can have a life without using a credit card.  Cut up those cards and experience what it feels like to not have a master looking over your shoulder, just waiting for you to slip up.  It has happened to many and it can happen to you!  I can tell you that my life has been so much more relaxed since swearing off the credit cards!  No chains for me please, I'll use CASH!
Wanna talk about it?  Leave your thoughtful response below…
TO MY READERS NEW AND OLD
I have received an overwhelming amount of emails from this article!  I want to let everyone know to keep their questions and comments coming.  I will get to your specific question and may even do so with a blog entry on the subject.  Please do not feel ignored if it takes a week or so to get to yours.  Anyone that knows me can tell you I am more than up for the challenge!  Welcome to Enemy of Debt, and thank you for stopping by to make my day for the entire month!  I love my readers!!
To prove how much I love my readers I am going to have a giveaway to celebrate you!  I will post a blog on Monday with details.  I can tell you now though that I will be giving away TWO XL Dave Ramsey "Owe Nothing To Anyone" T-shirts!! What better way to celebrate such a good day, than by giving something away?