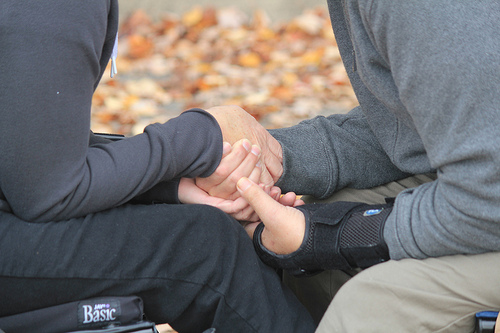 On November 21, 2005, my life turned upside down. Just three and a half  months before that day I had given birth to my first and only child, my daughter Lily. My husband and I waited six years to start a family, planning so we would be ready.  But no matter how hard you try, sometimes all the planning in the world doesn't prepare you for the unexpected. After Lily's birth, my health started to fail. I finally went to the doctor and was diagnosed with malignant pleural mesothelioma. I was told I had a mere 15 months to live unless I had drastic medical intervention.
That medical intervention happened to be a very invasive surgery involving the removal of my left lung, the lining where the cancer was found, half of my diaphragm, the lining of my heart and perhaps a rib or two. Not just any surgeon is skilled enough to do this surgery and the specialist I was referred to was 1,400 miles away from my home in suburban Minneapolis/St. Paul, MN. He was in Boston, MA.  My husband, without missing a beat, told my doctor to get us to Boston. All I could think of was, "How on Earth are we going to pay for this?"
My career up to that point was working in an upscale salon. A few years previous to that, a group of us bought into the salon to become part owners in the company.  I still worked behind the chair full-time, on top of running one of the locations.  When I had my baby, upon my return I was transferred to another location, and in doing so I lost about half my clientele.  I had not financially prepared for this and was taken aback by the sudden move.  As I worked to rebuild my clientele, I started showing symptoms of the cancer.  Our bank account was already low from taking a month off to have Lily.
As a stylist, if I didn't work I didn't get paid.  I worked strictly on a commission basis.  I had prepared for the maternity leave, but in no way anticipated the transfer and the resulting shift in my finances, much less a cancer diagnosis three and a half months later.  I ended up leaving my job because of my deteriorating health. I put my ownership in limbo, not wanting to make any hasty decisions, but it also meant I was not active in the business and was not earning any dividend.  We went from two incomes down to one and my husband and I were faced with the very real possibility of not only losing our home, but our car too.
We were lucky though. We sat down with my parents and we bared to them all our finances. Not an easy thing to do, and it didn't sit well with my husband at the time.  He was so angry about everything that asking for help wasn't even on his mind.  He was simply trying to wrap his head around this new reality we were living in.  My parents paid off our credit card debt, so at least we wouldn't have that to deal with.  We realized we had many expenses before us and changes needed to happen fast.
As we assessed our expenses, we decided to put my car up for sale so we wouldn't have a car payment. I called the student loan company and put my student loan into a medical deferment, which in the short term saved us quite a bit of money.
Through this cancer diagnosis, we also discovered the kindness of others.  Our neighbors banded together and took up a collection that was close to $1,000. There were a few times I went to the mailbox and in it was an anonymous card with cash or gift cards for gas in it.  My mother-in-law helped us with travel expenses by paying for our plane tickets to Boston, and some of my clients made my car payment for two months so we didn't have to sell the car.
I realized so much during this time. Although it's hard, asking for help is worth it.  I also found that not shying away from the places you owe money to and telling them what is going on helps out! Our mortgage company deferred one month's payment, and put it on the end of the loan period. Yes, we still racked up interest, but in the meantime it gave us a break so we could afford the travel expenses to see my specialist.
All in all, over that year, I had five trips to and from Boston.  I ended up staying in Boston for a month during and after my surgery, and we were lucky enough to stay in a group home for patients of the hospital that cost us a fraction of what a hotel would have.
Our friends in Minnesota and from my hometown in South Dakota hosted benefits to help us deal with medical and travel expenses.  This was back in 2005-06, in the days before Facebook and Twitter, and crowd funding websites didn't exist like they do now.  That is what's wonderful about the Internet; you can take advantage of so many resources that weren't available even 10 years ago.
There are also many national and local organizations that can help out with expenses.  My local cancer center has an organization called The Angel Foundation that helps patients with expenses, and The Mesothelioma Applied Research Foundation has recently added a travel grant to help other meso patients travel to see a specialist.  Many of these things are available if you look.
Rebuilding your finances after a devastating medical emergency is not easy but it can be done. I learned a lot over the last 11 years.  Don't shy away from your debt. It will not just magically go away.  Be in constant conversation with those whom you owe money to.
Make use of crowdfunding sites, too.  People WANT to help in a crisis and it is really easy to go online and donate money to the person in need.  I know many people who have utilized this method and it made a huge difference in their financial condition.
I also learned to live without certain things. We cut out cable to save money, and made use of WIC while I was sick because our income had dropped so low. It certainly helped out in buying formula for Lily as she was still a baby, and I couldn't breastfeed her because of the illness.  I also found out that I was able to go on Social Security Disability and applied for that as soon as I could.  Mesothelioma is an automatic qualifier for SS disability as are many other cancers. It is always worth looking into.
My husband found a job that paid a little better and helped get us through.  He also realized that he wanted a more secure future, and when I finished treatment, he went back to school to get his Bachelor's degree and is now working an IT job he loves.
We also learned to plan for the unexpected. When he started his job, he got disability insurance, just in case. It will pay in the event something happens and he is not able to work.
We slowly but surely have rebuilt our finances and I'm proud to say we are debt free. We even paid my parents back for paying off our credit cards. It was not easy in light of all we went through, but it was worth it. We are a little older and a little wiser, and now know planning for emergencies and setbacks is just part of everyday life now.  Like my husband always says, "Better to have and not need, than need and not have."
Editor's note: Heather Von St. James lives in Roseville, Minnesota with her husband, Cam, and daughter, Lily Rose. She loves gardening, Starbucks and raising awareness for mesothelioma through her work as an advocate. To reach Heather, email her at heathervsj@mesothelioma.com
photo credit: amslerPIX Holding Hands via photopin (license)