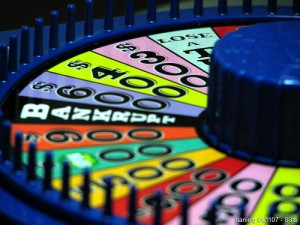 Have you ever considered filing bankruptcy to resolve your financial crisis? I know I have, but was so very glad that someone who cared about me decided to speak up. Determining yourself to be financially incapable is nothing to take lightly, but it seems that these days, filing for bankruptcy is no different than having your teeth cleaned.
I refer to filing for bankruptcy as the equivalent of taking the morning after pill to prevent unwanted pregnancy, and here's why. The fact of the matter is that in both cases, someone wakes up one day and suddenly realizes "Hey, I shouldn't have done that".
The time to consider the consequences is before the act—not after. Just like someone should make responsible choices when deciding to have sex, they should also consider the consequences that running up a bunch of debt could bring. In either case, the outcome can be disastrous.
I always feel the need to make it clear that my intentions are never to disparage anyone who has filed or thought about filing. My only intention is to help those who I may be referring to, see the truth that they are not bankrupt at all—they most likely just have a mess to clean up.  I also think that we have an obligation to repay what we owe, no matter how inconvenient the mess may be.
I believe that this topic needs to be discussed more often. I talked my sister out of filing bankruptcy just a few months ago. She has a little work to do to clean her mess up, but she is so glad she didn't file. The truth was she wasn't bankrupt at all, she just needed to change her habits and behaviors in order to turn things around. Her lifestyle was bigger than her income so she had to down-size. She had a hefty mortgage and was behind—the bank accepted a short sale without recourse. She had car payments that were eating her alive—bye bye cars.
There are times when someone really has no other choice to file, but it's not because they owe, $50,000, $75,000, or even $100,000. When you are truly bankrupt, it will still be your LAST resort. Even then, it may resolve your legal obligation but does it resolve your moral obligation? A topic for another post but I would like to point out that Dave Ramsey filed bankruptcy on over a million, and still he returned after rebuilding his wealth to repay those he had previously owed.
This article was inspired by one of my good friends who I deeply respect. He told me that one of his financial goals for 2010 was to file bankruptcy. Say what? 🙂 I care enough about him that I decided to interject.  We had a great conversation about it.
The trouble is society enables a false sense of security by gladly accepting bankruptcy as a part of life. Too many people believe that bankruptcy or even debt consolidation is the solution to their problems, but that couldn't be further from the truth. Allow me to explain.
Is Bankruptcy A Solution?
If by solution you mean your troubles will completely vanish—NO, IT IS NOT! This entire blog is about financial behavior and habits that heave us into a dark hole, when really all we had to do is plan for and avoid falling into the hole in the first place. Saying bankruptcy will solve your problem is like saying sweeping dirt under your rug means you have a clean floor.
The dirt still exists, just like the behaviors that caused you to find yourself feeling financially incapable still exist. Have you ever known someone who filed for bankruptcy and still ended up racking up a bunch of debt again? I do. I even know people who have filed bankruptcy more than once and STILL they do not see the folly in this cycle of slavery.
Bankruptcy does not solve anything! It hides the problem and gives the false impression that the problem is gone. The problem isn't that you have a bunch of debt, the problem is "WHY" you have a bunch of debt.
Cause and Effect: "WHY" (<~~ your behavior) you have debt is the cause, and the actual debt itself is the effect.
Is Bankruptcy A Cop-out?
I believe that the average person would not admit that it is a cop-out. They would instead claim that it is a necessary financial move in order to regain control. You wanna know what I think? It's very much a cop-out! Whether or not someone realizes it to be one does not matter.
The truth is that cop-out is defined as: 1.) A failure to fulfill a commitment or responsibility or to face a difficulty squarely. 2.) A person who fails to fulfill a commitment or responsibility. 3.) An excuse for inaction or evasion.
So no matter what the reason or justification you have for filing, by definition it is considered a cop-out to do so. You have decided NOT to "face your difficulty squarely", but instead to totally avoid any and all responsibility to keep your commitment. Something to think about at least right?
Is Bankruptcy An Enabler?
Filing bankruptcy enables you to avoid the true problem—your behavior. It gives you a false sense of accomplishment when really you have done nothing but avoid responsibility. I know that may seem harsh to sensitive and politically correct ears, but I feel that something should be called what it is. Trust me when I say I hold myself to the same level of scrutiny, even if I sometimes suffer from denial in the beginning. I am hard on myself when I am wrong, sometimes to a fault.
Furthermore, by not saying what I have said I believe that I would be enabling you to continue to believe that bankruptcy is just a way of life. That there is nothing wrong with evading responsibility if it means that you benefit.
Here's another definition for you to chew on.
Integrity – adherence to moral and ethical principles; soundness of moral character; honesty. (I would like to add: REGARDLESS of whether or not it suits you at the time.)
In other words, even if it benefits you at the time to relieve yourself of any legal obligation, you should still repay your debt. Avoid bankruptcy.
What

IS

The Solution?
Getting your hands dirty! Humbling yourself to accept the fact that you made a mistake and may have to work a little harder to clean it up. Realizing that you are where you are today because of the decisions you made yesterday.
Get out of debt by yourself and with a clean conscious. You owe someone money, and they deserve to be paid back.
Here's what you have to do to truly resolve your situation so that you never return:
In the precious words of my self-reliant 3 year old:
"Look Daddy, I did it all *bys myself!" (*spelled the way Isaac says it—wrong but so darn cute!)
In the words of a proud daddy:
"Atta boy!"
Now go get yourself out of your own mess! You will feel so much better after you do.  It is very rewarding to know that you accomplished something you saw as, or that others claimed to be impossible. I believe in you and your ability to do this, even if you do not. Do not sell yourself short, or the person you owe the money to for that matter. And finally, do not believe what society has marked as "acceptable", instead prove it wrong! Face your difficulty squarely!