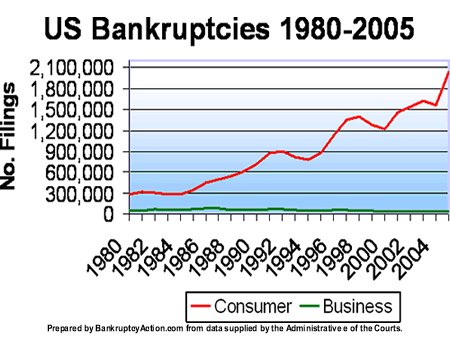 Is Bankruptcy The Answer?
I was on the Financial Peace University Forums today and happened to notice the word bankruptcy being thrown around as an option. This isn't a rant as much as it is an argument as to why you should avoid bankruptcy completely.
I realize that this is a very touchy subject for people so my intention is not to make a judgment, but instead to express an alternate view. I would like to remind everyone that I was very close to filing bankruptcy myself at one or more times in my life and am very glad that I didn't. I assure you it wasn't because I struck it rich.
The truth is that after listening to Dave Ramsey talk about bankruptcy,as well as every other person that calls his show, I have come to the conclusion that bankruptcy is no fun!! It seems to be a very, very painful process that can cause an emotional breakdown. Declaring that you have no money is a tough pill to swallow to say the least! Still, people file bankruptcy in record numbers. Some argue that filing bankruptcy is a service that keeps families from becoming homeless, and some say that it is a way for people to avoid the repercussions of irresponsible spending and poor money management to give them a fresh start. We will talk about them both.
Bankruptcy Keeps People From Becoming Homeless?
Really?  I am so surprised every time I hear this argument, because the first thing I want to ask is, "Did that person decide to file bankruptcy AND quit their job?"  In my mind this argument is bogus!!  Getting foreclosed on is not easy, and having your car repossessed is no picnic either if that is the only car you have but to say that one couldn't go find a cheap apartment, buy a beater and reorganize their financial life in a way that would enable them to gain control is senseless.
Irresponsible Spending and Poor Money Management?
You betcha!! This is the reason people file bankruptcy! Couldn't you say that if they did the opposite then bankruptcy would never become in issue? Do something different, get something different!! It is as simple as that. People are filing bankruptcy to avoid the problems that they created and instead of owning up to the outcome they decide to make someone else take the hit! That is absurd to me. Usually I hear, "Well Dave Ramsey filed bankruptcy." These are the people that are simply avoiding the truth of the matter. YES, Dave filed bankruptcy but he also REPAID all of the debts he filed bankruptcy on. That's integrity!! He was also in MORE debt than MOST people.
Take Responsibility For Your Actions
To avoid the dreadful "B" Word, try using some of Dave Ramsey's Baby Steps pay off your debt and clean up your financial mess. It works I've done it! 😀

STOP BORROWING MONEY! NOW! You are making it worse with every dollar you borrow!
Get yourself on a REAL budget.  Pay your four walls FIRST and your credit cards LAST.  Prioritize your life and your expenses.

Consider getting a second job. Not fun, but before you shoot it down consider all the fun you had while running up ALL that debt.  Now it's time to get SERIOUS!
SAVE $1,000 FAST! Don't say "I can't", because I know of several ways you can- Cut the budget, cut grass, deliver pizza, deliver papers, sell on Ebay and consider selling your BORROWED CAR, and buy a beater. If you say you can't then you will never try.
Pay off your debts (except the house) from smallest to largest using the debt snowball method. Dump anything you can to knock down your debt pile. Keeping the things that caused the problem is insane!  Hmmm…keep the house and car because you like them OR declare yourself broke.
SAVE 3/6 Months of expenses. Also known as emergency insurance for life.
Save for College and Retirement! Student loan debt is proving to be a problem in this country!
Pay off your Mortgage with "Gazelle Intensity".
Build Wealth and GIVE! (If you have no payments you will be able to build wealth "SCARY FAST", and GIVE like never before.
The point is that you have many options to try before bankruptcy is the answer. A little effort goes a long way. You made a mistake. we all make mistakes but living up to those mistakes and dealing with them is how we learn and grow.
Bankruptcy – The NOT SO GREAT Escape!

It is really quite simple.  You borrowed the money and you need to pay it back.  Why should someone that loaned you money have to take the hit because you finally decided that you have borrowed too much and the only way out is to NOT PAY ANYONE?  Harsh maybe but let me point out that as I considered bankruptcy many times, I was just as harsh on myself.  Not to mention I had some great advice from some great people.
Take responsibility for your errors in judgment and decide to clean up your mess!  You will be so happy that you did!  The lessons you will learn a long the way will be life changing!  This is not a consensus, it's just one man's opinion.