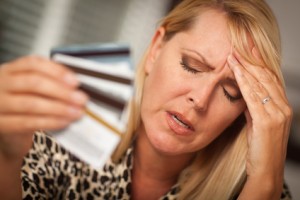 Most Americans have a pile of debt.  Are you one of them?
Debt has gotten to be such a normal part of life in this country that most people don't even question it anymore.
In fact, some people think having debt can even be a good thing.
But really, do you need a pile of debt to get all the things you want and need out of life?
Let me answer that one for you…
No, you don't.
In fact, I think it's just plain silly to think that debt is a necessary part of living a normal life.
A False Sense of Prosperity
Think about it for a minute.  When you're in debt, what does that debt actually do to you financially?  It siphons away your hard earned money by forcing you to pay extra for whatever you buy with it.
Debt causes you to pay interest and fees that could be better used to live your life instead of sending it to a finance company.  It causes you to pay a premium price on the things you want and need.
In the long run, debt serves to suck you dry financially while giving you a false sense of prosperity.
So Why Do You Stay In Debt?
Most of us, if asked if being free from debt would be a good or a bad thing for our own life, would choose debt freedom.
So why is it that the vast majority of us are in debt up to our eyeballs?
Why do most of us continue in debt even though we know what's best for us in the long run financially?
There are several reasons I can think of.  Let's take a look:
Everybody Wants to Fit In-  You want the cool things everybody else has so you can be like them or because you want to fit in with a certain group.  So you end up spending money you don't have to keep up with the Joneses.
Not Educated About Money- Too many people just don't realize how interest and fees add up over time to keep them in the poor house.  When you are educated about money and debt, you have the tools that will cause you to start winning with money.
Lack of Self Control With Money-  Some people just aren't good with self control.  They don't seem to be able to make themselves stop spending once they start.  So they continue to spend without thinking, eventually digging a financial hole that ends up being very difficult to get out of.
Here's the plain truth about debt:  when you have it, you're wasting hundreds, even thousands of dollars every single year in interest and fees.
Because of that, debt makes you poorer than you otherwise would be.  But if you use proper planning, you could use those wasted dollars for things that create much more value in your life than keeping credit card and finance companies in business.
Debt = Stress
When you have debt, you also have more stress and worry in your life.
You worry about needing to make more money.
You worry about being able to make the payments.
You worry about your future and the fact that your present debt is eating you alive.
Everyday life is stressful enough without having to worry about debt and the additional problems it brings to your life.
If you have trouble sleeping at night and have that continual knot in the pit of your stomach due to stress, it's very likely you'll discover that at least some of that stress is being caused by debt if you take an honest look at your situation.
Don't let debt rob you of your future, your present, or your peace.
It's SO not worth it!
Debt Freedom Is Achievable
I've been out of debt (except for my house) for 7 years now, and I can tell you without a doubt that debt freedom is achievable.  I have first hand experience that says life is tremendously better without the bondage of debt in my life.
Debt is called "bondage" for a reason.
It keeps you tied down.
It keeps you from having your freedom.
Getting out of debt really isn't an extremely complicated process, but it does take time and dedication.
So get educated, ignore the marketing, change your habits and your mindset.  Then you can get out of debt and start succeeding with money… guaranteed!
Has debt a bad effect on your life?
Do you recognize yourself in the bullet points above?
Tell me about it by leaving a comment.
Resources:
Is There Such a Thing as Good Debt?
Are Minimum Credit Card Payments Really Affordable?
Changing Your Behavior Requires a Paradigm Shift
Why Are the Rich Getting Richer?
You Know What You Should be Doing, What's Holding You Back?