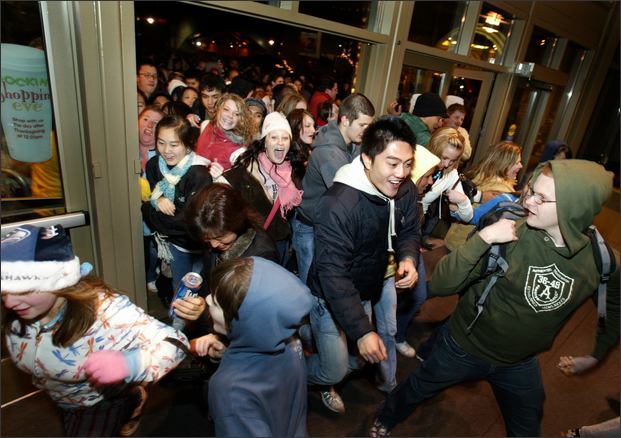 Is buying bargains high on your list of priorities? If not, you may want to reconsider. On Monday I told you I would share with you how my beautiful wife and I are saving money this Christmas.
I also wanted to share with you some of the ways we are bringing in a few extra dollars to offset the unexpected expenses we've had in November. We donated more money this month than we budgeted so we thought it was a great idea to put our thinking caps on to earn extra dollars. Too bad I didn't have my thinking cap on the night I broke that skateboard.
A few weeks ago, my good friend Jeff from My Super Charged Life sponsored a fundraiser for the Make-A-Wish foundation. We donated twice to that, and my wild and crazy D.C. friend, J. Money from Budgets Are Sexy, wanted to entertain us all by doing a little lottery experiment/charity project. He spent $100 of his own money on scratch tickets to see how much he would win, while giving any of the winnings to Project Hopeful. Some of J's readers, including myself pledged to match his winnings, or make a donation to the charity.
Two wonderful causes were able to benefit from it, but the truth is we donated money outside of our November budget. Not something I recommend doing, but it was worth it, so we started thinking of ways we could make extra money to keep from finding ourselves a little short towards the end of the month.
Four Things We Are Doing To Bring In Extra Money Or Save In November
Selling items of our own we no longer need – We simply started looking around the house for items we no longer need, so we can sell them. You could probably do this 4 times a year and make more than $100 each time if you wanted to find an extra $400 a year.
Buying items at SUPER discounts to sell on craigslist or Ebay – I have written about selling on Ebay before. We have been super successful in buying bargains, often way under $10, and selling them for a huge profit.
Searching Ebay for extraordinary deals for Christmas presents – Who needs Black Friday to get a deal? Not us! (Details below)
Looking for side jobs to earn extra – I have been in search of extra ways to earn more money aside from my regular job. I signed up for Elance, and am hoping to win some writing bids there. There are other super secret things I am working on too. 😉
Items We Have Sold Or Are Selling
Nice Winter Boots – My wife has a few pairs of boots she purchased earlier in the year. Boots sell better in the winter. Originally purchased for $3.00 each at Goodwill.
High-end Baby Stroller – This mother of a stroller costs over $700 brand new—we paid $15. Why on Earth would ANYONE spend $700 on a stroller, I don't know, but they do. Apparently, they have more money than they have common sense—it's a stroller for crying out loud. It doesn't clean the house, wash the car, or pick you up from work. Guess what? You still have to push it manually.
Baby Bjorn Baby Carriers – My wife found two of these at a yard sale for $1.50 each in like-new condition. We sold one of them for $35 and decided to use the other one.
Portable DVD Player – We got two of them one year for Christmas, and honestly should have sold it a long time ago. It SOLD for $40.
Palm Treo for Alltel – This phone was given to us by someone when they got a new phone. It is in GREAT condition but we use AT&T.
Z-Coil Shoes – Prices for these shoes brand new start at $189. We are hoping to get $65, which is less than they are going for on Ebay. We are selling them on craigslist, if they do not sell there we will do Ebay. (Pssst…they are VERY comfortable but they look kind of weird. It's got a spring on the heal which is only partially covered up by the shoe.
Just the two items we have already sold make up for the broken skateboard that cost me $60.
Buying Bargains That Make Black Friday Look Like A COMPLETE Waste Of Time
My wife is the bomb when it comes to finding deals like this everywhere. Aside from shopping at Goodwill, she loves yard sales, and most of the stuff below was won at a local auction. STOP paying full price for something you can find for dirt cheap! She looks for specific items, but always runs across items with tags still on them, or they are still in the box.  (ALL Christmas presents we buy this way are brand new items—take that Black Friday.)
Retail: $615/Paid: $151
Florist Gift Card –

Retail $25/Paid $1.00

. We used this card to buy wife's parents some flowers to commemorate their 32nd Anniversary.
McGrady's Pub Gift Card for local restaurant –

Retail $20/Paid $1.00

. Will be given to someone for Christmas.
Earlysville Market Gift Card for local grocery store –

Retail $100/Paid $51

. That's $49 worth of groceries for FREE. We even used $40 of it to buy bottles of wine from local wineries for Christmas gifts.
Walgreen's Gift Card –

Retail $20/Paid $11

. This will come in handy for buying OTC medications for sure.
Everyday Cafe Gift Card –

Retail $50/Paid $35

. Who complains about getting $15 worth of free gas? Not us that's for sure!
4 Lift tickets to Wintergreen Ski Resort –

Retail $200/Paid $26

. Awesome, and by far MY FAVORITE purchase from the auction! This place is like 45 minutes from us, and I plan to take 3 of my friends. They've agreed to purchase their lift tickets from me for $15. Not only am I going to be able to go skiing for 10 hours, but I am only going to have to spend the cost of ski rentals, which is $36. If you minus the $19 extra I will receive from my friends, after paying for the cost of the tickets, ($26) I will only be paying $17. Yeah baby!
Restaurant.com Gift Cards –

Retail $200/Paid $26

. I told you my wife rocks! She found these on Ebay and bought two for $13 each after tax. This will come in handy for Christmas gifts for people in other states. You can use these gift cards to buy gift cards for specific participating restaurants.
So not only have we been able to use these purchases to have a little fun, buy groceries, fuel and other household items, we have been able to save a boat load of money on buying Christmas gifts. It also means that we can buy for more people. We generally do not waste a lot of money on buying Christmas presents, except for the children and our parents, but this year we will be able to do MORE WITH LESS. Even less than we actually budgeted to spend for Christmas. The main point of me sharing this with you is because I hope you can see the value in looking around for bargains, instead of just settling for the always expensive and mostly painful, Christmas shopping experience. It's definitely something for you to think about when you are looking at the still-high sale prices that for some reason,do not seem so cheap after all. Do something different…be weird!
Everything above, is in addition to cutting costs and preparing ourselves for the best, less stressful, Christmas we've ever had. I mentioned before that we have paid our mortgage and car insurance through January, and cut back on utility costs any way we could. It's all about preparation and planning and you can do it too. You should do it too!

Christmas Project Update
I know you do not yet know what it is that I am working on, but I am hoping that it is going to be as big as I imagine it can be. I hate to be constantly mentioning it, without divulging what the project actually is, but I just want to make sure you do not miss out. It's going to be big, and you are going to love it. I am not going to let you down! Announcement coming soon!
Be sure to subscribe, so that you do not miss this announcement during the hustle and bustle of the Christmas holidays. As I write this, there are probably hundreds upon hundreds of people camping out in the rain, in order to get that super sale. I have to ask: is it actually worth all of the time and effort it takes to accomplish this goal? My time is so very important to me, so I have to logically conclude that the money I could be saving could be earned by doing something else more important and useful with my time. If you are in line right now, I am not mad at you—I just don't understand the point. 😉
It's Black Friday—stay safe!