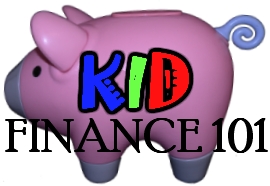 Have you been wondering how to start teaching your children about money? If you are counting on the schools to give them anything in the form of financial training, you're wasting your time. You're better off doing it yourself. If schools taught solid financial principles, many of us would have never got into the financial trouble we ended up in. To make matters worse not only did we make a mess ourselves, but for most of us–myself included, we continued the stupidity for more than a decade.
I plan to stop that nonsense right now with my children. As Dave Ramsey would call it, I'm changing my family tree. In fact, Dave Ramsey has a great program for kids 3-12 years of age to do the same thing. It's called Financial Peace Junior. Dave has even put together an excellent series of kids books too.
If any of those interest you I highly recommend you check them out. We found a couple of them at Goodwill for $.35 each and they are pretty good kids books. These resources are great, but if you're looking to save a buck and need something to get you started, I created something for you.
Now I do not have any nifty books…YET, but I have created something that can help you teach your kids about money. What I have put together for you today is actually what Isaac, who will be four in July, is starting on next week. It's nothing complex, just a way for us to teach him saving, giving, spending, and work ethic, with a little more structure than before.
As many of you know, he has already been getting small change here and there for behaving, cleaning up, and just helping around the house. There was no system really, we just wanted him to see that if he did something he got a reward. His first time counting up his money, we had a great time, and he really enjoyed the fact that he got some money to go spend at WalMart ($20.69). As young as he was he learned that he could not just buy anything he wanted, but had to have enough money. He gave a small amount to our Church ($8.27), and has a small savings ($12.41) in place as well.
Now it's time to step it up a notch.
I'd like to introduce you to a free excel spreadsheet I put together called Kid Finance 101. It's totally free, and it will give you a structured way to introduce your children to the word commission. As Dave Ramsey points out, allowance is the wrong word to use because it's more like welfare. We all work for a commission, so our kids should learn early on that when you work you get paid, and when you don't work, you don't get paid.

Microsoft Excel 2003 – Kids Finance 101

Microsoft Excel 2007 – Kids Finance 101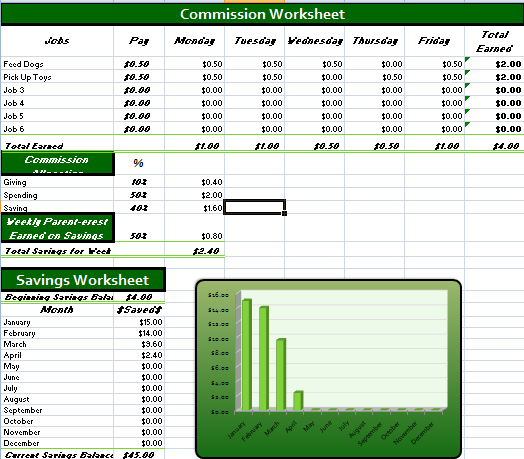 For Isaac, we are only making him do 2 jobs each day. You don't want to start a slave camp or anything, you just want to teach a lesson while making it fun. Each day Isaac will earn $1.00 if he feeds the dogs, and cleans up his toys. If he doesn't do them he shouldn't expect to still get that awesome new Lightning McQueen car he's been wanting.
Each week when he gets paid, he will put aside 10% in his giving envelope, and 40% in his savings envelope, and 50% in his spending envelope. To give him incentive to save for a "rainy day" we are giving him what I call "Parent-erest". You'll notice that on the sheet I am giving him weekly interest and it's pretty high at that. That percentage will go down as he gets older, but the point of this is to give him extra incentive to save early on. For now, he's getting 50% interest on every dollar he saves. Weekly that amounts to $1.00 if he does all of his work each day 5 days a week.
For giving, he will be putting aside 10%. I will be focusing on giving in other ways, but for the purpose of this I wanted him to start with the recommended giving percentage. For spending he will be allowed 50%. It's high enough to get something that a 3 year old might want, but low enough that he might have to consider saving it up in his spending envelope if he wants that special toy he's been eyeballing.
I've also added a Savings Worksheet so that you can keep track of your kids savings each month. It comes with a handy dandy visual aid to show how each month looks. Yes I am a total nerd. For now you will have to manually enter the amount of money saved each month but hopefully one day I can make it easier for all of you.
This worksheet is a trial run for me, but I think it will get the job done. I plan to do what Dave Ramsey suggests and post up a neat little chart on the fridge so Isaac can see his progress for himself.
Just so you are aware, this worksheet was created using Excel 2007, so some of the functionality might be lost if you are running an older version. I hope you are able to use what I have put together to help your children start learning the basics. I'd love to hear your feedback in the comments section below.
Are you teaching your children the basics?