I recently saw this sign on the refrigerator at work: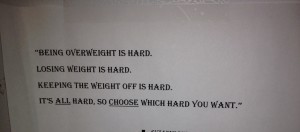 It's an interesting sign, one that makes me think every time I go into the kitchen.  But the other day, as I was waiting for my lunch to heat up, I looked at the sign again. Since I relate almost everything to money, I realized that the same mantra can be applied to our debt. It would sound like this:
"Getting into debt is hard.

Getting out of debt is hard.

Staying out of debt is hard.

It's all hard, so choose which hard you want."
I thought this was pretty profound. Let's take a closer look:
Getting into debt is hard. Well, it is and it isn't. Frivolous, unbridled spending is not hard. When you're buying up all your wants without any regard for what's going to happen later, it's easy. Plunking down a credit card for a $1500 couch that you don't need and really have no room for is simple.  However, when you're getting into debt because your lifestyle exceeds your expenses, that is hard. When you can't afford to pay all of your bills every month, for whatever reason, and you have to use a credit card to fill that space, that's hard. And going into debt for medical expenses is a category entirely unto itself.
Getting out of debt is hard. Yes, yes it is. It takes so much work and sacrifice and discipline and it's exhausting. You need to track every penny. You need to give up hobbies that you love. You need to forgo restaurants. You need to find free substitutes for paid activities that you enjoy. You need to create a budget. You need to do all of the things that personal finance experts and bloggers preach about and advocate until we're blue in the face. And doing all of that is strenuous. It will test everything: your strength of character, your relationships with friends, family and spouses/partners, your self-confidence, your discipline. You don't realize how many areas of your life have been touched by your debt until you step back, analyze your situation and attack it. But the hardest part is admitting your debt needs to go.
Staying out of debt is hard. Once you've removed the albatross of debt, you can't help but celebrate. Why not? Being debt free is definitely cause for celebration! You've worked hard to earn the label "debt free".  Now that you have no debt, and you can finally keep your money to yourself, it's easy to start spending that money in the same carefree manner that got you into debt in the first place. You have to work to stick to a budget and savings goals to ensure that you never have to put in the grueling effort of debt repayment ever again. It takes work to keep your new, frugal habits in the forefront of your financial life.
Choose which hard you want. It is your choice. Of the three, which is the most desirable option? Which "hard" do you want to work at? For me, it's an easy pick. While I had a great time spending money  I didn't have on vacations and meals I couldn't afford, the end result of that is 5 years of excruciating work. I would rather choose to work at staying out of debt. Because in the grand scheme of things? That's easy.