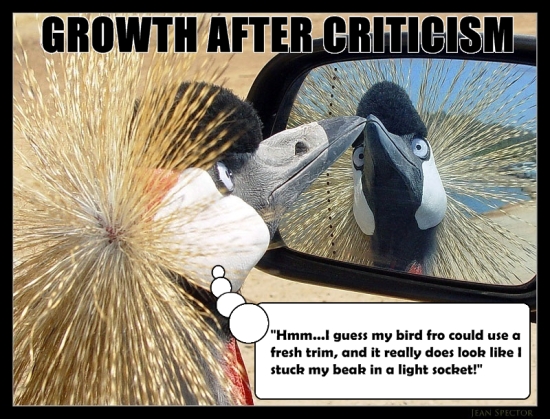 Do you get angry or feel attacked when someone offers you some constructive criticism?
Let's be honest with ourselves for a moment shall we? There has been a time in most of our lives when we simply could not handle the slightest hint of criticism. I know I am sure guilty of it, but I have definitely grown in this area.
To be honest with you there have been times when I asked for it, didn't like the answer, and completely let my ego take over. The ego can be pretty controlling, but can it keep you from growing as a person?
I think so.
When you are more worried about being right or being hurt, than you are about the actual context of what was said—you are ignoring the part that can help you the most. I admit it is sometimes hard to hear the things that we need to improve on, but I feel it is absolutely crucial that we listen to constructive criticism for what it is, as long as it is in fact constructive.
I am also assuming that you know, and have a relationship with the person who just criticized you—otherwise all bets are off. I am not suggesting violence of course, but I certainly do not have a problem with setting someone straight if they are blatantly inappropriate. 😉
This is what I try to do when I am offered criticism about something I could improve on, whether I agree with it initially or not.
Take in what was said—the good and the bad. Sometimes when someone comes at you with criticism it is possible to immediately acknowledge the truth in what was said. Most likely something you already know to be a weakness, you just have not been able to resolve it yet. I consider this to be good because it just affirms what you already know and gives you another chance to try and work on it. The bad is not necessarily bad, it's just that you perceive it as bad because you have not yet examined its accuracy with a clear head.
Keep my immediate feelings quiet until I have had some private time to reflect. Good feelings or bad feelings, sometimes it is just better to think about things first. Gathering my thoughts and revisiting the conversation later if necessary allows me to either skillfully defend myself, or admit when I was wrong. Have you ever said anything really stupid and childish when you were mad? Even if you are right your point gets lost in the pain of your words which can destroy relationships fast. Take caution though in over analyzing every little detail—something I have had a hard time with myself. It can cause you to envision someone's motive being something other than it really is.
(However, if I do respond immediately) I try with all of my might not to respond negatively. Seriously though…I am only human and sometimes when you get cut, it's just a natural reaction to attack and defend. My goal is to be able to count to 10 and consider my words a little more carefully.  Resentment caused over expressing yourself a little too freely because you are trying to inflict emotional pain, is never a good idea. The phrase, "if you have nothing good to say, then do not say anything at all" is a good one to repeat to yourself when in the heat of the moment.
Consider the accuracy of what was said truthfully and honestly. Looking at myself in the mirror—figuratively speaking—is always helpful because it knocks down the roadblock that is denial. Denial inhibits growth by stopping you from acknowledging that there is a possible problem. It's impossible to ask the hard question when you cannot even face the easy one first. The easy one being—"am I wrong?", and the hard one being—"how can I improve?" You will never decide to fix what you never accept as broken. (<~~period.)
So back to the question at hand. Can you limit your personal growth as a human being, by getting offended at someone else's opinion or observation? Well if you agree that denial will never allow you to truly consider the possibility of truth, then you have to believe that growth is less likely to occur. So what are you going to do about it?
Why did I write this post? Well, not only can you apply this to almost any aspect of your life, but you can apply it to your financial situation as well. You do not need someone else to point out your financial flaws for you to be honest with yourself. Personal growth comes from a desire to constantly mature and grow to be a better person than you were the day before. It means you are not just going in whatever direction the wind is blowing, nor are you stagnant from standing in one place too long.
When you just simply follow the wind, you end up in debt up to your eyeballs. When you stand in one place without any forward progress, you end up at retirement with no money in savings, while wondering if Alpo is what you will eat for the rest of your life.
Become proactive by listening to "constructive" criticism with an open mind, and you will grow as a result.