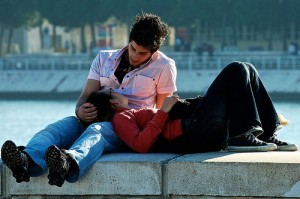 Good morning Enemy of Debt readers.  My name is Kristina and I am the blogger over at Dinks Finance.  Today the EOD team was gracious enough to let me chat with you about debt, commitment and marriage. I am thankful for the opportunity and I look forward to spending the morning with you.
Dinks Finance is a blog for couples about couples regarding everything related to money.  I have been with my boyfriend for almost 14 years, we started dating as a two broke teenagers in college – now at 32 and 33 years old we are both successful professionals. Our money management style is laid back, we spend when we need to, we enjoy our annual vacations and we enjoy our time together. However, it hasn't always been like that.
Becoming debt free is the best investment we can make
We grew up together and we also learned about money together, so our styles just sort of merged. But that's not to say that we haven't had our share of money problems in the past.  After college we were both lucky enough to land full time jobs; not too long after we both started receiving pre approved credit card applications in the mail and of course we accepted each and every one.
Credit cards made us feel like adults so we accepted them, one after another.  Not too long after that we found ourselves almost $50,000 in debt – to say that thousands of dollars of debt put a strain on our relationship would be the understatement of the year.
My boyfriend and I worked through the stress and paid off our debt over the next few years and thank goodness we lived to tell the story – but if we are being totally honest about the situation I think that our relationship could have gone either way. I never want to go back to living paycheck to paycheck and I don't ever want to go back to spending more money on my credit card bills than I spend on rent.  I learned from my mistakes and I am glad that I had my boyfriend by my side through those stressful years.
Would you say I do if your spouse had debt?
I am thankful that my boyfriend's love was stronger than the stress that the financial burden put on our relationship. However, if we weren't together for 14 years, if we just met I don't think that I could get into a relationship with someone who was in debt.
I know that may sound shallow – especially because we just met – but it's the truth. I know how stressful being in debt can be and how it can really take over your life. As a Financial Planner I love helping people become debt free, but I don't ever want to be in debt again. I didn't like paying off my own debt and I definitely wouldn't marry someone and help pay off their debt.
I take precautions to ensure that I don't ever get into too much debt ever again.  I save a portion of each paycheck, I save for retirement and I make sure to enjoy some of my money so that I don't feel restrained. That is the key to financial freedom – balancing what we have to do for our futures with what we want to do in the present.
Is debt a deal breaker in your relationship?
—————
Guest post by Tahnya Kristina – a certified financial planner and personal finance writer.  She enjoys helping people pay off debt, budget and achieve their personal goals. You can follow her on Twitter at @TahnyaKristina.
Photo credit: pedrosimoes7