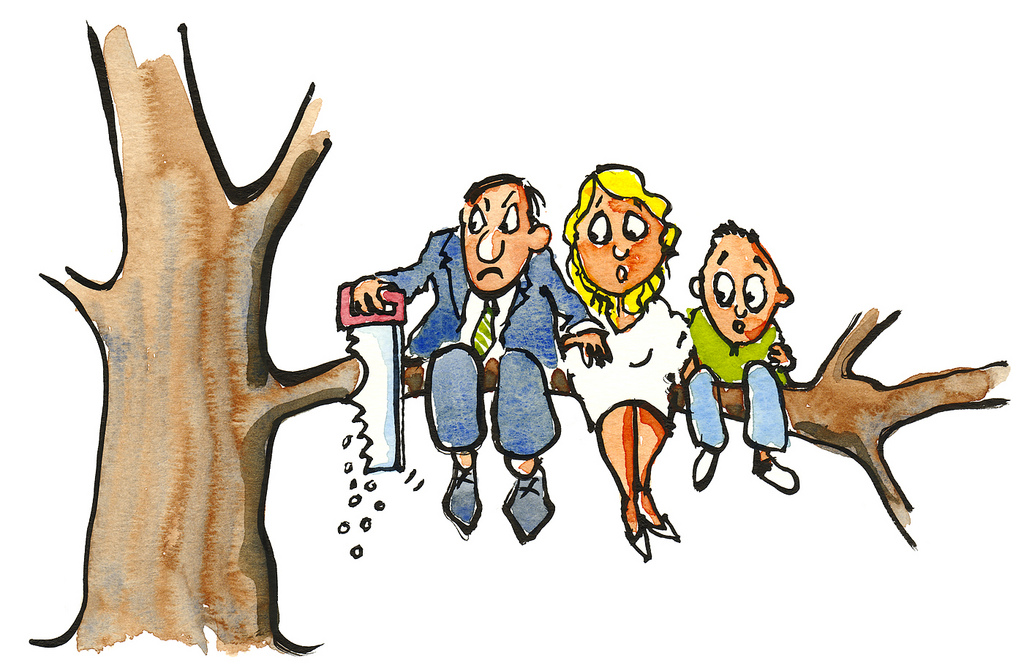 Photo Credit: HikingArtist
This is a guest post.
Living under the constant shadow of debt isn't fun for anybody. If you feel like you're drowning under a sea of debt, you may think you have no other option other than filing for bankruptcy. This should be avoided at all costs, since it will be a mark on your financial history for many years. It's important to understand that it doesn't give you clean slate, but allows people to rebuild their credit, slowly, without the adversity debt. If you do decide to file, you'll find it's nearly impossible to get good rates on various loans, if at all, or good rates for credit and a variety of other things. Before making this decision, consider a few creative ways others have used to pay off their debt, without having to file for bankruptcy.
Generally, as people make more money they find themselves spending more money rather than saving it. As consumers, we like to find good deals, and often make purchases on things that we usually don't need. One of the best ways to pay down your debt goes far beyond working on a budget. Consider cutting back on luxuries, and you'll be stunned at how much you've saved. This means cooking, instead of dining out, buying used, instead of new, finding modest accommodations instead of high-end living,  and shopping off brand, instead of specialty. It's not about going without, it's about making due with what you have. Set aside enough funds per check to cover expenses, such as bills and gas, and put the rest toward your debt. Making larger payments than required will lower the interest you will have paid over time.
See if your credit card company will assist you in paying your bills. Many people don't consider this because they aren't aware that companies want to work with you. Your creditor doesn't want you to file bankruptcy. They want you to be able to pay them back. Speak with a representative, and see if they'll waive late fees or lower your interest rate. Speak to them about a payment plan that will help you get your credit debt under control.
Be creative!
Sell the possessions you don't need. If you live in a larger apartment or home, consider downsizing to more modest accommodations. This will also decrease your energy costs and consumption, which means lower utility bills. Anything you can't comfortably fit into the apartment, sell it. You can make a lot of money this way, although this isn't a viable long-term approach to paying off your debt, it's a good start. Consider taking a small portion of the money you make from the sale towards penny stocks. These are great short-term investments that are really cheap and, if managed properly, can have excellent return. However, you should first seek the advice of a professional, such as Timothy Sykes, who specializes in these types of investments on a regular basis.
It's also important to do your own research so you know what you are doing, or getting yourself into.
Just remember, you don't have to file for bankruptcy to get rid of your debt, because, as we know, it doesn't really get rid of it. Follow some of these tips to help gain control over your life. You might even find that it changes the way you live in a positive way.