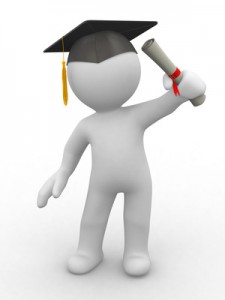 If you have student loans from attending college (Let's hope you don't) and you're a recent graduate, you might be a little concerned about how you're going to get that student loan debt paid back.
As college tuitions have risen over the years and starting salaries have remained flat or even gone down, it has become much more difficult for many people to meet those huge student loan obligations and get them paid off in a timely manner.
Total student loan debt is now over $1 Trillion and even exceeds total credit card debt according to Allie Johnson at Credit Cards.com.
So how do recent graduates get a handle on paying off those student loans so they don't hang around like your chain smokin' Aunt after Thanksgiving dinner?
It all starts with a plan.
Here are a few tips to get you on the right track:
Make it Your #1 Priority-  Do not incur any more debt until you get your student loans paid off.  Once you get a job you'll be very tempted to go into debt for a car, furniture, etc.  But if you put every spare dime toward that loan, then aunt Martha and her Marlboro's will spend much less time at your dining room table.
Develop Good Financial Habits Now-  Learn to budget, keep control of your spending, and by all means, don't use credit cards or take out any other debt.  Additional debt will only pull you deeper into a hole that it will be much harder to climb out of in the future.  The less debt you have, the better off you'll be.
Pay More Than the Minimum Payment-  If you just pay the minimum payment every month it will take you many years to get your student loan debt eliminated.  When you regularly pay more than the minimum you really cut down on the total interest you pay over the life of the loan.  Your future self will thank you when spouses, kids, and a home purchase eventually come your way.
Get a Side Job-  If you're fortunate enough to have landed a job in your field that's great!  Now do something really radical, get a part time job and dedicate all that money only toward paying off your student loans.  Adding this money on top of what you're already paying out of your regular salary will serve to hugely accelerate paying off your student debt and can allow you to pay them off in just a year or two.
Live With Mom and Dad-  Another radical move considering most of us would rather be out on our own after college.  But if you can do it with driving yourself or your parents crazy, it's a great way to be able to pay off those loans in a hurry because your expenses are greatly reduced.  The best way to maximize this situation is to live like you're still in college, put all of your earnings that you possibly can toward that debt and it will be paid off in no time.  This works even better and faster if you get that second job I mentioned above.
Volunteer or Join the Military-  Joining the Armed Forces has the benefit of partial or even full forgiveness of student loans, depending on how long you're in the service.  There are also government sponsored opportunities such as AmeriCorps, contracting to teach in a low income area, or even working on a Native American Reservation or other programs that the government uses student loan reductions or even total payoff as an enticement to serve in those areas for a certain period of time. 
When you have a plan on how to pay off those student loans before they start becoming a huge problem in your life, you can really begin succeeding with your money.
But when you fail to plan, after a few years they become like that bad relative lightin' one up in the back seat of that car you want to buy in a couple of years, smoking up the spare bedroom of the house you eventually want to buy, and exposing your future kids to second hand smoke because ole' Martha just won't go away.
So do it now, make a plan.
Your future will thank you.