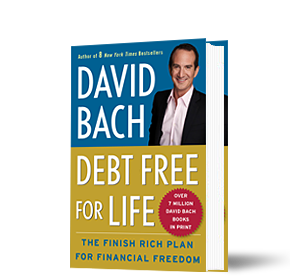 If I could give a Nobel Peace Prize to anyone — one of my possible choices would be to give it to someone who wrote a book with the title "DEBT FREE FOR LIFE"! (Biased, I know) Unfortunately, the Nobel Peace Prize has been tainted many times by being given to anyone that has a pulse, instead of to those who actually achieve greatness. In my opinion, the author of Debt Free for Life, David Bach, has achieved excellence and deserves such an award for his latest book. 🙂
Of course, for me, those that teach about debt and the problems debt causes is a winner in my book!
DEBT. FREE. FOR. LIFE.
Four beautiful words that encourage and inspire financial greatness!
Does it get any sweeter than that? Of course it does. The book goes far beyond just a genius title, and digs into one of the areas in life that impact us the most — our finances, but more specifically, the debt that hinders our own personal growth. My absolute favorite part of the book is where David shares the moment he realized his answer to the age old, and highly controversial debate of GOOD DEBT vs BAD DEBT, had changed.
While waiting in the greenroom to do his weekly "Money 911" segment, he realized that usual answer to this question had changed. This is my favorite quote from the entire book, and this is just the introduction!
"The truth is that when you're in debt, it doesn't matter what you've borrowed the money for. The only thing that matters is whether or not you can afford to pay it back. And if you can't, all debt is bad debt."
He goes on to say:
"The best investment you can make in the next five years is going to be paying off your debts. So my advice is to pay off what you owe as fast as you can. The faster you pay off your debt, the faster you will achieve financial freedom."
That is GOLDEN!!
That advice, if followed, is guaranteed to improve your life! No one ever complains about wasting their time becoming debt free after they have done it! (And if they do I'd like to know what insane asylum they've been admitted to so I can chat with them about it.) 😀
In this book, David Bach doesn't just brow beat you with why you should become debt free, he shares with you how. He talks about how lenders keep you broke, the mindset it takes to stay debt free for life, as well as his method for paying down debt as fast as you can — The DOLF Method. He also introduces you to something called Debtwise that uses The DOLF Method to provide you with the tools you need to become debt free for life.
Debt Free for Life is the best debt free book I have read since The Total Money Makeover. David earned my respect when he turned his previous advice on its head, because he realized that times had changed. I think too many experts fail to give advice based on all of the "real-life" components and instead give you the text book answer taught in college.
I highly recommend this book, and although there is a little more focus on credit score than I would like, the book will definitely help you learn the ropes as well as encourage you to strive for debt freedom. I can tell you from experience that becoming debt free was one of the VERY BEST things I have ever done for myself and my family.
We will in fact be DEBT FREE FOR LIFE!
Win a Copy of This Great Book!
Do you want a chance to win the book for yourself? awesome, because I am giving one away. All you have to do is leave a comment below telling me the one thing that is keeping you from becoming debt free for life. If you're already on a path to debt freedom, tell me what is slowing you down.
Is it your spending habits? Expensive toys? Low income? Job loss? Your inability to let go?
You get the point, but that's not all. Once you figure out what is keeping you from becoming debt free for life, the next step is to take action everyday to remove that obstacle from your life. Whatever that obstacle is, pick the one that hinders you the most, and do something every day that will eventually help you overcome it.
Too many people simply accept their circumstances for what they are without challenging themselves to think outside the box — to dig deeper to find a solution. Today, YOU ARE NOT THAT PERSON! Today, you will expect more, and tomorrow you will have more. It's completely up to you!
That's it!
I will give you until Monday night at midnight to enter this giveaway. Only comments that answer the question above will be considered when the winner is chosen. I'll even give those of you who enter a chance to increase your chances, but you must tweet this exactly as it is here. (worth 5 entries extra)
I just entered to win a copy of Debt Free for Life by @AuthorDavidBach on @enemyofdebt! Enter for a chance to win! http://bit.ly/fKjn2J
I can't wait to announce the winner! Have a super awesome weekend! 🙂

The Winner
The winner of the Debt Free for Life book by David Bach is Stephanie! Congratulations Stephanie! Your tweet gave you the advantage. I hope you enjoy this book as much as I did. 😀