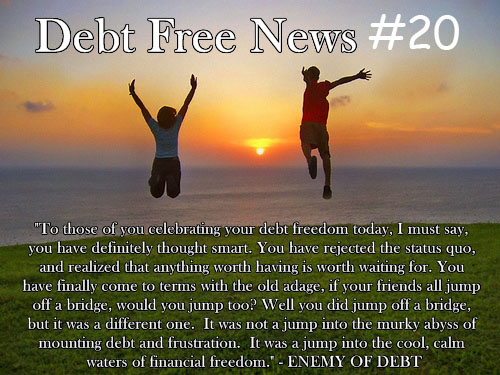 Guess what folks!
Debt Free Friday is back and today I want to congratulate Jenny from Ex-Consumer, and her husband for becoming debt free! Woo-hoo! That is awesome news for sure. For all of you debt free enthusiast out there, I hope you take the time to read this story of hope and freedom. Be inspired by Jenny and all those who came before her! You're NEXT! Make your plan to become debt free and get down to business! We'll all be rooting for you here at Enemy of Debt so be sure to drop by for motivation and some debt free love!
Have a great weekend! 😀
The Enemy of Debt Questionnaire – Jenny of Ex-Consumer
How much debt did you have and how long did it take you to pay it off?

My husband and I paid off $25,629.00 in consumer debt over the past eight months. The debt was made up of a student loan and a car loan.
How does becoming debt free actually feel? Does it feel better than you imagined it would?
Having our consumer debt paid off feels like a wave a relief crashing over me. I wasn't sure how it would feel when we were buckled down and focused on getting rid of the debt, but now that I can take a step back and reflect on our achievement, it truly feels like we've been given a gift of freedom.

What were some of the struggles that you had to deal with along the way? Was there ever a time where you almost gave up?
The biggest struggle I encountered was getting my husband 100% on board with my debt free aspirations. Once he came around and experienced the same shift in mindset as I had, the debt just began melting away!
Also, we were incredibly aggressive about cutting our expenses, and I couldn't have been successful in this area without my husband's full support. Especially since one of things we cut was cable tv.
What would you consider to be the most important key to becoming debt free? What helped you the most?
The most important key in my opinion is wanting it bad enough. If you know why you want to become debt free, then it makes it easy to stay the course.
For me, I had a spreadsheet of what our monthly cashflow would look like after the debt was completely paid off. I looked at the spreadsheet each and every day and it helped keep me motivated to stay focused on our goals.
It seems a lot of people have bought into the idea that debt is essential in order to prosper, what do you have to say to those people?
Well, I used to be one of these people! Now I would say, that's just silly talk. Obviously it's counterintuitive to think that we need to pay someone else interest and become enslaved to debt in order to prosper.
I believe something like 75% of Forbes' richest people in the world say the best way to build wealth is to become debt free. I think I'll listen to their advice rather than the advice of loan officers. 😉
What was the biggest sacrifice you would say you made in order to become debt free? What about you changed the most?
I don't know if this is the biggest sacrifice, but it's the one that I noticed the most. We began eating all of our meals in. This may not sound like a big deal, but in the past, we would get take-out twice a week or more, so making sure we had a weekly meal plan put together was a struggle at first.
Once we got the hang of making sure we had the right groceries to through meals together it actually became more convenient than eating out!
Did your friends and family give you a hard time about your new mission to eliminate the debt from your life? If so how did you deal with it? Do you think you inspired others by your journey?
My family was a little confused as to why I wanted to live this way, but the further down the path I walked, the more they came around. For the most part, everyone that knew what we were doing acted incredibly supportive. At least they were supportive to my face. 🙂
To be honest though, I rallied most of our support through the online community that I've become a part of because of this great debt free adventure!
What is next for you? What financial goals do you plan to accomplish?
Our next goal is to rebuild our emergency fund. Right now we have a little over $5,000 put back for emergencies, but we plan to build the fund up to $20,000 over the next seven months.
I'm so thrilled that we actually get to start keeping our money instead of giving it all away each month!
Jenny writes about getting out of debt, becoming more frugal, mitigating advertising influences, living lighter, exploring the world of minimalism and all the life that falls in between on her blog, Ex-Consumer. Read her Debt Free Birthday Announcement! You can also catch her on Twitter at @exconsumer.
Debt Free News From A Debt Free Reader Series
Click here to read any of the other great debt free stories in this popular series!
More to come…but only if I get some new submissions! 😀