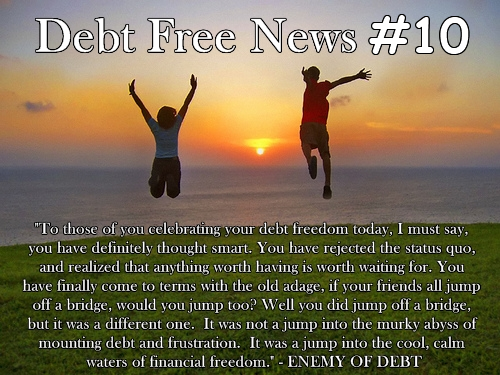 Time again for another Debt Free Friday! This one comes from a friend of mine that I met on the FPU forums, and we've been friends ever since. In fact, she started out as one of my accountability buddies. We kept each other motivated throughout our debt free journeys. Golda has been an awesome friend to me during this time!
Are you working on becoming debt free? Ever feel unmotivated to continue what you know you should in order to get your finances in order? Perhaps finding someone with the same goals and values as you would be beneficial. It really helps on those rough days. Those days when you just don't see the point, and trust me, those days happen from time to time.
No matter what you do I hope you continue to come to Enemy of Debt to stay m0tivated during the process! 😀
Check out Golda's Debt Free News! PLEASE ENJOY!

I have also put together a page, where YOU can fill out the Debt Free Questionnaire. I'd love to share your story.

The Enemy of Debt Questionnaire – Golda
How much debt did you have and how long did it take you to pay it off?
Our highest debt without the mortgage was only about 18k but it felt like a ball and chain around our life. We paid it off in about 18 months.
How does becoming debt free actually feel? Does it feel better than you imagined it would?
It feels great to be debt-free and know that we are slave to no one…but the house for a while…and we don't plan to become a slave to anyone ever again.
What were some of the struggles that you had to deal with along the way? Was there ever a time where you almost gave up?
We were lucky that Murphy didn't come to visit during our first two years of trying to pay off debt. He waited until after when it was tempting to use a cc because all we owed was the house…but we didn't, we cleaned out our accounts pretty good but was able to leave some in each to add to as we continued to live the DR way.
What would you consider to be the most important key to becoming debt free? What helped you the most?
Staying focused on your goal is very important and not getting distracted by the way others live by their whims.
It seems a lot of people have bought into the idea that debt is essential in order to prosper, what do you have to say to those people?
Debt is NOT a tool. We were told this for many years by people who sold debt…That is a lie!! Debt is a ball and chain that just gets heavier the longer you have it.
What was the biggest sacrifice you would say you made in order to become debt free? What about you changed the most?
We didn't have to make any really big sacrifices…we were blessed already and we believe that God honored our efforts because we continued to give to Him first.
Did your friends and family give you a hard time about your new mission to eliminate the debt from your life? If so how did you deal with it? Do you think you inspired others by your journey?
Nobody really gave us a hard time about it…some did say that they thought it was impossible to live without debt, but several family members & friends decided to join us and they are still working toward their goal.
What is next for you? What financial goals do you plan to accomplish?
We are paying extra on our house and hope to have it paid off in a few years. In the meantime, we pay cash for what we need and some of what we want while deciding to wait for other stuff that we want until we can pay cash. We do want to go to Hawaii to see family that are stationed their during the summer of 2011. We are working on many goals at the same time now. It is definitely more fun to have "things" when they truly belong to you and you are NOT making payments on anything.
Debt Free News From A Debt Free Reader Series
Debt Free News: The Kick Off – yours truly @enemyofdebt
Debt Free News From A Debt Free Reader #1 – Kelsalynn @KelsaLynnFitLog
Debt Free News From A Debt Free Reader #2 – Nick @Nickfro
Debt Free News From A Debt Free Reader #3 – Paul @fiscalgeek
Debt Free News From A Debt Free Reader #4 – Peter @MoneyMatters
Debt Free News From A Debt Free Reader #5 – J Money @BudgetsAreSexy
Debt Free News From A Debt Free Reader #6 – Dustin @EngagedMarriage
Debt Free News From A Debt Free Reader #7 – Fabian @debtfree
Debt Free News From A Debt Free Reader #8 – Don @money_reasons
Debt Free News From A Debt Free Rreader #9 – Deacon Bradley @bradleycoaching
Debt Free News From A Debt Free Reader #10 – Golda
More to come…