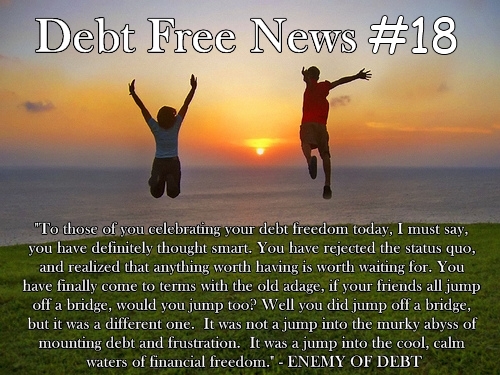 Happy DEBT FREE FRIDAY everyone!!
I hope you have a great weekend, but not before you enjoy this wonderfully inspiring debt free news from one of my readers and fellow bloggers!!
Today's inspiration comes from Crystal over at Budgeting in the Fun Stuff and I think she has made her case.
In my words:
If you act responsibly and understand that it's up to you to secure your own future, you can have the fun you want without all the stress that comes with running up debt to do so!
I recently met some folks who were down on their luck, but it wasn't their luck that was keeping them down, it was their attitude about their situation that was doing the most damage. They seemed to have given up and were ready to accept that life would always be this way for them. NOT TRUE! Don't believe that for one second if you find yourself in similar circumstances.
Sometimes believing in yourself is harder than the actual goals you want to complete, but it is absolutely essential if you want to accomplish those goals.
Change your situation by making the hard decisions to change your situation! You're the only one that can! Your job won't save you! Your boss won't save you! Your family won't save you…for long! And God knows the Government couldn't save a man overboard already equipped with a flotation device.
IT IS COMPLETELY UP TO YOU, and your family is depending on you to make better financial decisions!
So check out Crystal's debt free news and notice all of the ways her family took action to change their situation along the way! Action works!
Congratulations Crystal to you and your family! I know you will reach your goals, keep up the great work! 😀
If you read through this story and don't find yourself inspired to get rid of all your stupid debt (Yes, I said STUPID!), you are either dead, or you need to read it again after drinking a cup of coffee! 😀
Have a great weekend!!
The Enemy of Debt Questionnaire – Crystal from Budgeting in the Fun Stuff
How much debt did you have and how long did it take you to pay it off?
My husband and I had about $30,000 of car debt between 2005-2010. We paid my car off in 2007 but made the last huge payment on my husband's car July 16, 2010 at 1:48pm. 🙂
We still have about $69,000 left on our mortgage but we now follow a plan to have no consumer debt ever again! (I LOVE IT!!!)
How does becoming debt free actually feel? Does it feel better than you imagined it would?
I was really happy around the time we paid off the car, but now it's faded since we don't actually get to use that "extra" money, lol. I'm still happy but we don't feel the difference since we put our car payments into an ING home and auto savings account so our next car can be bought with cash. 🙂
What were some of the struggles that you had to deal with along the way? Was there ever a time where you almost gave up?
We never almost gave up, but we did hit two major speed bumps in 2007.
First, we lost $15,000 in a bad business deal that we should have completely avoided. We threw money into a friend's business without properly researching how bad it really was doing. It was a tough pill to swallow – we weren't actually infallible, lol.
We also put down 20% for our home. There is something inherently depressing about writing a $24,000 check to somebody – even if it is for a house.
Both of those things paused our extra payments on the car for a few months, but we got back on track by late 2007 by paying off my car.
What would you consider to be the most important key to becoming debt free? What helped you the most?
Automate as much as possible! Having the extra payments taken out automatically every month kept us on track. We only went out of our way in the last 3 months when we were hitting the last $8,000 as hard as possible.
It seems a lot of people have bought into the idea that debt is essential in order to prosper, what do you have to say to those people?
No. No, debt is not essential. Cash flow is king and debt just ties up your money. Not only that, but it ties up your money AND eats extra money for nothing! It hurts my stomach that we wasted $3000-$4000 on car loan interest. We could have used that for home renovations or savings!
What was the biggest sacrifice you would say you made in order to become debt free? What about you changed the most?
We have both always been frugal, but those last few months of debt repayment led to our "fun money" budget. We used to splurge once in a while without a plan and that always freaked me out. Now we put set amounts aside every month for the fun things in our lives so I don't have to worry about our long-term early retirement plans being damaged.
Did your friends and family give you a hard time about your new mission to eliminate the debt from your life? If so how did you deal with it? Do you think you inspired others by your journey?
I do remember my mother-in-law actually saying "you are saving too much" and my husband and father-in-law agreeing with her, but then the economy crashed. All I hear now is "it is so nice not to have to worry about how your children are doing financially". Hahaha…so there is one good thing from our economy…
I know I've inspired at least a few people since they said as much in their comments. I really do hope that my blog gets this point across – as long as you pay ALL of your bills and save ENOUGH for your future, feel free to budget in the fun stuff too!
What is next for you? What financial goals do you plan to accomplish?
My husband and I are paying off our house in 10 years total or less – by 2017. We started this goal with our first month's overpayment and are still on track. We started at $91,200 and just got past the $69,000 mark. I am super excited!
I also want to build my 3 blogs – Budgeting in the Fun Stuff, Crystal Clear Thoughts, and Dog's Life For Me – into my full-time job by 2012. I'm currently "only" bringing in about $500 a month, but I am working on getting that up to $2500 in the next 14 months. Let's see if I'm crazy or ingenious, lol! 🙂 (Good luck Crystal…YOU CAN DO IT!!)
Debt Free News From A Debt Free Reader Series
Click here to read any of the other Debt Free News From A Debt Free Reader stories!
More to come…but only if I get some new submissions! 😀