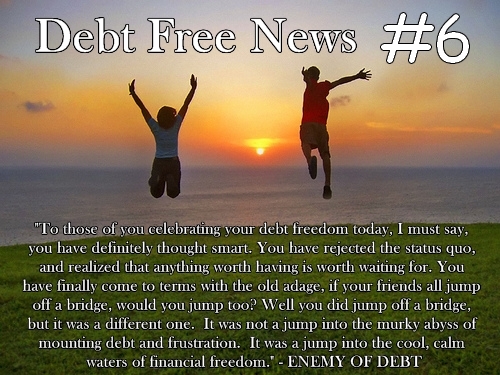 Hello everyone. As always, I hope you all are having a wonderful debt free Friday. Today's Debt Free Friday addition is from one of my good friends, Dustin from Engaged Marriage. He is a wonderful guy, and one of the things I love about him so much is his passion to help others. Him and I, have a lot in common and I know we will be working together on some great projects in the future. Please stay tuned by subscribing to Enemy of Debt if you have not already. You would be missing out if you did not also subscribe to Engaged Marriage.
We worked together on a collaborative e-book that just released called Love Everyday – a free, no strings attached e-book about relationships, love, and marriage. Go check it out! Dustin and I are also members of The Extraordinary Life Network.
Please Enjoy Dustin's Debt Free News!
I have also put together a page in which, anyone can go and fill out the Debt Free Questionnaire themselves. I'd love to share your story.

The Enemy of Debt Questionnaire – Dustin from Engaged Marriage
How much debt did you have and how long did it take you to pay it off?
At our peak, we had around $54,500 in bondage. In other words, a ridiculous amount of debt that was suffocating our family finances.
Once we got fired up and determined, it took us approximately 3 1/2 years to knock it out. It was a nasty combination of student loans, car loans, and furniture loans.
How does becoming debt free actually feel? Does it feel better than you imagined it would?
The day that we actually went to the credit union and paid off our SUV (our last debt) was surreal. I called Dave Ramsey on behalf of my family that same day and got to scream "I'M DEBT FREE!" live on the air. That was 2/29/2008 (hour two of the show that day), and that has become a very important date for our family.
Since then, our debt-free lifestyle has honestly become a routine. It just seems like the only logical way to live now, and I can't imagine having so much of our income tied up in payments. We're still very proud of our accomplishments and excited about what it is setting us up to do in the future.
What were some of the struggles that you had to deal with along the way? Was there ever a time where you almost gave up?
We got serious about getting out of debt right after our first son was born, and our daughter was born during the last year of paying everything off. So, I'd say our kids were both the motivation for our intensity and the drag on our progress…they are expensive!
The idea of giving up never occurred to us. It was just too important of a goal, and we were determined to persevere.
What would you consider to be the most important key to becoming debt free? What helped you the most?
The budget. There is no question that success in personal finance must start with a plan, and the monthly side of the plan is a solid budget.
It seems a lot of people have bought into the idea that debt is essential in order to prosper, what do you have to say to those people?
I would say that they are simply buying what the culture is selling without thinking it through. With resources like Enemy of Debt and Dave Ramsey's books and podcast available, you can find solutions without debt.
I can almost guarantee the short-term pain will be greater when you choose the debt-free path, but the long-term gain is much better. As Dave likes to say "It's hard, but it's worth it."
What was the biggest sacrifice you would say you made in order to become debt free? What about you changed the most?
For us, it required us to refocus our priorities. This came pretty naturally since we were also welcoming children into our marriage.
However, it takes sacrifice and a willingness to not "keep up" with the appearance of some of your friends if you are going to get beyond "normal" in your level of financial success. And trust me…in hindsight, normal truly does suck!
Did your friends and family give you a hard time about your new mission to eliminate the debt from your life? If so how did you deal with it? Do you think you inspired others by your journey?
We never got a lot of criticism for pursuing debt freedom, but we did get a lot of disbelief. Even after we accomplished our goals, some friends and family remained doubters that they could do the same.
I'm proud to say that our example has inspired several of our friends to pursue debt freedom. This was my first experience in really inspiring others to improve their lives, and I think it laid the groundwork for the work I'm now doing with Engaged Marriage.
What is next for you? What financial goals do you plan to accomplish?
It looks like I'll soon become an owner in the engineering business where I work. That will require a lot of cash to buy in, but I'll be doing it over time and our debt-freedom is essential for giving us the cash flow to accomplish this.
Aside from that, we'll continue to pay down our mortgage and invest for the future as much as possible. And I'll be spreading the good word about achieving an extraordinary marriage and awesome family life over at Engaged Marriage…and teaming up with Enemy of Debt every chance I get to help change the world! (I like that)

Debt Free News From A Debt Free Reader Series
Debt Free News: The Kick Off – yours truly @enemyofdebt
Debt Free News From A Debt Free Reader #1 – Kelsalynn @KelsaLynnFitLog
Debt Free News From A Debt Free Reader #2 – Nick @Nickfro
Debt Free News From A Debt Free Reader #3 – Paul @fiscalgeek
Debt Free News From A Debt Free Reader #4 – Peter @MoneyMatters
Debt Free News From A Debt Free Reader #5 – J Money @BudgetsAreSexy
Debt Free News From A Debt Free Reader #6 – Dustin @EngagedMarriage
More to come…