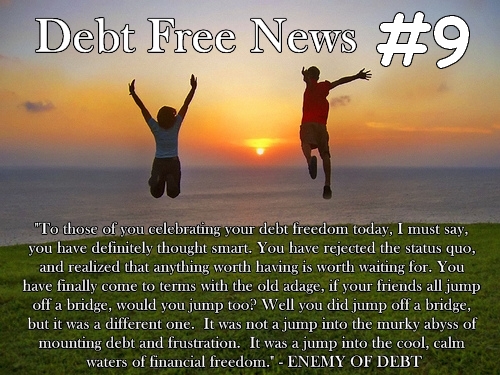 Happy Friday!! I am excited to share with you today another debt free story coming from The Lone Star State. That's right, Austin Texas! I really enjoyed this debt free interview from Deacon Bradley of Bradley Coaching. (Excellent resource!)
I am pretty sure that Deacon Bradley and I share the exact same passion for giving as we complete our Total Money Makeover. Having money is nice, building wealth is nice, and even doing some fun stuff along the way is definitely a must, but for me, giving tops the list of reasons to become debt free. Helping others overcome adversity excites me!
This was such a great interview! Thank you Deacon Bradley for giving me the opportunity to share it with my readers. You are truly an inspiration to me! Keep up the great work!!
Check out Deacon Bradley's Debt Free News! PLEASE ENJOY!

I have also put together a page, where YOU can fill out the Debt Free Questionnaire. I'd love to share your story.

The Enemy of Debt Questionnaire – Deacon Bradley
Meet Deacon Bradley
Personal finance has long been a hobby of mine. Getting out of debt changed my life so much that I want to help others do the same thing.
Subscribe to Bradley Coaching
How much debt did you have and how long did it take you to pay it off?
I paid off 17,000 in car loans. Then married my wife 3 months after paying that off and together we paid off her 9,000 car loan. It took me about 12 months to pay off the 18K debt as a single guy, then my wife and I together about 4 months to finish off her car.
How does becoming debt free actually feel? Does it feel better than you imagined it would?
Being debt free is complete freedom! I'm able to pursue my dream of building a web start-up in Austin (employee #1 at www.oib.com) and now I'm working on starting a financial coaching business as well. These are things we just couldn't do with payments hanging around because the risk was too great.
What were some of the struggles that you had to deal with along the way? Was there ever a time where you almost gave up?
I've always hated making my lunch for work in the morning and that continues to be a struggle for me even now. It's especially hard when my co-workers all head off to one of my favorite restaurants for lunch. Often times when I don't want to make my lunch I think, "If someone were to walk in here and hand me a ten dollar bill to pack them a lunch, would I do it?" There are still days when I wouldn't, but 90% of the time it puts it in perspective. That seems like a trivial example, but for me it's the grind that was tough. I could say no to that new car I wanted or an awesome vacation, but things like making my lunch every morning require me to DO something rather than just avoid it. For the record, I think my wife would say having to be patient furnishing and decorating our house.
There was never a time when I almost gave up, but there were plenty of times when I let my intensity slip. Paying $1500 a month on your car makes you feel pretty good and it's tempting to take a month off and get that new bike I've had my eye on. Staying focused is a choice you make every day to get you where you want to go.
Hopefully, now that the mortgage is paid off, this will no longer be an issue!!!
What would you consider to be the most important key to becoming debt free? What helped you the most?
If you want to be debt free then seriously treating it like a goal will get you there. Ask yourself WHY you want to be debt free and make sure you can really answer that question, and then get on a written plan to get you there. I'm a huge fan of the "debt snowball" for paying down debt because it addresses the personal side of personal finance that so many neglect. Also, review your progress every month (is the budget working? do we need to adjust it? how much have we paid off?). Whenever you feel yourself losing motivation go back to that "why" you answered when you started and that will keep you going. If you don't have a strong WHY to support your WHAT you're going to have a hard time staying focused.
It seems a lot of people have bought into the idea that debt is essential in order to prosper, what do you have to say to those people?
If you choose a debt free lifestyle there will always be people telling you you're doing it wrong so it's important to really believe in your decision. This goes back to having a strong WHY reason for wanting to be debt free. For me it's because I want to be wealthy some day and be able to live and give like no one else. When studying wealthy people and the way they live I didn't find many talking about credit card rewards or leveraging their way to the top (I highly recommend Dr. Thomas Stanley's books on millionaires by the way). Once you're debt free it gets easier because you've got a lot of money piling up and it's tough to argue with that!. So I guess what I would say to those people is "debt won't take me where I want to go."
What was the biggest sacrifice you would say you made in order to become debt free? What about you changed the most?
What changed about me the most was learning to be intentional with my money. The fantastic thing about this was that it slowly permeated every part of my life until I was intentional with everything. My career has a plan and I'm actively working to make it exactly what I want. My relationship with my wife has goals and steps we're taking to make us even better. It was much easier just drifting along hoping something happens with my job or hoping to stumble into a great marriage. Learning how to happen TO things instead of things happening to me has dramatically impacted every area of my life.
The biggest sacrifice I made was missing out on some cool activities with friends. In retrospect I'm having trouble naming specifics which I guess shows how important it was in the long run.
Did your friends and family give you a hard time about your new mission to eliminate the debt from your life? If so how did you deal with it? Do you think you inspired others by your journey?
I didn't get much push back about my plans from anyone. There were plenty of people who disagreed with my path, but no one tried to discourage me from doing it. I had quite a few people along the way become interested in what I was doing and decide they wanted to come along for the ride. Unfortunately most didn't last long though because they didn't have the faith in the lifestyle to back it up. I think in 10 years my debt free life will look dramatically different than my peers and maybe THEN it'll inspire people.
What is next for you? What financial goals do you plan to accomplish?
Next up is step-6 (of 7): paying off my home. This should take us about 7 years at our current pace. I'm looking forward to step 7: Build wealth like crazy and give a bunch away! In the mean time I'm working on starting a financial coaching business to help others succeed. I have a passion for helping people reach their goals so what could be more fun!?
Debt Free News From A Debt Free Reader Series
Debt Free News: The Kick Off – yours truly @enemyofdebt
Debt Free News From A Debt Free Reader #1 – Kelsalynn @KelsaLynnFitLog
Debt Free News From A Debt Free Reader #2 – Nick @Nickfro
Debt Free News From A Debt Free Reader #3 – Paul @fiscalgeek
Debt Free News From A Debt Free Reader #4 – Peter @MoneyMatters
Debt Free News From A Debt Free Reader #5 – J Money @BudgetsAreSexy
Debt Free News From A Debt Free Reader #6 – Dustin @EngagedMarriage
Debt Free News From A Debt Free Reader #7 – Fabian @debtfree
Debt Free News From A Debt Free Reader #8 – Don @money_reasons
Debt Free News From A Debt Free Rreader #9 – Deacon Bradley @bradleycoaching
More to come…