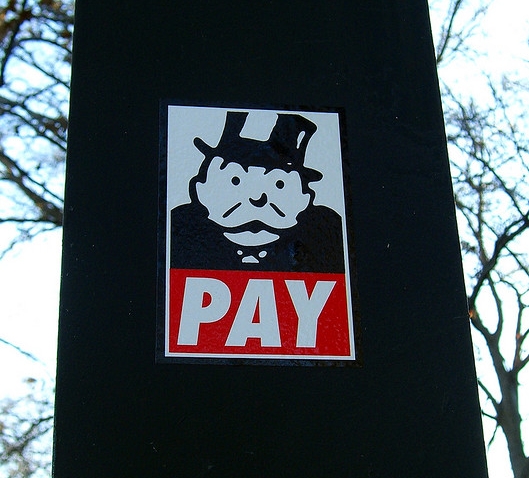 Photo Credit: walknboston
Are you looking to pay your debt off by using the debt snowball method?
In the personal finance world there are differing opinions as to which way to do this. It's the great debate.
Do you pay off the lowest balance first or start with the lowest interest rate?
Personally, I believe that the debt snowball method you choose completely depends on your specific situation and attitude about your debt.
If you need that extra push to stay motivated, it might be better for you to pay the debt with the lowest balance first. Psychologically, you will respond to and are more motivated by getting the quick wins along the way.
It's one of the reasons they say you should put your goals on paper instead of leaving them in your head. Each time you accomplish something on your list you get a rush and are motivated to quickly continue obliterating the next debt on your list.
I can tell you from experience that every single time my wife and I payed off another debt we felt like throwing the largest block party!
Getting the quick wins by paying the lowest balance first provides quicker confirmation that your plan is working. You will get the same boost by eliminating your debt by paying the highest interest rate too, however, the key difference is that this method may cause a longer period of time to go by before you are able to achieve  a victory.
To me it's like living without the sun in total darkness. Eventually, not seeing the sun is going to get to you just like taking longer to pay off each debt can easily affect your resolve. Your attempt may seem like a never-ending journey and can possibly lead you to believe it's not worth continuing.
The motivational factor should not be underestimated when deciding which to use. If your mind is made up, and you want to pay the lowest interest rate first just realize, you will have a different battle. You are going to need a double dose of motivation to work on what is likely to also have a bigger balance!
Regardless of which method you use you will still have those tough debts that seem like they are taking an eternity to pay off. It's a matter of preference really. Would you rather manage the hard part (bigger debt) after you've gained some experience with your new lifestyle, or in the beginning when you're just learning how to change your habits?
The benefit of paying the highest interest rate first is obvious. You will pay significantly less in interest, but may sacrifice a little motivation in the process. I prefer getting comfortable with my new plan before tackling the larger debts. (That's why we payed the lowest balances off first, but paying the highest interest rate doesn't always mean it's a large debt.)
I wrote a post that will show you a process to use to help you stay motivated while attacking the larger debts. It is something that we struggled with as we reached the end of our snowball. It truly felt like it was never going to end. When you are in that place, it doesn't take much for you to feel defeated.
You are going to have things come at you along the way that will throw you off course. Stay strong!
Staying Motivated While Paying Off Your Larger Debts was my attempt to get you to break your larger debts into smaller sections on paper so that you would get that same motivational boost a little more often. It may not work for everyone but I am quite confident that it couldn't hurt to give it a try. There's still no replacement for seeing a real balance hit zero though!
The big news is that you've made the decision to pay off your debt; CONGRATULATIONS!
It'll be one of the best decisions you have ever made for you and your family! No matter which way you choose, the most important thing is that you JUST DO IT! Say goodbye to debt forever to increase your happiness and enjoy a different quality of living! It truly is worth the effort!
Live debt free!
When you do, come back here and tell us how it is on my popular series called Debt Fee News from a Debt Free Reader! Join 18 others that have completed the questionnaire I created in hopes that it would inspire others!