If you have been a fan of Enemy of Debt for anytime at all, then you know I became debt free by using the debt snowball method. I didn't have an iPhone, iPod Touch, or an iPad when getting out of debt, but if I did, I would of definitely loved being able to track my progress using this App.
Thanks to Matthew King, today I will be giving away Five Debt Snowball Pro Apps to help you manage and track your debt elimination progress with ease.
There is much controversy in the financial world about which technique should be used when paying off your debts using the debt snowball method. You can organize and pay off your debts according to smallest balance, highest interest rate, and even by paying off the debt with the smallest minimum payment first. I of course, believe that achieving the faster, small victories is the key to keeping you motivated so we paid off our debt by placing all of our debt on a list from smallest balance due to largest balance due.
What I love about this App, is that it gives you the option to choose which technique works best for you or your math oriented brain. I say that in love, but must point out, that getting out of debt isn't always about math, it's about intensity, motivation, and determination. You can do math all day long, but if you have none of those things going for you then your debt elimination struggle will be more difficult, if it's not a complete failure.
With that said, I still believe in choices and for some people, different techniques work better for them than they do for others. Hooray for choices! I think the most important choice being made at this point is the one that says YOU WANT TO ELIMINATE YOUR DEBT. How you do it is up to you, as long as you do it, am I right?
Check out what the Debt Snowball Pro App can do for you, and if you have an iPhone, an iPod Touch, or even an iPad, be sure to enter this giveaway by following the directions listed at the bottom of this post.
Special Features:
Easy-to-use interface.
Ability to add and remove debts, update balances, and see when you will be debt-free.
Shows interest saved and debt payoff dates.
Detailed Payment Schedule spreadsheet, showing effects of applying snowball payments to individual debts.
Ability to email snowball data and complete payment schedule
How to use:
1. Enter all your debts on the debt tab (figure 1 below). You review debts by clicking on them in the table. You can delete debts by clicking edit. To update a debt you first review the debt, change the relevant information, and click update. The debts listed in the table will also give the payoff date for each loan based on the payoff method selected in the options/settings tab.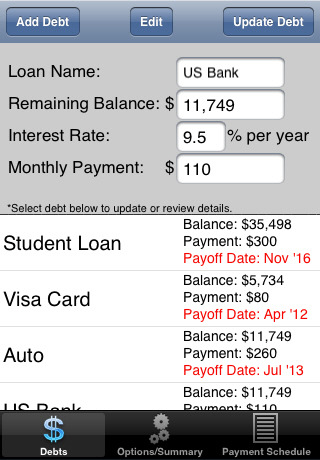 Figure 1: Debts Tab
2. Go to the options/settings tab (figure 2 below) and choose your payoff method and initial snowball. The initial snowball is the money you are initially willing to apply toward your total debt. This tab will also give you a short summary of when the debt will be paid, and how much interest and time will be saved by applying the selected payoff method.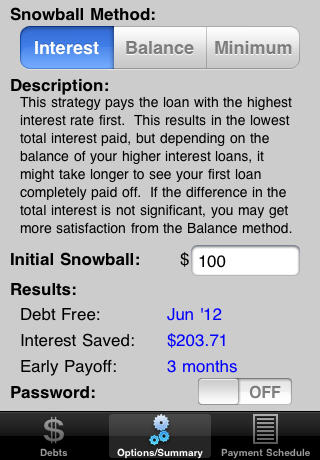 Figure 2: Options/Settings Tab
3. Go to the payment schedule tab (figure 3 below) and review the schedule for your total and individual debts. One debt will be displayed at a time. Toggle using the arrows to show other debts. You can also use the email button to interface with the mail app and send a copy of the complete payment schedule.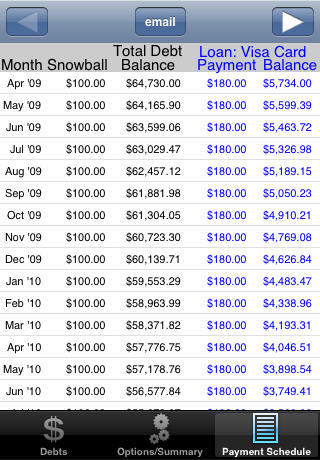 Figure 3: Payment Schedule Tab
The Giveaway
All you need to do in order to enter for a chance to win is be a current subscriber to Enemy of Debt and leave a comment below. In your comment answer this question: (worth 1 entry)
What is more valuable to you when paying off debt; paying the smallest balance or highest interest rate first?

Want to increase your chances of winning? These can be done at the bottom of this post. (Be sure to leave a comment letting me know about your extra entries.)

Tweet this post. (make sure @enemyofdebt is in your tweet.) Worth 5 extra entries!
Stumble this post. Worth 5 extra entries!
Tip this post. Worth 5 extra entries!
Giveaway Deadline
All entries must be submitted by Tuesday September 28th at midnight! I will be selecting the winners via random.org, and will update THIS POST to let you know who the winners are by Wednesday.
Good Luck!! 😀
The Winners!
Oh man!! I first would like to apologize because I COMPLETELY forgot about the giveaway from last week! I have had a lot going on this week for sure but it is the first time I have EVER forgot to pick the winners of a giveaway. My bad! 🙂
The winners of the Debt Snowball Pro app's are Mike, Gina, Beckey and Jeff, TdoubleU, and Rena!! Congratulations ladies and gents! I will be sending an email with your free codes today!
Again I apologize for making you wait!