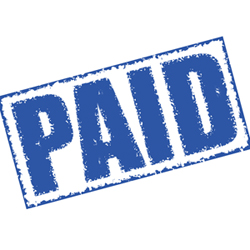 Are you finding yourself feeling frustrated or overwhelmed with paying down a large debt?  As I have recently become debt free myself, I understand completely.  Our last debt was approximately $9,000, and it took us what seemed like forever to eliminate it.  During that time, we often felt we were making little progress, mainly because the "quick wins" motivational boost we had been receiving from paying off our earlier debts was no more.
I can't stress to you enough how important those "quick wins" were to us.  I think I might have a solution to this problem that might give you that extra motivation.  To be honest, I wish I would have thought about this when we were still paying our debt down.  So we know that the motivation we receive from paying off each debt is enormous.
What if you broke up your larger debts into smaller, bite-sized pieces?  I think the key to making this work though is to actually write it out on a piece of paper.  Visualization is the key.  Let's say you owe $10,000 on your plastic companion.
If I were doing this I probably would not write out the total debt of $10,000.  I would instead break this debt into $1,000 dollar bites.  The reason for not writing down the total is because you want to trick your mind into believing that these are separate.  Furthermore, it would be a good idea to set a realistic time line for each chunk to give you something to strive for.  Remember that setting goals, gives you something to reach for, and also gives you a greater likelihood of completion.
$1,000 – DONE (6/2009) <~~~motivational boost!
$1,000 – DONE (8/2009) <~~~motivational boost!
$1,000 – DONE (9/2009) <~~~motivational boost!
$1,000 – (11/2009)
$1,000 – (1/2010)
$1,000 – (2/2010)
…..etc.
I would also recommend that you only worry about doing this for one large debt at a time.  You don't want to overwhelm yourself with a 6 page list of debt.  You want this process to remain as positive as possible.  Put this list on the fridge and be sure to check each nasty chunk off as you pay it off.  This is important!
I hope this helps you stay motivated during your important mission of debt removal.  Get that debt OUT OF YOUR LIFE, once and for all.  You can do it and when you do—you will feel amazing!
Related Articles
Alleviate The Anguish Of Debt – Commit Yourself To A Frugal Lifestyle
This Is What Debt Free Looks And Feels Like!
How We Got Out Of Debt: From $50k To $0 In Less Than A Year
Have You Ever Had A DEBT FREE Christmas, And Will You Accept My Challenge?
The Debt Snowball – Do It Your Way!
photo credit