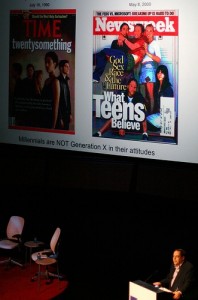 Across the United States the Millennial Generation is struggling with debt, especially in the state of Virginia, a place my friend, Brad Chaffee happens to reside.
According to recent internal data from CareOne the number of Virginia residents between the ages of 18 and 24 seeking debt relief increased 33% from 2010 to 2011 and was 12% higher than the national average. The number of 25 to 34 year old Virginian's seeking debt relief also increased during that same period, by 4%, and was 3% higher than the national average.
So what is happening that is causing higher than the national average of debt among Millennial's?
According to the study the issues are two-fold: Student Loan Debt and Unemployment.
Unemployment
The Bureau of Labor Statistics, finds that as of May 2012, Virginia boasted a low unemployment rate of just 5.6% compared with the national rate of 8.2%. So why are younger Virginians plagued with debt?
Those statistics are for Americans as a whole. The national unemployment rate for Americans aged 16 to 19 years old is more than 23%; for 20 to 24 year olds the national unemployment rate is 13.7%, much higher than the overall low unemployment rates for the state of Virginia.
These two groups are affected not only by reduced chances for summer and part-time employment but may also affect their future employment and income prospects, according to a Huffington Post article. This same article states that recent college graduates who do manage to find employment are more likely to receive a wage seven to eight percent lower than someone who graduated during good economic times.
Student Loan Debt
In order to compete in the tight labor market, these younger Virginians are turning to higher education to give themselves the edge they need to stand out. Of course higher education comes with a hefty price tag and yes more debt, in the form of student loans.
According to the

U.S. Census

, 33.8% of all Virginians have achieved a Bachelor's degree or higher, which is 21% higher than the national average.

The average graduate in Virginia also carries $31,704 in student loan debts, the seventh highest amount among all 50 states.
Living in the great state of Virginia certainly shows promise of being employed, but for Millenials the cost of getting there may mean leveraged debt in the form of both student loans and credit cards, leaving them in a position to take action and seek a solution to their debt.
Getting out of debt is much more difficult than getting into it. For Millenials the journey to debt freedom involves realizing there is a problem, finding a solution, and all the hard work involved in achieving this goal.
How does your state measure up when it comes to these types of debt statistics? Find out by clicking this link and then clicking on your state of residence.