Photo Credit: Memory_Freak
Have you ever wondered why America sucks at managing money?
We're not exactly a country that's living off of table scraps ya know. We're considered by most to be a prosperous nation. That may be true in terms of what we have compared to other countries, but certainly not true in terms of how we manage it. When it comes to the money and financial planning department, most Americans appear to be lacking!
In America debt is a WAY OF LIFE!
From the Joneses to [insert name of Government Bureaucrat here], America has lost its way. People look to the government to supplement their bad decisions more now than ever before. What ever happened to personal responsibility and grandma's way of managing money?
America is like an out-of-control college frat party, with most of the party goers ignoring the very real consequences to come. "Who cares about my test tomorrow, I deserve to party and have fun today…wooohooo!" Any student who has skipped a night of studying to hit the latest party probably has a bad test paper to show for it.
This country is in denial about their financial woes.
Americans have forsaken self-discipline. If you are neck deep in debt, have no emergency savings, and are relying on social security, isn't that what you have done? Brian Tracy points out the correlation between people who look further into the future, and those same people who become successful because of it. Basically, poor people live for today, while rich people live for retirement.
Don't give me the "poor people can't" argument either. Poor is a state of mind based on ones attitude not based on ones abilities. Don't believe me? You must not have heard of Osceola McCarty. Now that's a lady that believed in discipline and obviously thought that planning for her future was her responsibility.
I look up to and admire Osceola McCarty! Forget about those brainless losers on Jersey Shore.
What has happened in America to cause this?
Last week I was listening to an audio book by one of my favorite authors (mentioned above) Brian Tracy, and something he said jumped out at me. He was talking about self-discipline and how it was the key to creating the life that you want. He used the analogy "dinner before dessert" to make his point. That is a remarkable analogy!!
My mother use to always say, "You have to have dinner before dessert. No dinner, no dessert!" It was crystal clear to me at the time…umm…when it came to food that is. 🙂
I'll admit, it didn't carry over to well into my adult life. but that's because I was missing the bigger picture. I never once thought of the underlying principle those words were supposed to teach me. Apparently, neither has the rest of America. Luckily, I am no longer that pimple-faced teen that fails to consider the impact of my decisions before making them. Sure I mess up from time to time, but who doesn't? My future now matters more to me than today does, and I believe that transformation was key to turning things around.
When we were growing up, our parents tried to prepare us for adulthood. Nowadays, the government has replaced the need for strong financial principles by essentially saying, "Go ahead and have your dessert now, we'll provide dinner for you later, no worries." I completely REJECT that self-limiting mindset. I don't want what the government claims it can give me, I can do it better myself, and so can you!
Now I realize some would disagree with that statement, but if it is so wrong, then why does social security exist in the first place, and why does it seem like Americans are expecting more for the Government than ever before?
What's on your plate?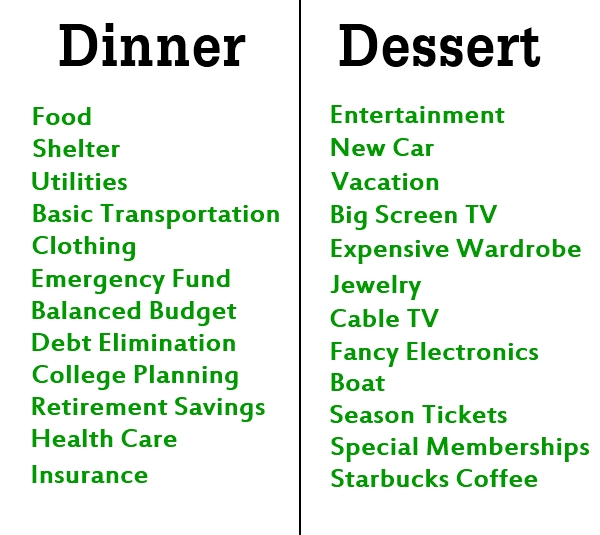 Now those are just some examples based on how I see basic financial priorities. I'm 400% positive that you could add any number of things to either side. It's just a starting point for those that need the visual.
It doesn't mean you can't enjoy a little dessert before you've taken care of everything on the dinner side. Some of those things take a little time to complete, but you should still have a plan in place to know where you are headed. It's about balancing your priorities more than anything else.
If you have a good emergency fund and want to take a vacation, take a vacation. The point of this is to take care of what's important first, and then having a little fun in moderation, but not without taking into consideration how it will affect your financial plan. If going on vacation means having to use money from your emergency fund, then perhaps it's a good idea to wait a little bit longer, so you can save up some money.
If America continues to eat dessert before dinner, I'm afraid for what our future America will look like. Don't rely on the Government for any certain standard of life. Instead, make the hard financial decisions now, because that will be your safest route to the life you want. If you are counting on social security to help you retire, I'm certain you'll be disappointed.
You have the power to make things happen. Believe in yourself before you trust in an incompetent government. YOU have what it takes!
Listen to your parents and grandparents, and apply their advice to all aspects of life.You'd be surprised at how the simple lessons of your youth can be applied to multiple areas of your life now.
Remember: Dinner before dessert!
We've all been guilty of putting pleasure before priorities. Do you have a story to share about how doing so caused you trouble in life?