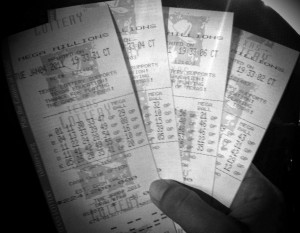 You may have heard that the Mega Millions Lottery has a HUGE Jackpot tonight!
You did hear that right? It's not really talked about all that much.
If you are anywhere near the television, internet, radio, a store or people in general then you've heard. The internet is full of blog posts where people talk about all the things they would buy if they won.
I wrote a post today too. I didn't focus on what I would buy because I found out something about myself.
I'm not mentally ready to be wealthy!
I know it sounds weird to say that given I'm in debt, a lot of debt. I should want to be wealthy, and I do WANT to be wealthy. I just don't think that I'm mentally ready to be wealthy.
I had a conversation about winning the lottery with my children. Our topic of discussion centered around what we would buy. A new car? Check. A house, maybe two? Check. Someone to clean those house? Big time check! The kids wanted to go to Disney World and buy all the Lego's that they could find.
What is the common denominator in all of that list?
Stuff! I am still wired to consume.
I'm disappointed that my first thought wasn't in helping others (Although it was in paying off all my debt, that is still my financial priority.). No one needs a $600 Million in the bank. $100 Million will be just fine for the next four or five generations of your family.
The remaining $500 Million (yes I'm ignoring the tax ding here, go with it.) could be used to send people to school to learn a trade and improve their lives with better work. It could help set up homeless families who need a hand up to set them on the right track. It could be donated to the many wonderful research foundations who are trying to end diseases like cancer, Aids, heart disease and stupidity. It could fund financial literacy curriculum's in hundreds of school systems across the country (Imagine providing all those children with the tools they need to never have to dream about winning the lottery in hopes of avoiding debt.)
What type of mentality would you have if you were wealthy?
Would you be more likely to spend your money like some of the lottery winners who have been featured on television shows? I saw one guy who had a house FULL of crap stuff. He bragged about the large number of knives he had on the wall and the body of armor standing by his door. He beamed when he talked about how he had a statue near his pool that was 1 of only 2, the second being at Walt Disney World.
He made a comment that has always stuck with me. (Paraphrasing here)  "If I want my money to keep growing, I just don't buy something one day."
Is that a healthy mentality to take? In my opinion it is not.
A recent news piece that I saw was about a woman who had won $1 Million in her state lottery. She was still using food stamps because (again paraphrasing) she "wasn't earning an income and do you know how expensive two houses are?"
Hopefully the majority of us would do something positive with the type of money that is available in tonight's Mega Millions Lottery. I want to think that we would all donate large amounts of money to many different charities and help out others who aren't doing as well.
For me, I won't be buying a lottery ticket. I already blew $10 this week on the lottery and I'd rather not do it again. Besides, the chances of winning when it's this big is far greater than when it is $5 Million. I can still do great things with that "little bit" of money.