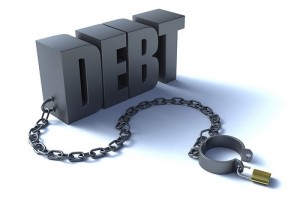 2012 is rapidly coming to a close and it's time to start thinking about your goals for 2013. If you have debts consider developing a plan to make 2013 the year you get out.
Interest Affects Your Bottom Line
The exercise of defining all of your credit card debt and the subsequent interest rates should be a top "to do". Start by pulling your free annual credit report and seeing what you owe and at what rate. Create a spreadsheet, document or put a pen to paper listing your debts. Then calculate how much money you are spending each month on interest and fees for those cards.
High interest rate debt is like taking a pay cut. Consider this:
You have $10,000 in credit card debt at an average interest rate of 21%. You will pay $7,608 in interest plus possible finance charges. Yikes! That is a lot of money to throw out the window.
The Vicious Cycle
Maybe you are a casual borrower. Your balances are normally between $5,000 and $7,000 a month, and your minimum payments are around $300.00. You make the monthly minimum payments easily as they fit into your budget, but at this rate you never really pay the balances off.
You get sick, become unemployed or face a divorce and soon those payments are no longer manageable. Now what? You start to fall behind, creditors are calling, accounts go into collections and you are cut off from the vicious cycle and no longer able to secure additional credit.
Not only are you left with debt, but now you face the repercussions of a poor credit rating. A poor credit rating can keep you from owning a home, renting an apartment, affect your insurance rates, and maybe even preclude you from employment opportunities.
Financial Security is Often out of Reach
Those that are debt-free have advantages over those facing monthly debt payments. Paying cash for life's expense leaves you money saved from interest rates and fees to pay yourself. Savings is the key to do the things you've always dreamed of, such as:
Traveling
Becoming your own boss
Building up retirement
Staying home with your kids
Owning a home
It's kind of like winning the lottery when you are debt free. You have extra money each month to focus on the things you want instead of treading water each month, or worse falling behind.
If you are in debt, making debt freedom your goal for 2013 is a great place to start. By making a conscious effort to rid yourself of debt either on your own or with the help of a debt relief provider, you will be gaining quality of life, piece of mind, and a new set of financial goals for your new debt free life.
Are you going to make 2013 debt free?
Photo Credit