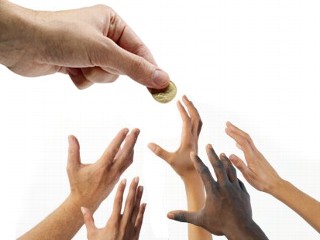 A Debt Free Christmas Is A Stress Free Christmas
The first challenge I put out there was to make it through this Christmas WITHOUT accumulating ANY debt at all.  That's right, a NO credit card Christmas.  I received such a great response to that post I wanted to step it up a notch.  I will be posting updates to allow everyone to share their debt free Christmas goals starting next month.  Start thinking about how much you want to spend this year and make a plan to start saving that goal amount.  No debt this Christmas!  You can do it!
When I wrote the last two Christmas posts it really got me thinking about how much I dislike what Christmas has turned into over the years.  Marketing has really been effective in making us believe that love is in the stuff we receive from others.  I love Christmas!  I think it is such a wonderful time of year.  Let's make it more meaningful for those around us this year.
Christmas Stimulus 2009
We are all experiencing the down side to our current economic situation.  Washington has declared themselves our savior but I think we are more capable of having an impact privately.  Let's do something BOLD!  Let's put together our own Christmas Stimulus Package and really have an impact.
Not only should you have a debt free Christmas, but you should try something else very different this year.  Challenge #2 is to pledge to spend from your Christmas budget a specified amount to be donated to a charity of your choice, or used to help someone close to you feel a little less stressed financially.  This amount is NOT to be added to your current Christmas budget, but instead it is to be deducted. You can give on top of this amount, but the purpose of this challenge is to get you to take from what you currently spend in the name of passing out tons of stuff, and use that money to give in order to help someone in need instead.
If you were going to spend $300, pledge to spend $200 and use the other $100 to donate to a charity or help someone in some way financially.  Here's a Christmas idea.  Donate what you were going to spend on your mother, brother, sister or father, to a charity in their name.  Put the receipt from the donation in a Christmas card and let them know it was given in their name. I don't know about you, but I would LOVE it if someone sent me a card with a receipt saying that instead of buying me a useless gift, they donated the same amount of money to a charity in my name!  That's money well spent!
Christmas Challenge Summary
Christmas Challenge #1 – Have a DEBT FREE Christmas in 2009
Christmas Challenge #2 – Take from your current Christmas budget and donate that money to charities or someone in need of some financial help.
My Pledge: Our Christmas budget this year is going to be $250, so we are going to pledge $150 of that to be spent giving to charities or someone we love and care about.  That leaves us $100 to spend on the children in our family.  We will likely donate to charities, in our family and friends name like mentioned above.  This is a new idea for me this year so I am excited about it. I am curious to see the response we get from family members.  I think it will be positive!
We also may give more whether it be financially or physically, but this is what we plan to do with our current Christmas budget.  I have never donated my time on Christmas but I like the way that sounds.  I'll keep you posted!
So what do you think?  Is this something you would be willing to try?  Please share your thoughts in the comments section below.